Do you know what high-return investment projects to focus on? Better yet, what can you do to create high ROI projects for your next rehab deal? The highest return on investment could mean the difference between a good rehab and a great rehab, so be sure to pick the right projects.
Real estate investing, for the most part, is predicated on one thing: making money. Every decision you make will impact your bottom line, and therefore should be calculated. It is not enough to blindly make upgrades that you feel belong: you need to make the right improvements.
It is entirely possible to lose money by making the wrong upgrades. Some projects don't warrant the initial cost. (This can even extend to alternative types of investing, such as tax lien investing). Conversely, some projects separate themselves from the rest and return more profit when it comes time to sell. The real trick is to focus on the projects that don't coincide with such drastic highs and lows—the ones with consistent ROI.
---
[ Thinking about investing in real estate?
Register to attend a FREE online real estate class
and learn how to get started investing in real estate. ]
---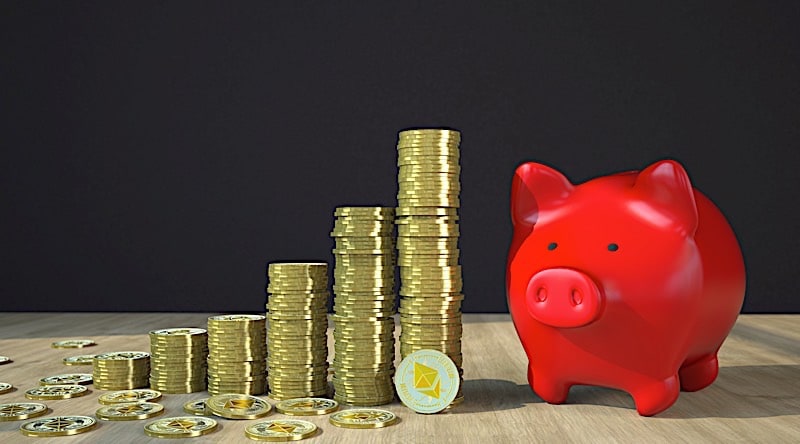 What Is Return On Investment?
Return on investment (ROI) is essentially a data point expressed as a percentage that identifies a project's validity. In other words, ROI is used to determine which investments will add the most value to a property. ROI can be used to compare different assets, not the least of which include the projects I will hit on below. Not surprisingly, the projects with the highest return on investment should be at the top of your list. Check out the following ideas to get started.
How to Calculate ROI
Being sure you have accurate estimations for ROI before starting a project is essential. By calculating return on investment for each project, you can evaluate which ones are most essential, what you can afford, and what will offer you the highest ROI. To calculate ROI, the return of an investment is divided by the cost of the investment. The result is expressed as a percentage or a ratio. Use the following formula to calculate ROI:
(Current Value Of Investment – Cost Of Investment) / Cost Of Investment = ROI
The "current value of investment" refers to the amount you receive after selling the property. Since ROI is calculated as a percentage, you can easily use this formula to calculate and compare the ROI of each home improvement project individually.
Social Return On Investment (SROI)
A Social Return On Investment is a term that came around in the late 1990s. This ROI metric doesn't measure the direct ROI of an investment to the investor, but rather the social and environmental impact that the investment is making on the community. An example of an SROI is a local manufacturer installing filters in their plant to reduce carbon emissions during their manufacturing process.
The cost of installing these filters results in a negative ROI, but they see a positive SROI as they are helping the local community with cleaner air, as well as trying to protect the environment. As you can see, SROI may not benefit the bottom line in the short run, but it does account for the broader impact of an investment project and how it directly affects the environment and social well-being of those in the area.
What Is A High ROI In Real Estate?
Unfortunately, the answer to "what is a high ROI in real estate?" depends on several factors and can vary per project. Location, the cost of the project, and the type of property you are improving all factor into the ROI of the project. Generally, you want a project with a lower cost compared to the number of returns you will receive when selling the property. Below, we list several home improvement projects with high ROI.
10 High ROI Projects For Your Investor To-Do List
There are a number of projects and improvements you can add to your property that have consistently high ROI. From simple projects like add vinyl sliding to larger kitchen remodels, let's take a look at some of the projects with a high return on investment:
Replacing Front Door

Backyard Deck

Attic Conversions

Garage Door Replacement

Fiber Cement Siding

Replacing Windows

Vinyl Siding

Kitchen Remodel

Interior Paint Job

Basement Remodelling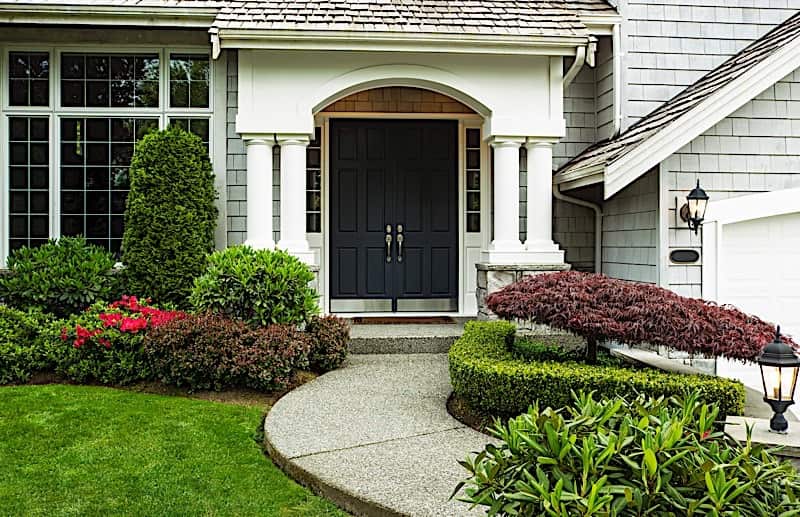 1. Front Door Refinishing
Nothing has proven to be a better return on investment in recent history than a front door replacement. In fact, steel entry doors have been known to return approximately 101.8 percent of their initial investment upon resale. That means people are actually getting more back than they spent on the door itself when the time comes to sell. Some investors are hesitant to replace the front door because of the initial cost. However, it is proven that front door refinishing or replacement is actually the most affordable in terms of a high ROI.
Of particular interest, however, maybe the added benefit of curb appeal. While front doors add value to a home, they simultaneously make it more attractive from a buyer's perspective—an invaluable addition to any remodel.
"It gives you the best bang for your buck in terms of transforming the look and feel of your home," says Brandon Erdmann, president of the remodeling firm HomeSealed Exteriors in Milwaukee. "Plus, old exterior doors can be a huge source of energy loss. So you're improving the look of your house, improving energy efficiency, and you're able to do it without breaking the bank."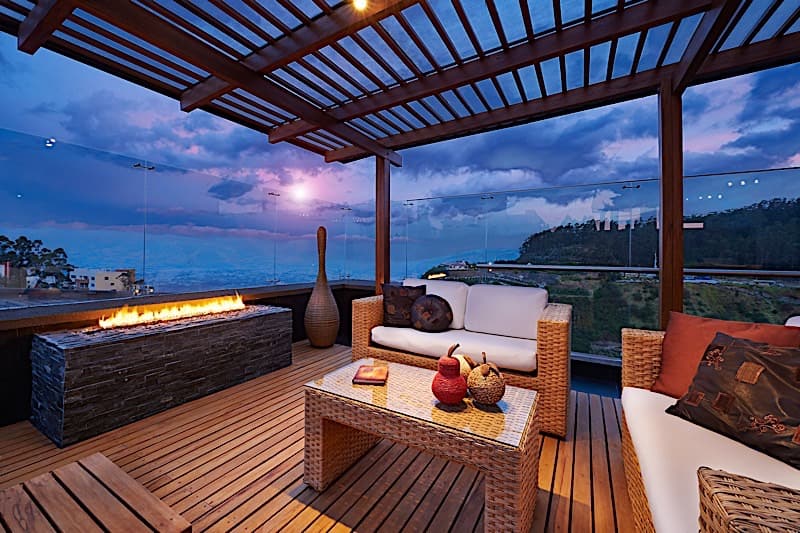 2. Wood Deck
The average cost to install a wooden deck is just over $10,000. While the price is relatively high compared to a front door replacement, wooden decks have become synonymous with great returns on their investment. Some experts suggest that building a wooden deck can recoup as much as 80.5 percent of the initial cost upon selling the home. Depending on where you live, the ROI could be even more impressive.
Decks are certainly a product of their environment, both economically and environmentally. There is no denying their ROI potential, but decks – or at least the prospect of decks – took a hard hit during the latest recession.
"When the economy soured, deck-building soured," says remodeling contractor Lino Carosella of Haverton, PA. "Decks are a bit of a luxury, and homeowners tended to spend on necessities, such as upgrading their kitchens and baths. But now decks are coming back."
Wooden decks are one of the few projects that vary drastically by location. While nearly every prospective homeowner would want one, there are only a few regions where decks can be used almost all year long. San Diego, for example, has some of the best weather in the country. As a result, decks are more valuable because they can be used more often. It is also common for the ROI on a wooden deck in temperate locations to be higher than, say; Seattle, where it rains a lot more.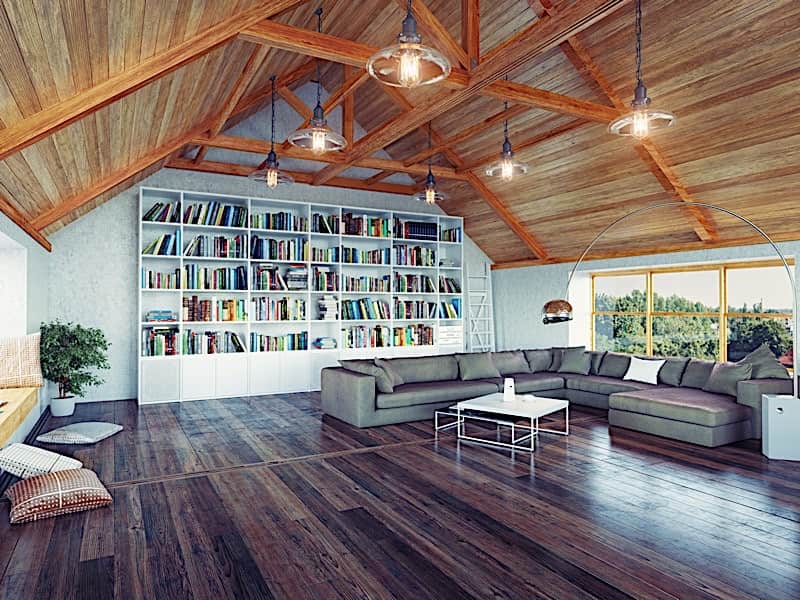 3. Attic Conversions
The prospect of converting an existing attic space into another bedroom became extremely popular during the latest recession. Perhaps even more importantly, it was one of the most cost-efficient ways to improve a home's value. Not only does the home's footprint remain unchanged, but also there is no need to add walls, flooring, or even a ceiling.
On average, converting an attic space into an additional bedroom will cost $51,696. That is considerably less than building a new room from scratch. Of course, the real draw in converting an attic space is the resulting return on investment. When it comes time to sell the house, owners can expect to recoup as much as 77.2 percent of the initial cost; enough to come in at third on this list.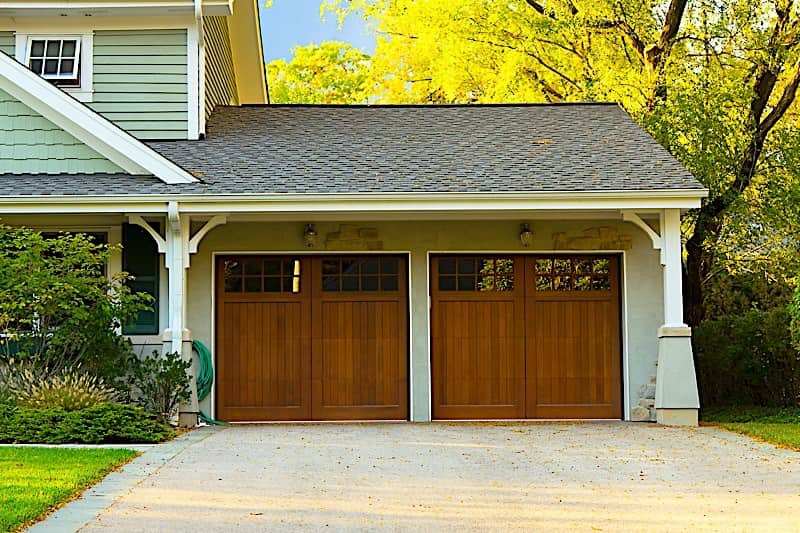 4. Garage Door Replacement
Not unlike the front door, garage door replacements serve as a dual-threat. Not only can a new garage door increase the value of your home, but it too can also increase its curb appeal exponentially. When it comes time to sell, the home will sell quicker and for more money.
The cost to install a new garage door can vary significantly. Whereas a mid-range replacement can run homeowners about $1,595, upscale replacements are twice as much. However, the ROI on a mid-range garage door replacement is higher than an upscale one, 88.4 percent and 82.5 percent, respectively.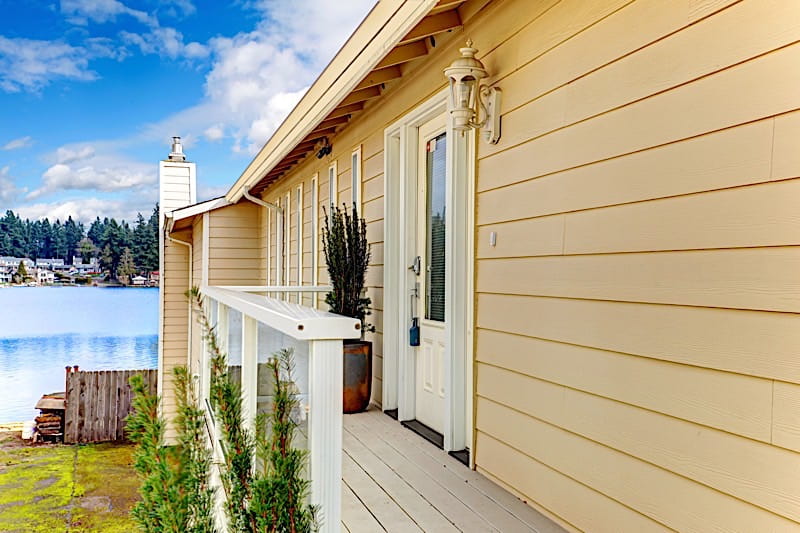 5. Fiber-Cement Siding
It is hard to argue the impact of new fiber-cement siding has on a home, particularly when it changes the appearance of the whole property. However, its benefits are far beyond that of cosmetic aesthetics. Fiber-cement siding offers superior longevity that something like stucco or wood could never come close to. It is capable of resisting termites, moisture, rot, and fire. It is an investment in and of itself: it's very rigid, so it requires less maintenance – saving a lot of money over time. Moreover, fiber-cement has one distinct advantage over its vinyl counterpart: perceived quality.
Fiber-cement siding has the added benefit of curb appeal. While it improves the quality of the home, it also makes it more attractive to prospective buyers. Homeowners can expect to recoup approximately 84.3 percent of the initial cost when they sell the home in the future.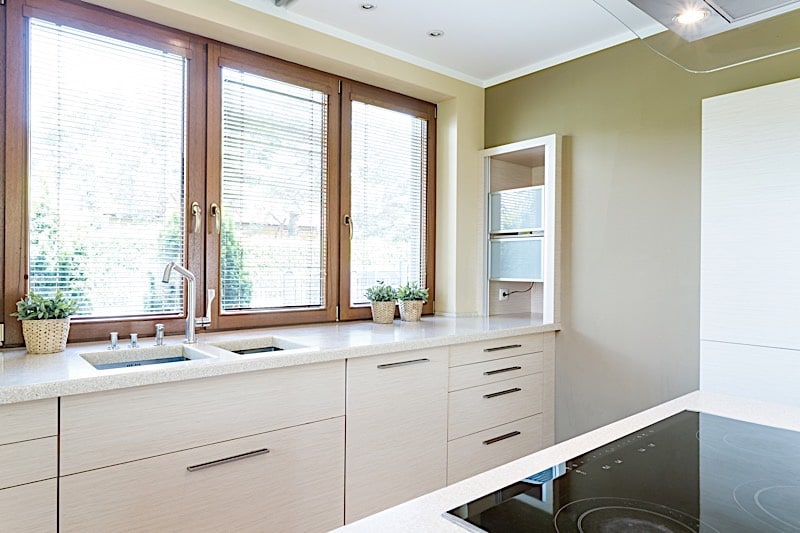 6. Replacement Windows
Window replacement projects have withstood the test of time and still account for one of the highest ROIs on a remodel. It has been estimated that mid-range vinyl window replacements can return as much as 77.5 percent of their initial cost at resale. Wooden window replacements, however, have a slightly higher ROI, at 78.8 percent.
For what it is worth, new windows may be the most efficient use of your rehabbing budget. Their return is three-fold: They simultaneously increase curb appeal, value, and efficiency. There may be no other remodeling project that accomplishes so many things. The resulting curb appeal and value are a given, but the right windows can reduce a home's carbon footprint for years to come. Both heating and cooling costs can be significantly lowered with insulated windows that regulate heat exchange.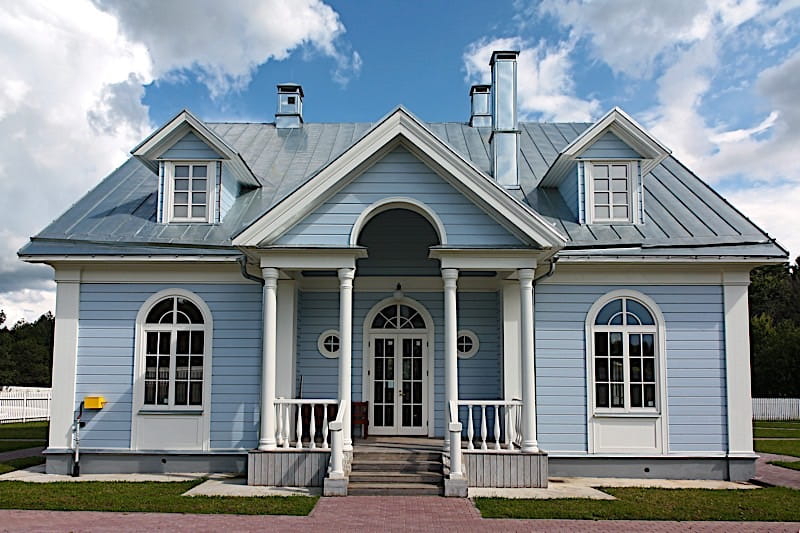 7. Vinyl Siding
As previously discussed, fiber-cement siding is a great way to see a return on your investment. However, it turns out that vinyl siding is almost as popular. Coming in slightly under its fiber-cement counterpart, mid-range vinyl siding projects have been estimated to recoup 80.7 percent of their initial cost. With a lower cost than other types of siding, vinyl appears to be the most popular option. It still offers a lightweight, low maintenance, and relatively low-cost alternative.
Insulated vinyl siding can even offer a degree of thermal resistance, effectively reducing energy consumption that would have been used to heat and cool the house. Over time this can greatly reduce a home's operating costs, making monthly bills more bearable. Not only that but the installation of vinyl siding is shown to have a lower environmental impact than fiber-cement siding options.
The aesthetics of vinyl siding can change depending on the color or style used, making it a great option for different property types. Vinyl panels can come in clapboard, dutchlap, or even scalloped designs. Homeowners will be happy to know that all types of vinyl require minimal upkeep. With regular maintenance and cleaning—typically pressure washing—vinyl siding can last for decades.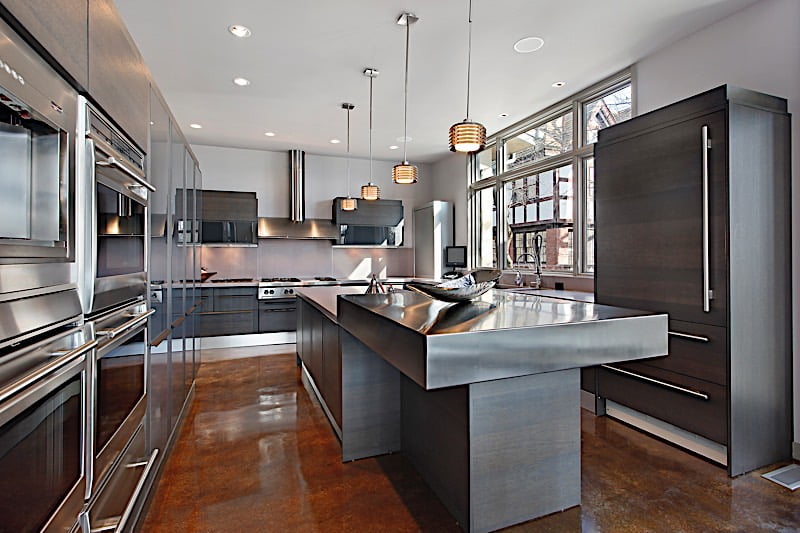 8. Kitchen Update
Let there be no mistake about it: the kitchen is the most important room in a home. There is no reason a significant portion of your rehab budget should not be allocated toward upgrading the kitchen. Accordingly, kitchen updates also coincide with relatively high ROI rates.
On average, it costs $19,226 to update a kitchen. The average return on investment is around 79.3 percent. Considering these numbers, you can recoup a significant amount of money on a kitchen update. Remember, there is perhaps nothing else that can sell a home faster than its kitchen. Make sure yours is on par with its competition—if not just a little better.
9. Interior Paint Job
It's amazing how much impact a new paint job can have. Many homes have the default white or off-white walls, but updating your paint with an updated color can help your home sell much faster. Popular colors include gray and beige, or somewhere in between the two. You could also take a risk with a bold color, such as a royal blue accent wall in the dining room. Whatever colors you decide to go with, they should help enhance a room and not make it feel too dark or crowded. You can always use an interior design application to simulate what the room will look like after you've painted it. You can do this project yourself at just $200 to $300 a room, making it one of the most affordable projects you can choose for an instant facelift.
10. Basement Remodelling
Although not all homes are blessed with a basement, those that do could benefit from a renovation. This could easily increase the amount of usable living space in a property. Rather than keeping a dark and dirty basement (which might hinder your chances of selling), make the basement its own selling factor.
Tips For Choosing The Right High ROI Upgrades
Not all remodeling projects are created equal: some have a high return on investment, while others only appear to have a high ROI. Truth be told, the remodeling return on investment has more to do with appeal than the actual project itself. In other words, high return on investment projects are those that buyers want the most. It is a lot like supply and demand. The more buyers want something, the more they may be willing to pay for it.
Here are some tips for choosing high ROI projects for your property:
Research The Timeline: Depending on your exit strategy, the timeline of a renovation project could directly influence your profits. If a project takes several weeks, for example, it could result in more holding costs. As you plan your budget for a given deal, look at your ideal timeline and plan accordingly. You can do online research or consult a contractor to get an estimated timeline.

Pay Attention To Your Market: Find connections in your real estate network with a pulse on market trends, and ask which features are popular in your area. While vinyl siding may have a high ROI in one market, it could be a downgrade in another. Always keep an eye on comparable properties in your area when choosing potential improvements.

Think About The Type Of Repair: Home improvement projects will generally fall into two categories: structural and cosmetic. While both can attract potential buyers, cosmetic projects may not necessarily add to the property value. Consider your goals for the renovation and identify which upgrades will have the highest return for you.

Be Realistic: A home improvement project can have a dramatic effect, but it will still be the same property. This is important to remember when calculating the ROI because while some projects may add significant value on paper, the final sale price will still be influenced by comparable homes in the market. As you plan project ideas, try and maintain a realistic outlook for your property.

Consider Regular Maintenance Projects: Are there any areas of your property that need extra attention before you list the home? Consider any areas that might need regular maintenance and look for ways to tackle these fixes with your high ROI upgrades. By planning maintenance projects and upgrades simultaneously, you can optimize your overall renovation budget and timeline.

Consider The Age Of The Property: As many investors already know, potential buyers are always going to ask when a home was built. This is important to think about when planning a renovation because buyers expect to see certain areas preserved. For example, in an older home, buyers may want some original features maintained. Keep this in mind when planning upgrades.

Search for inspiration: If you have a list of potentially high ROI projects for your property, but aren't sure how they would look once completed search online for some inspiration. You can look at property listings with similar features on Zillow or Trulia to get a better idea of a finished look. Depending on where you are in the planning stage, websites like Pinterest may even help you hone in on the details for a certain upgrade.

Analyze Opportunity Costs: Consider all of your money's opportunities before committing to a project. If you spend your money on upgrading appliances, you will not be able to allot that money elsewhere. Analyzing opportunity costs means weighing all of your options before justifying that one project is worth passing up on the other options available within your budget.
5 Home Improvement Mistakes That Could Lower ROI
A newly bought home sometimes appears to be a blank canvas, a blank slate that owners may shape to their liking.   Agents and appraisers frequently see homeowners make renovations that don't result in a high ROI and actually depreciate a home's value.
While additions have the potential to increase the value of a house, there are some home improvement project blunders to avoid. Here are 5 home improvement mistakes that will lower ROI:
Improving Too Much: Pay close attention the the common denominator in a neighborhood. Ask for an appraisal with and without improvements. If it doesn't pay off, it's not a good value.

Screwing Up The Floor Plan: Too many people aren't careful when they add square footage to a home. Keep the functional integrity of the floor plan in mind when changing things around. Hire an architect who is trained to think about the design and flow of spaces.

DIY Projects Gone Wrong: Tackling big projects yourself is a common mistake. In all likelihood, you're not nearly as good at those DIY projects as you think you are. What should you do? Hire a professional of course!

Inconsistency: Upgrading inconsistently hurts property value. Don't completely remodel the kitchen and leave the rest of the house untouched. The best way to get a high ROI is to eliminate deficiancies and upgrade evenly.

Not Getting Permits: Don't add square footage without getting the right permits. Appraisers and lenders may not include the value of an addition that was not permitted.

Summary
The right improvements can boost a home's curb appeal, functionality, and even property value—all of which can help attract potential buyers. While kitchen updates may be the most common, projects like replacing windows or adding a deck are also shown to have a high ROI. Remember, there are countless ideas on how you can customize a property and generate attractive returns. Try some of the projects listed above and improve your property today.
---
Ready to start taking advantage of the current opportunities in the real estate market?
Click the banner below to take a 90-minute online training class and get started learning how to invest in today's real estate market!