Key Takeaways
---
If you've recently started learning how to invest, it's just a matter of time before you hear the term "accredited investor." You'll then start wondering what this term means, how to become an accredited investor, and what the associated drawbacks and benefits are. In this guide, we'll be covering all of that and much more, such as accredited investor requirements and real-life examples. First, let's start with the definition.
What Is An Accredited Investor?
An accredited investor is either an individual or an entity that is allowed to buy or invest in securities that are not registered with financial regulatory agencies. In the United States, the main financial regulatory body is the U.S. Securities and Exchange Commission (SEC).
The term stems from the word "accredited." This implies that the individual or entity has to meet the required standards to achieve accreditation. Accredited investors meet criteria that are based on asset size, net worth, and income. For business entities, the requirements are also based on governance.
In a moment, we'll discuss these specific criteria to become an accredited investor in the U.S. It should be known that in 2020, the SEC recently expanded the definition of accredited investor. Now, individuals who have specific professional certifications or who are "knowledgeable employees" of a private fund are also included in the accredited investor definition.
Accredited Investor Requirements
The requirements for becoming an accredited investor change based on your location. In the U.S., the rules are outlined by the Security Exchange Commission (SEC), but they are also determined by local financial regulatory bodies.
The main criteria for becoming an accredited investor are specified in Regulation D, Rule 501 of the 1933 Securities Act. You can view these regulations in the Electronic Code of Federal Regulations.
Here is a summary of the requirements:
An individual with an income over $200,000. A joint income with a spouse must be over $300,000.

An individual or couple with a net worth exceeding $1 million, excluding the value of the primary residence.

Business entities worth over $5 million.

An individual with a professional certification, or status as a private fund's "Knowledgeable Employee."
You may be wondering, "why all the rules and restrictions?" The accredited investor requirements are set pretty high as a measure of protection. The SEC does not want beginner investors to take risks with their money. These requirements were designed to limit large, risky investments to investors who have the financial means to withstand significant risk and loss. In addition, it's assumed that you are a successful and knowledgeable investor by the time you achieve the status of accredited.
Example Of An Accredited Investor
If you're still not clear if you qualify as an accredited investor or not, perhaps an example would be helpful. Let's take a look at how exactly an individual investor would calculate their net worth.
First, create a balance sheet that lists all of your assets and all of your liabilities. Next, add up all of your assets, including bank account balances, retirement account balances (such as a 401(k) or IRA), the value of other investments, and physical assets such as your car.
The one thing you should not include in your list of assets is the value of your primary residence. Remember, one of the criteria for accredited investors is based on net worth, not including the value of the home that they live in. Other properties in your possession that you do not inhabit can be included.
Then, add up all of your liabilities. Common liability examples include student loans, car loans, and credit card debt. Finally, subtract your total liabilities from your total assets to find out your net worth. If your final number is over $1 million, then you qualify as an accredited investor. If your number is under $1 million, then you do not qualify as an accredited investor. If the latter applies to you, this information is still helpful. You at least now know how far away you are from becoming an accredited investor!
---
[ Do you want to make your money work for you? Attend our FREE online real estate class to discover how passive income strategies in real estate can help you achieve your financial goals. ]
---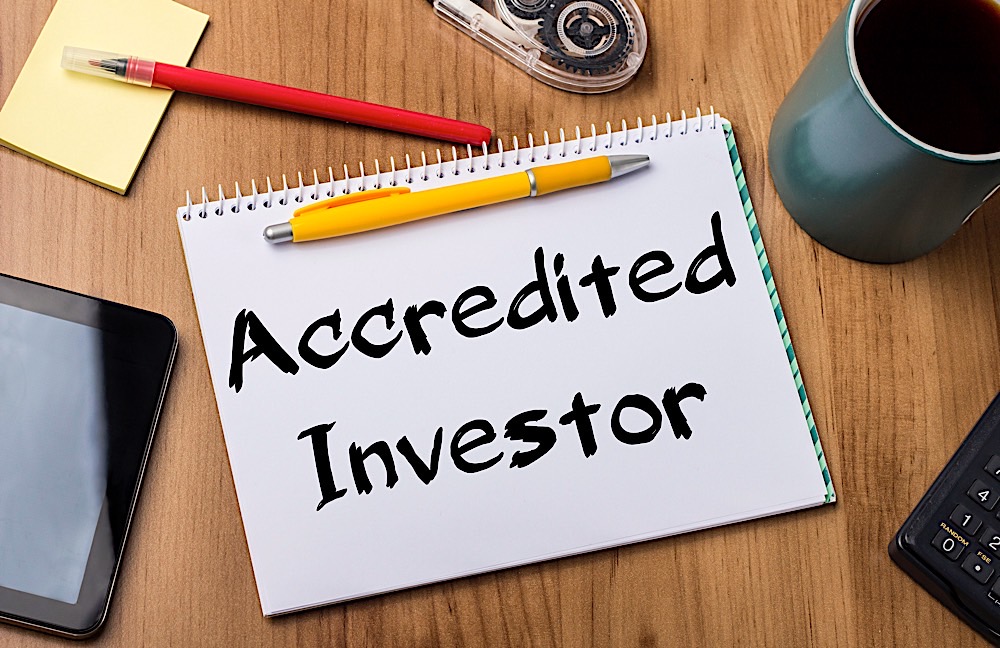 What Can You Do As An Accredited Investor?
Now, you're probably wondering what kind of special powers you would attain as an accredited investor. By law, companies have to register their investment options, or securities, with the SEC. However, there are a small number of exceptions. One of these exceptions is selling unregistered investments to accredited investors. Companies are incentivized to do this because they can avoid the trouble of registering their securities through the SEC.
Here are the type of investments you'll be able to make as an accredited investor:
Hedge funds

Real estate crowd funds

Venture capital funds

Private equity funds

Angel investing
As a "regular" investor, you can invest in stocks, bonds, and mutual funds. Becoming an accredited investor can be thought of as a "level-up." You'll gain access to exclusive investment options that you never had before. However, keep in mind that these investments can reap higher rewards but can come with significant risk. It's always best to proceed with caution.
Who Can Be An Accredited Investor?
So far, we've discussed investor accreditation from the lens of the individual. However, we mentioned earlier that financial and business entities could be looped into this category as well.
Under Regulation D, Section 501, the SEC states that the following business entities can also achieve accredited investor status:
Banks

Brokerages

Employer-sponsored retirement plans

Trusts

Registered investment advisor firms

LLCs with at least $5 million in assets

SEC-registered investment advising firms

Rural business investment firms

Native American tribe governments
Pros Of Being An Accredited Investor
As we discussed, the main benefit of achieving accredited investor status is your sudden access to several new investment opportunities. If you're serious about investing, then this will come as a welcome step up. In a sense, you're being rewarded for achieving a level of net worth and income.
With these new investment opportunities, you'll likely be able to make higher rates of return. In other words, you'll continue building your wealth, but at a faster pace.
Finally, these new investment opportunities are a great way to diversify your portfolio. For example, you can invest your money into a hedge fund or participate in some large-scale real estate crowdfunding projects.
Cons Of Being An Accredited Investor
It should come as no surprise, but investment opportunities that promise higher rewards always signal that you're facing increased risk. Also, these types of investments typically require a high minimum investment. We're not just talking a few hundred, or even a few thousand, bucks. We're talking tens and hundreds of thousands of dollars, all at higher levels of risk. If your investment fails, you'll be losing a lot of money.
Finally, accredited investment opportunities are associated with higher performance and management fees, ranging between 15 to 20 percent. Your investment capital can be locked up for longer periods as well.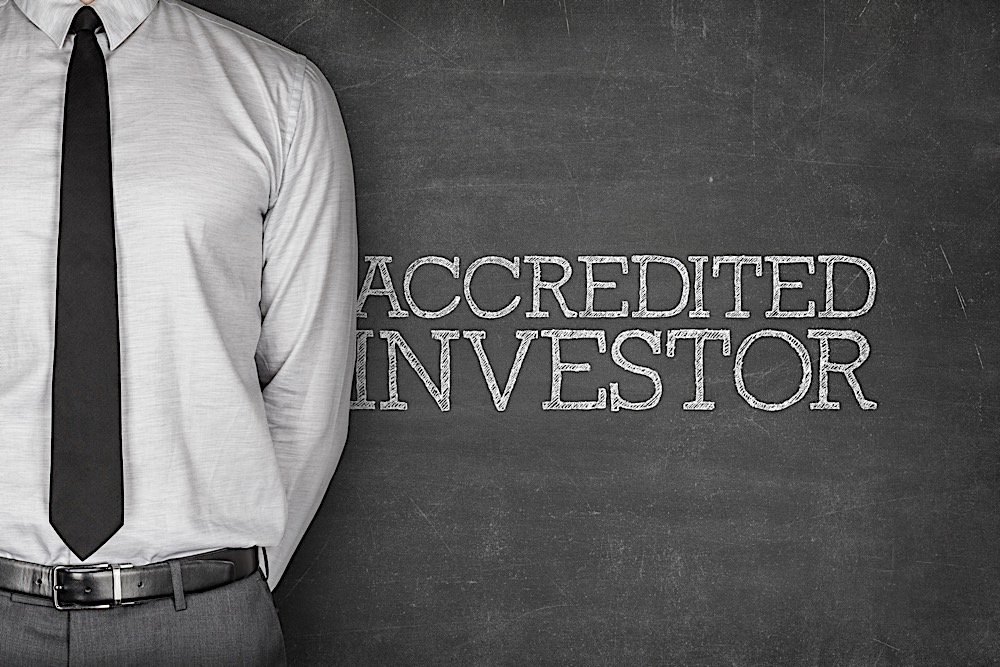 How To Become An Accredited Investor
Do you feel ready to become an accredited investor after weighing the pros and cons? Remember, just because you have accredited investor status does not mean that you have to participate in investment opportunities if you are not comfortable.
Follow these steps to become an accredited investor:
Calculate Your Net Worth

We described precisely how to calculate your net worth earlier in our example section. To summarize, you simply take your total liabilities and subtract them from your total assets. If you included the value of your primary residence, make sure to subtract that out as well, per the SEC rules.

Gather Financial Documentation

Next, you'll need to gather the documents to help prove the net worth you calculated above. This means collecting copies of your tax returns, credit report, bank statements, and retirement and other investment account statements.

Get verified

Last but not least, it's time to get verified! The SEC requires companies to collect investor questionnaires when issuing unregistered securities. You'll have to fill out these questionnaires as a method of verification for each company you'd like to invest in. Be prepared to provide personal and financial information and to provide the documentation you collected in the previous step as proof. Finally, you'll sign the questionnaire document to complete the process. Make sure to keep a copy for yourself!
Summary
If you've been wondering how to become an accredited investor, we hope you found this guide helpful! The actual process of becoming an accredited investor is next to nothing. The hard part is meeting the SEC criteria to achieve the status. However, it's always a great idea to know your net worth anyway. Use this as an opportunity to calculate your net worth and find out whether or not you're eligible. If not, you'll know how much more wealth you'll need to accumulate!
Do you see value in becoming an accredited investor? If you achieve this exclusive status, what type of securities or funds would you invest in, and why? Share your thoughts with us below!
---
Interested in learning more about today's most lucrative real estate strategies?
Whether you're brand new to investing, have closed a few deals, or are a seasoned investor— our new online real estate class reveals the best real estate strategies to get started with real estate investing in today's market. Expert investor Than Merrill explains how these time-tested strategies can help you to profit from the current opportunities in real estate.
Register for our FREE 1-Day Real Estate Webinar and get started learning how to strategically invest in today's real estate market!