Jump To:
---
The Indianapolis real estate market has become the beneficiary of several positive trends spanning the entire state of Indiana. Not unlike every other market in the country, Indianapolis has seen home values rise in the wake of three very specific indicators: positive sentiment in the real estate industry, a strong economy, and a distinct lack of available housing. While not unique to Indianapolis, these three factors have proven incredibly pivotal in shaping today's market. It is worth noting, however, that while real estate in Indianapolis is firing on all cylinders, it has the added benefit of affordability. Despite seven consecutive years of price growth, Indianapolis remains relatively affordable. As a result, the city has seen demand grow in the face of recent appreciation, which bodes well for everyone, especially investors.
Indianapolis's improving economy and vast inventory of new developments has attracted buyers from all across the country. As a result, Indianapolis real estate investing and regular housing activity should see significant increases in activity.
Indianapolis Real Estate Market 2020 Overview
Median Home Value: $148,200

1-Year Appreciation Rate: +10.8%

Median Home Value (1-Year Forecast): +4.9%

Median Rent Price: $1,125

Price-To-Rent Ratio: 10.97

Average Days On Market: 61

Unemployment Rate: 2.6% (latest estimate by the Bureau Of Labor Statistics)

Population: 867,125 (latest estimate by the U.S. Census Bureau)

Median Household Income: $44,709 (latest estimate by the U.S. Census Bureau)

Percentage Of Vacant Homes: 14.51%

Foreclosure Rate: 1 in every 2,159 (4.6%)
---
[ Thinking about investing in real estate? Learn how to get started by registering to attend a FREE real estate class offered in your area. ]
---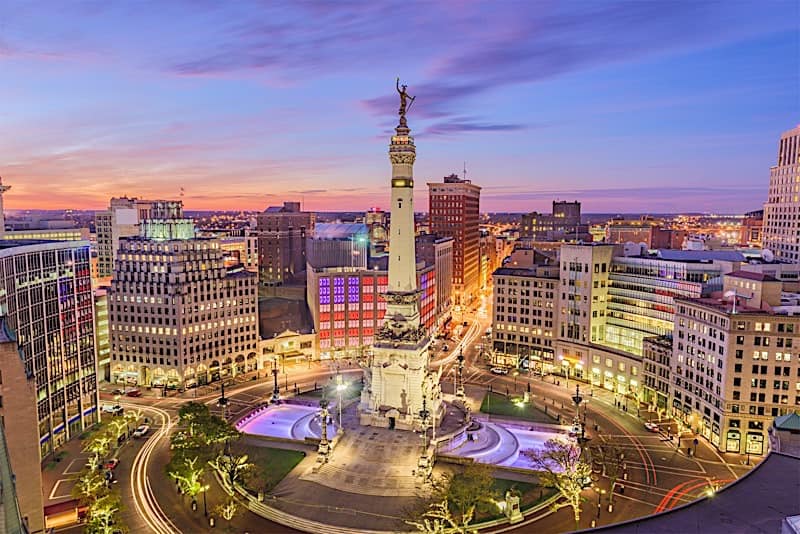 2020 Indianapolis Real Estate Investing
Investors across the country tend to place an emphasis on marketing for distressed properties, and real estate investors in Indianapolis are no exception. Doing so awards them with the ability to implement a targeted marketing campaign. Perhaps even more importantly, however, are the higher profit margins that have become synonymous with motivated sellers. That said, there's one type of distressed property Indianapolis real estate investors should pay special considerations to: auction homes. Representing 58.7% of Indianapolis' distressed property market, auction homes are the largest distribution of foreclosed homes in the city.
As their names suggest, auction homes are assets that were seized from homeowners who were unable to keep up with mortgage obligations, only to be placed up for auction in an attempt to recoup losses for the loan originator. Auctions award investors the opportunity to secure deals with good profit margins. Therefore, today's investors should visit local auctions to tip the scales in their favor. Pulling from the largest pool of distressed assets should increase their odds of landing a good deal.
Of course, knowing where to find real estate deals in Indianapolis is only part of the equation. Once investors secure deals, they need to know what to do with them, which begs the question: Which exit strategies are working the best for Indianapolis real estate investors?
With a price-to-rent ratio of 10.97, it is currently more affordable to buy a house in Indianapolis than to rent one, which speaks volumes to the local real estate market. Not only are more people financially prepared to become buyers in Indianapolis, but it's actually cheaper to buy than rent. As a result, demand for housing has increased, and made rehabbing a more viable exit strategy than ever before. While it's entirely possible to own rental property in Indianapolis, current market conditions give an edge to investors flipping homes. Not only is there incredible demand, but investors may find themselves with affordable acquisition costs and attractive profit margins.
2020 Foreclosure Statistics In Indianapolis
According to RealtyTrac, a nationally recognized real estate information company that specializes in distressed properties, Indianapolis has a relatively high distribution of distressed properties. With approximately one out of every 2,159 homes in some stage of distress (default, auction or bank owned), Indianapolis boasts a foreclosure rate of 4.6%, which remains higher than the 3.9% bar set by the rest of the country.
While Indianapolis real estate trends have seen more foreclosures than the national average, it's important to note that progress has been made. While the rate is currently higher, great lengths have been taken to reduce the city's distribution of distressed homes. As a result, there has been a decline in year-over-year foreclosure activity. "In September, the number of properties that received a foreclosure filing in Indianapolis, IN was 41% lower than the previous month and 17% lower than the same time last year," according to RealtyTrac.
While foreclosures are on the decline, there are still a few neighborhoods with higher distributions of distressed properties spread out across Indianapolis. The following zip codes represent the neighborhoods with the highest foreclosure rates in Indianapolis:


2020 Median Home Prices In Indianapolis
Today's median home price in Indianapolis is the direct result of nearly a decade's worth of appreciation. Since March 2013 — when the Indianapolis market bottomed out during the last recession — local home values have managed to increase an average of 77.4%. At $148,200, today's median home value has not only returned to pre-recession levels, but surpassed them. To put things into perspective, the median home value in the United States increased 86.4% over the same period of time, and now sits comfortably at about $289,000.
There is no doubt about it: The national real estate market has outpaced Indianapolis over the course of the latest recovery. However, Indianapolis has made up a lot of ground in as little as one year's time. In fact, appreciation rates in Indianapolis have more than doubled that of the national average since September 2018. Since then, real estate in Indianapolis has appreciated 10.8%. The rest of the country, on the other hand, increased a slightly more modest 4.8% in the same time.
The latest bout of increases is likely the result of three prominent indicators: inventory, sentiment and the local economy. The residents of Indianapolis have seen their local economy improve year-over-year, increasing the number of people looking to actively participate in the housing market. With an unemployment rate of 2.6%, the city has a strong foundation to build off of. More people can afford to buy in Indianapolis than in years past, which has improved market sentiment. Consequently, there simply isn't enough available housing to meet the demands of each new buyer. Listed homes are nothing less than a commodity targeted by more competition than in years past. As a result, supply and demand has driven prices high and higher.
The city's lack of available inventory looks like it will continue to increase prices, at least for the foreseeable future. Until more homes are brought to the market, appreciation rates will increase, to the tune of about 4.9% over the next 12 months.


Indianapolis Real Estate Market: 2019 Summary
Median Home Value: $139,200

1-Year Appreciation Rate: 14.4%

Median Home Value (1-Year Forecast): 2.5%

Median Rent Price: $995

Median Days On Market: 63
Indianapolis Real Estate Investing 2019
The Indianapolis real estate market in 2019 took momentum from the country's hottest cities and used their success to its advantage. The higher prices of primary metropolitan areas like Chicago and Pittsburgh, for example, drove more potential homebuyers to search for cheaper alternatives. As a result, real estate in Indianapolis benefited primarily from three fundamental indicators: low prices, strong economies, and a growing population. For all intents and purposes, the Indianapolis real estate market did really well for itself in 2019.
In as little as one year's time (December 2017 to December 2018), the median home value in Indianapolis appreciated by 14.4%, which was nearly twice as much as the national average. Thanks to said appreciation, and particularly favorable market conditions in the area, the median home value in Indianapolis was $139,200 about halfway through the year.
In 2019, Indianapolis was considered a relatively cheap city to buy in. As a result demand increased in conjunction with prospective buyers looking to trade the high prices of Chicago and Pittsburgh in for the more modestly priced Indianapolis. Even after the previous year's impressive appreciation rate, people still chose Indianapolis, which worked out well for investors.
Indianapolis Real Estate Market: 2016 Summary
Median Home Price: $146,900

1-Year Appreciation Rate: 5.5%

3-Year Appreciation Rate: 20.4%

Unemployment Rate: 5.0%

1-Year Job Growth Rate: 1.6%

Population: 852,866

Median Household Income: $39,015
Indianapolis Real Estate Investing 2016
While rising home prices were polarizing in different parts of the country, the Indianapolis housing market remained on course with the national average in 2016. The first quarter of 2016 saw home prices in Indianapolis dip just below the national average, settling at $146,900; while appreciation rates kept pace with the rest of the country.
Indianapolis real estate investors and homeowners seeking long-term investments did well in 2016. The one-year appreciation rate for Indianapolis real estate was 5.5 %, compared to the national average of 6.1%, while the three-year appreciation rate was 20.4% compared to 22.6%. Price appreciation and principle payments boosted total equity growth for the Indianapolis real estate market, and the trend is continuing.
The one major advantage for homeowners and renters was the city's affordability. As one of the more affordable housing markets in the country, homeowners in Indianapolis paid 6.8% of their income on monthly mortgage payments during the first quarter, compared to the national average of 14.5%. That number was actually lower than the city's historical average of 9.0%, which was more than two times less than the national average at the time.
Indianapolis Real Estate Market: 2014 Summary
Current Median Home Price: $148,700

1-Year Appreciation Rate: 6.4%

3-Year Appreciation Rate: 16.9%

Unemployment Rate: 5.6%

1-Year Job Growth Rate: 3.0%

Population: 852,866

Percent Of Underwater Homes: 5.4%

Median Income: $51,087

Average Days On Market: 75
Indianapolis Real Estate Investing 2014
Indianapolis real estate news in 2014 was positive. At the time, there were really good things happening across the city: resale inventory tightened and prices rose in the existing home market. Perhaps the only thing that was missing in the region was sustained economic growth to provide the local housing market with the fuel it needed to thrive.
The Indianapolis housing market's median home price was $148,700. While prices in the region were up from the previous year, they were considerably below the national average ($212,267). Subsequently, like most markets in the U.S., Indianapolis homes were starting to appreciate at a slower rate. In 2014, homes in the area appreciated 6.4% over the course of a year. However, in the previous three years, Indianapolis homes appreciated by as much as 16.9%. It is these gains that helped to remove Indianapolis from the post-recession price weakness it had been experiencing.
Historically high appreciation rates have boosted equity in the city of Indianapolis. Moreover, Indianapolis real estate investing has benefited from the increases as well. Event he city's economic outlook continued to improve. Unemployment was better than the national average and employment growth was strong compared to many markets across the country.
Indianapolis Housing Statistics In 2014: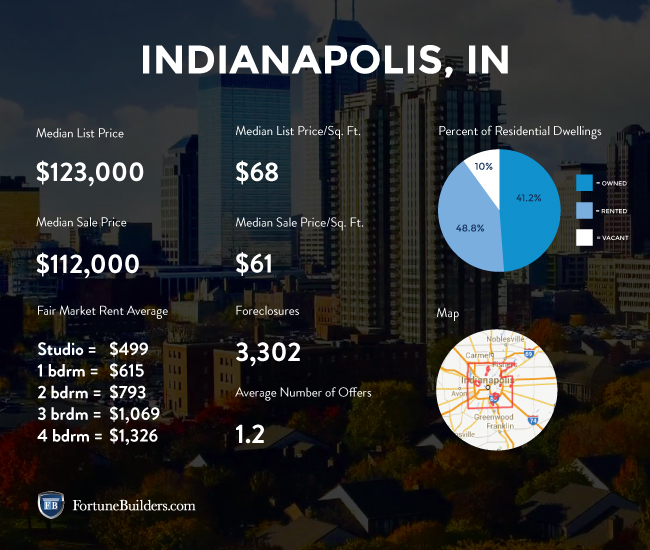 Indianapolis County Map: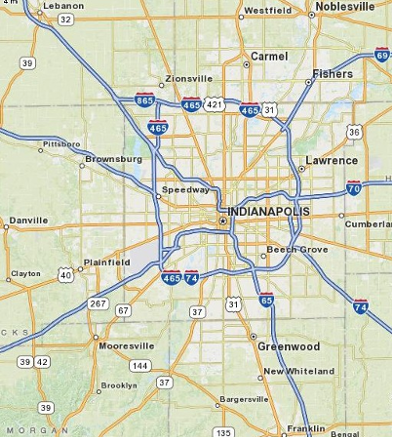 Have you thought about investing in the Indianapolis real estate market? If so, what are you waiting for? We would love to know your thoughts on real estate in Indianapolis in the comments below:
*The information contained herein was pulled from third party sites. Although this information was found from sources believed to be reliable, FortuneBuilders Inc. makes no representations, warranties, or guarantees, either express or implied, as to whether the information presented is accurate, reliable, or current. Any reliance on this information is at your own risk. All information presented should be independently verified. FortuneBuilders Inc. assumes no liability for any damages whatsoever, including any direct, indirect, punitive, exemplary, incidental, special, or consequential damages arising out of or in any way connected with your use of the information presented.
🔒 Your information is secure and never shared. By subscribing, you agree to receive blog updates and relevant offers by email. You can unsubscribe at any time.