Jump To Another Year In The Knoxville Real Estate Market:
---
The Knoxville real estate market may be one of the hottest real estate markets in the country. The city's proximity to Nashville and relatively affordable home prices are responsible for an influx of demand that few other cities can compete with. Investors, on the other hand, have enjoyed an incredible run for the better part of a decade. There are very few markets with more promising fundamentals than Knoxville, even in the midst of the Coronavirus pandemic.
All things considered, COVID-19 disrupted the entire national housing sector. Not a single city was spared by the pandemic, and Knoxville certainly wasn't an exception. Not unlike everywhere else, real estate in Knoxville shuttered in the wake of inactivity and uncertainty. However, the largest city in East Tennessee appears to have been more resilient than many of its peers.
Local unemployment spiked in April (like everywhere else) but has recovered at a much faster rate than the national average. As a result, the Knoxville housing market will look to pace a national recovery on the heels of low interest rates, increasing demand, and more confidence in the housing sector.
Knoxville Real Estate Market 2020 Overview
Median Home Value: $213,420

1-Year Appreciation Rate: +9.0%

Median Home Value (1-Year Forecast): +7.6%

Median Rent Price: $1,250

Price-To-Rent Ratio: 14.22

Unemployment Rate: 6.6% (latest estimate by the Bureau Of Labor Statistics)

Population: 187,500 (latest estimate by the U.S. Census Bureau)

Median Household Income: $37,703 (latest estimate by the U.S. Census Bureau)

Percentage Of Vacant Homes: 9.58%

Foreclosure Rate: 1 in every 12,833 (0.7%)
---
[ Thinking about investing in real estate? Learn how to get started by registering to attend a FREE real estate class offered in your area. ]
---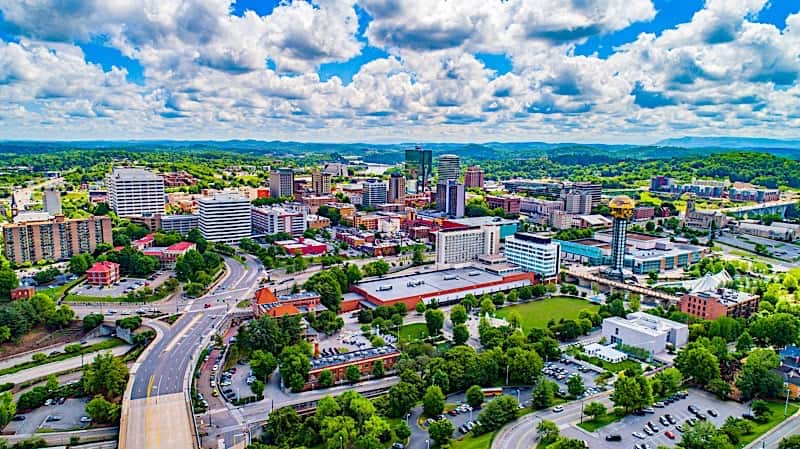 2020 Knoxville Real Estate Investing
Investors have enjoyed what many are calling a resurgence in the local housing market. Thanks, in large part, to its proximity to Nashville, the Knoxville real estate market has experienced an uptick in demand from those who want to escape the higher prices of its neighbor. Buying real estate in Knoxville appears to be a good investment because of the disruption onset by the pandemic. If for nothing else, there's no telling how long today's prices will remain at their current level.
Over the next year, home values in Knoxville are expected to increases somewhere in the neighborhood of 7.6%. No more than a few months ago experts were calling for home values to drop as much as 2.0%, which makes the revised expectations all the more impressive. For some context, the median home value across the United States is expected to increase 7.0% over the next 12 months.
In addition to what experts expect to transpire over the next year, home prices have already increased by 5.8% over the last 12 months (August 2019 to September 2020). Simply put real estate in Knoxville has appreciated a lot, and is expected to continue doing so. As a result, profit margins for rehabbers have grown thinner. That's not to say flipping won't remain a viable exit strategy moving forward, but rather that investors may want to consider another investment plan: long-term rentals.
The new landscape resulting from the Coronavirus has disrupted the Knoxville real estate market to the point that investors really need to evaluate their current strategies. In particular, two indicators are now leaning heavily in favor of landlords (or prospective landlords):
Low Interest Rates: As of September, the average commitment rate on a 30-year fixed-rate mortgage was 2.89%, according to Freddie Mac. At that rate, it's never been cheaper to borrow institutional money, which helps long-term investors offset today's high home price in Knoxville. Lower mortgage payments can help justify buying a home in Knoxville after nearly a decade's worth of appreciation; at most, they can increase cash flow for landlords.

Increasing Demand: With a 14.22 price-to-rent ratio, it is more affordable to buy a house in Knoxville than to rent one. Any other year, the price to rent ratio would work against landlords. However, Knoxville's inventory levels are insufficient, and can't keep up with demand brought about by low interest rates. Even those who wish to buy will be relegated to the renter pool, which bodes well for landlords. There simply isn't enough inventory in Knoxville, which means more people will be renting for the foreseeable future.
Investors are lucky to have several viable exit strategies at their disposal, but none appear more attractive than building a proper rental property portfolio in the wake of the pandemic. Too many important market indicators are pointing towards becoming a buy-and-hold investor to ignore.
2020 Foreclosure Statistics In Knoxville
According to RealtyTrac, a nationally recognized real estate data company that specializes in foreclosure data, the Knoxville real estate market has approximately 45 properties that fit the description of a distressed home (default, auction or bank-owned). More specifically, a mere one in every 12,833 homes is distressed that equates to a 0.7% foreclosure rate. The number of distressed properties is relatively low, and apparently dropping as the city distances itself from the last recession. According to RealtyTrac, the number of properties that received a foreclosure filing has dropped 87.0% from one year ago.
For some context, the national foreclosure rate has also declined in recent history, albeit slightly less. As recently as September, "the number of properties that received a foreclosure filing in U.S. was 2% lower than the previous month and 80% lower than the same time last year," according to RealtyTrac. Following the drop, one home in every 13,947 homes in the entire country is considered distressed, or 0.7%.
The Knoxville housing market has a foreclosure rate which is on par with the national average. Unlike the national average, however, Knoxville's distressed inventory is split evenly between auction homes and bank-owned homes. Each type of distressed home accounts for 50.0% of the foreclosure market, which means investors should pay special considerations to local auctions and banking institutions. Doing so will increase the odds of finding a distressed home for a discount.
For a better idea of where to look for distressed homes, here's a list of the neighborhoods in the Knoxville real estate market with the highest distributions of foreclosures:
37915: 1 in every 3,273 homes is currently distressed

37934: 1 in every 9,856 homes is currently distressed

37920: 1 in every 19,047 homes is currently distressed

37918: 1 in every 19,157 homes is currently distressed
It should be noted, however, that the "shelter in place" orders issued to combat the Coronavirus will most likely impact foreclosures moving forward. While government programs and mortgage forbearance initiatives will keep people in their homes for the foreseeable future, they are more of a temporary fix than a solution.
Once the allotted forbearance periods expire, those who weren't able to keep up with their mortgage obligations may be expected to pay all of their missed payments in one lump sum, a feat which may prove impossible for those who were hit the hardest. Homeowners with loans backed by Fannie Mae, Freddie Mac, and the FHA won't be expected to make lump-sum payments, but even their mortgage obligations will need to be made current sooner or later. Regardless, future mortgage payments will eventually be compounded with past payments, which will be difficult for a lot of homeowners to comply with. As a result, the Knoxville housing market will most likely see an influx of foreclosures over the course of the next 12 months. Therefore, today's well-positioned investors may find the latter months of 2020 to be ripe with opportunities.
2020 Median Home Prices In Knoxville
In one year, the Knoxville real estate market saw median home prices increase by as much as 9.0%. Real estate has been on an incredible run, to say the least. The median home value in the United States increased by 5.8% over the same period of time. Despite the disparity in recent appreciation rates, however, the median home value is considerably less than the national average—$213,40 and $259,906, respectively. Nonetheless, expect local real estate to make up even more ground in the coming year. The Coronavirus will impact home values, which begs the question: Will house prices go down in Knoxville?
As things stand, it's unlikely prices will decrease anytime soon. Entering into the fourth quarter, experts are expecting prices to appreciate nearly as much as they did in the last year. If Knoxville real estate trends continue, it looks like forecasts will play out exactly as we expect. Increasing demand onset by low interest rates, combined with a lack of available housing, should enable owners to increase listing prices sooner rather than later.
Knoxville Housing Market: 2016 Summary
Median Home Price: $167,700

1-Year Appreciation Rate: 4.9%

3-Year Appreciation Rate: 9.9%

Unemployment Rate: 4.7%

1-Year Job Growth Rate: 2.8%

Population: 183,270

Median Household Income: $33,494
Knoxville Real Estate Investing 2016
Knoxville's real estate news was generally positive in 2016. Home prices and appreciation rates achieved moderate gains during the first half of the year while supporting factors such as home affordability, the local economy, and new housing construction gradually improved. Although prices were below the national average, gains in the previous three years extended the trend of positive growth since the recession. With gains benefiting both homeowners and investors alike, the Knoxville housing market captured momentum in recent years and got to where it is today.
One of the biggest supporters of the local market was the economy. Employment held up, as one-year job growth reached 2.8% during the second quarter. Additionally, the second quarter saw an unemployment rate of 4.7%, lower than the national average of 4.9%, and better than its unemployment the previous year. Compared to other markets, local employment growth was strong and faring better than the rest of the country.
Homeowners paid 8.6% of their income to mortgage payments in the second quarter of 2016, while the national average paid an astounding 15.8%. The ratio of price-to-income was much lower during the second quarter compared to its historical average of 11.5% at the time.
Knoxville Housing Market: 2015 Summary
Median Home Price: $150,800

1-Year Appreciation Rate: 4.2%

Unemployment Rate: 5.4%

1-Year Job Growth Rate: 3.3%

Population: 183,270

Median Household Income: $45,051
Knoxville Real Estate Investing 2015
Not unlike every city in the country, the Knoxville real estate market experienced severe setbacks following the recession. However, it was pretty evident in 2015 that the market was on an upward trend. In fact, the local housing market has continued to improve to this day.
In 2015, the market boasted a median home price of $150,800, which was lower than the national average. The national average, on the other hand, was nearly $60,000 more at the time. Today, the difference isn't as big. Appreciation rates for Knoxville and the rest of the country were fairly comparable—4.2% and 5.7% respectively. Despite slower appreciation rates, prices continued to grow relative to the previous year. Gains in 2015 were enough to remove real estate from a period of post-recession price weakness.
Economic and demographic fundamentals promoted a healthy balance between supply and demand in 2015. The job market, in particular, was really strong. With an unemployment rate below that of the national average, the city had more residents who could afford to either rent or own. However, strong fundamentals also made Knoxville real estate investing an attractive option as well. What's more encouraging, however, was the city's job growth rate. Over the course of 12 months, Knoxville's job growth rate increased by 3.3%, easily outpacing the national average.
Real estate was more affordable than most markets across the country. Affordability was historically strong for the area and only continued to improve as the years went on. That said, owners spent about 8.4% of their income on monthly mortgage payments.
Knoxville County Map: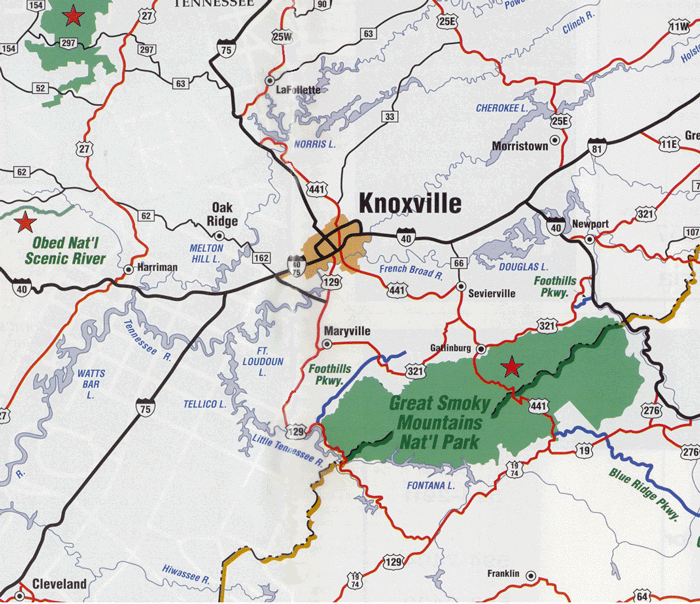 Knoxville Real Estate Market Summary
Real estate in Knoxville is amongst the most coveted assets in the country. Thanks to a unique combination of relative affordability and increasing demand, local real estate investors have found the Knoxville real estate investing environment to be incredibly welcoming. Few cities, for that matter, have been able to reward investors with a higher return on investment in recent history. What's more, the pandemic may have actually made Knoxville a better place to invest in real estate. The temporary disruption and resulting market indicators have never looked more attractive to investors. As a result, the Knoxville housing market belongs in the conversation with today's best places to invest.
Have you thought about investing in the Knoxville real estate market? If so, what are you waiting for? We would love to know your thoughts on real estate in Knoxville in the comments below:
Ready to start taking advantage of the current opportunities in the real estate market?
Maybe you have plenty of capital, an extensive real estate network, or great construction skills— but you still aren't sure how to find opportunistic deals. Our new online real estate class, hosted by expert investor Than Merrill, can help you learn how to acquire the best properties and find success in real estate.
Click here to register for our 1-Day Real Estate Webinar and get started learning how to invest in today's real estate market!
*The information contained herein was pulled from third party sites. Although this information was found from sources believed to be reliable, FortuneBuilders Inc. makes no representations, warranties, or guarantees, either expressed or implied, as to whether the information presented is accurate, reliable, or current. Any reliance on this information is at your own risk. All information presented should be independently verified. FortuneBuilders Inc. assumes no liability for any damages whatsoever, including any direct, indirect, punitive, exemplary, incidental, special, or consequential damages arising out of or in any way connected with your use of the information presented.
🔒 Your information is secure and never shared. By subscribing, you agree to receive blog updates and relevant offers by email. You can unsubscribe at any time.