Key Takeaways
Learning how to be a good landlord comes down to researching the job responsibilities and developing a strong work ethic.
If you are interested in becoming a landlord, there are several new landlord tips that can help.
There are certain qualities shared by great landlords, such as strong communication and organization skills.
---
Every real estate investor, property owner, and tenant understands the importance of a good landlord. Landlords oversee day to day operations, collect rent, and keep the property running smoothly. That's why it is crucial to have a skilled professional in the role. Whether you are interested in becoming a landlord, boosting your existing skills or even just searching for a talented candidate, the following landlord tips can be used as a roadmap.
---
[ Thinking about investing in real estate?
Register to attend a FREE online real estate class
and learn how to get started investing in real estate. ]
---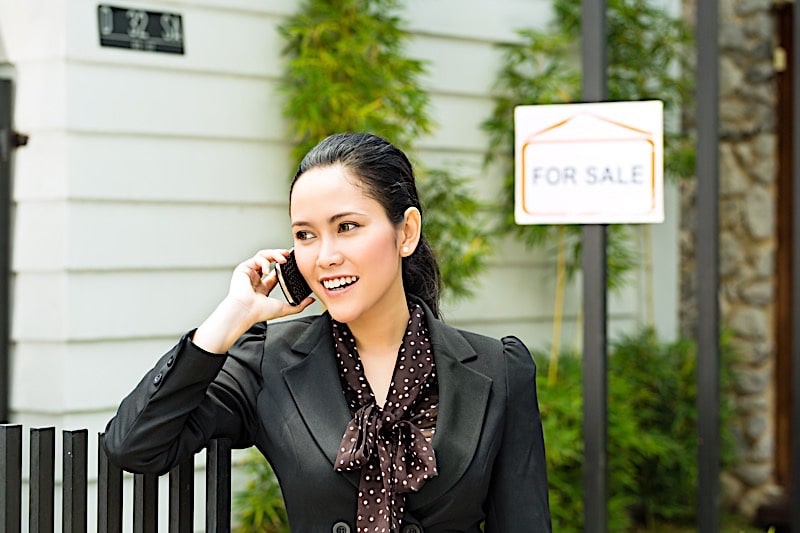 Landlord Advice: Top 7 Tips For Landlords
Learning how to be a successful landlord comes down to preparation and research. By taking the time to learn what goes into the job, aspiring landlords can ensure they accomplish all they set out to. Here are a few tips for being a landlord that can guide anyone considering (or currently pursuing) this career path:
Learn state and local residential laws.
Know how to act professionally.
Use residential applications to find strong tenants.
Look for ways to improve the property.
Pay attention to comparable properties and rent fluctuations.
Find tools to stay organized.
Know The Law
Residential real estate is regulated by a number of state and local laws that all landlords should be aware of. To avoid any potential issues, landlords should educate themselves on the area they are operating in and abide by any laws. Be mindful of these regulations when writing advertising materials, lease documents, and other tenant communications. It is also important to keep well maintained records, in the event an issue arises.
Among the policies landlords should become familiar with is the Fair Housing Act. This act was created to prevent discrimination based on race, color, national origin, religion, sex, familial status, and disability during the housing process. In addition to this policy, there may be other laws regarding rent control, lease lengths and more in a given area. In order to be successful as a landlord, it is important to know about each law that impacts the position.
Act Like A Business Owner
In some cases, the investor, or owner of the property, will double up and serve as the landlord; however, it is just as common to hire a landlord or property manager for the role. Regardless of your choice, it is still crucial to treat the job seriously and act like a business owner. This is one of the most important tips for landlords to follow because how you treat the job will influence both your success in the role and your future in the industry.
There are a few ways landlords can demonstrate they take the role seriously. For example, landlords should strive to keep the property and all units in good condition, uphold positive relationships with tenants or potential tenants, and keep up-to-date records on the property. If you are a property owner wondering about when to hire a property manager versus be your own landlord, be sure to read this article.
Find The Best Tenants
The success of a landlord is dependent on several factors, one being the ability to find the right tenants. Landlords should seek out the best possible tenants in order to make sure that rent is paid on time, no damage is done to the units, and things run smoothly. This involves requiring an application and checking references before approving a tenant. Additionally, landlords should monitor for any potential warning signs when communicating with an applicant. Do they show up to viewings on time? Do they submit all application materials? Do they meet minimum credit score and income requirements? Paying attention to these factors will help landlords get a feel for whether or not this tenant will be easy to work with in the future.
Invest In The Right Renovations
Part of a landlord's responsibilities are to maintain and upgrade the property as necessary. This involves keeping a pulse on the latest real estate trends in order to keep a property on par with the local area. Landlords should consistently keep an eye on the condition and aesthetic of comparable properties and look for ways to improve their existing units. Doing so will help keep tenants happy, make the property more marketable, and potentially increase overall revenue.
The right renovations will depend on the specific property and market area, though there are several projects that can boost appeal in almost any rental property. These renovations include updated appliances, wood flooring, marble countertops and tiled bathrooms. Each of these projects can increase the overall property value, which can ultimately lead to higher rent prices.
Price It Right
The majority of a landlord or property owner's profits are going to come from rental income, making it crucial to price the unit correctly. If a property is listed at too high of a price, tenants will choose to live elsewhere and landlords will lose income from the vacancies. On the other hand, if a property is listed too low, landlords may not be able to cover operating costs or maximize the profitability of the units. To find the right rent price, conduct a market analysis and evaluate the overall condition of the property. Look at comparable units in the area to determine the range in which a property falls. It is also important to know when and how to announce a rental increase as the property appreciates over time.
Use Property Management Software
Property management software is beneficial to both landlords and tenants for a number of reasons. When used correctly, they can streamline communications, ease rent collection and help maintain digital records. Many landlords rely on property management software to stay organized and maintain positive relationships with tenants. Some property management software even allows tenants to submit maintenance requests and other needs online. Overalls, property management software can help boost efficiency in day to day operations. Check out this article if you are interested in learning more about property management software.
Prioritize Organization
As a landlord, organization is a critical skill. Landlords need to respond to tenants quickly, keep detailed records, and report on the profitability of the property. All of these tasks depend on proper organizational skills. There are several ways to stay organized as a landlord including keeping a clean office, scheduling specific time to respond to emails,, and creating a weekly to-do list to stay on top of the job. Even if organization has never been your strong suit, it is not too late to improve this skill. Try looking into apps like Todoist or Google Calendars to stay on track.
Landlord FAQ
There are several misconceptions surrounding the job description of a landlord, which is why it's important to research the position before jumping in. Learn the answers to the most common questions new landlords ask to prepare yourself for the job today:
What Are The Top Responsibilities Of Landlording?
The responsibilities of landlording are to collect rent, answer tenant questions, monitor the condition of the property, handle maintenance requests and operate the leasing office. While the specific duties will depend on the property, landlords can expect to handle each of the aforementioned tasks as a general outline. Landlords may also be responsible for marketing the property, hosting viewings and responding to tenant applications.
How Much Money Can You Make As A Landlord?
As a landlord, you can make anywhere from a few hundred dollars per month to several thousand. The exact amount will depend on how much income the property is generating. For example, if you are in charge of a single family home, the income will be smaller than if you manage a multi-unit apartment complex. In order to make a full salary as a landlord, you will typically need to manage multiple units. However, some individuals will use landlording as a way to make supplemental income and will only manage a few units at a time. As a basic rule, estimate the rental income of a property to determine a general idea of how much money you can make as a landlord.
Do You Have To Have A License To Landlord?
You do not have to have a license to become landlord, but you will need a specific license to legally rent a property. Depending on your role at the property, you will be responsible for getting a certificate of occupancy and a housing business license. A certificate of occupancy is exactly what it sounds like: it states that the property is able to be rented or occupied. A housing business license will vary depending on the property type and location, but will also determine whether or not the units are allowed to be occupied. The licenses required to rent a property will often be contingent on the state and local area in which you are operating. You can find more information on your state's website.
How Do I Become A Landlord?
There are several ways to become a landlord: you can either purchase a rental property, apply to work for a property management company, or search for landlord job opportunities directly. If you are unsure where to start, try attending a real estate networking event in your area to make connections in the industry. This will expose you to industry players in your market and will help you learn more about real estate as a whole. Alternatively, if you have an opportunity in mind or know someone in need of a landlord, research the job responsibilities and traits required to succeed to help yourself stand out from the competition.
What Mistakes Should I Avoid As A Landlord?
As a landlord, the biggest mistakes you should avoid all relate back to liability. It is the landlord's job to properly screen tenants, abide by housing laws and maintain the property's condition. In order to avoid any problems, research your local area, thoroughly vet your insurance options, screen tenants, and be prepared to complete the required job responsibilities. Additionally, it is important to make sure the property is up to code and abides by any housing policies in the area. Remember, the number one mistake landlords make is failing to cover all of their bases.
Most Common Traits Of Great Landlords
One thing that many aspiring landlords underestimate is the importance of possessing positive character traits. The duties required of a landlord include strong communication skills, organization and a professional attitude. Review the most common traits of great landlords below and determine your own strengths and weaknesses: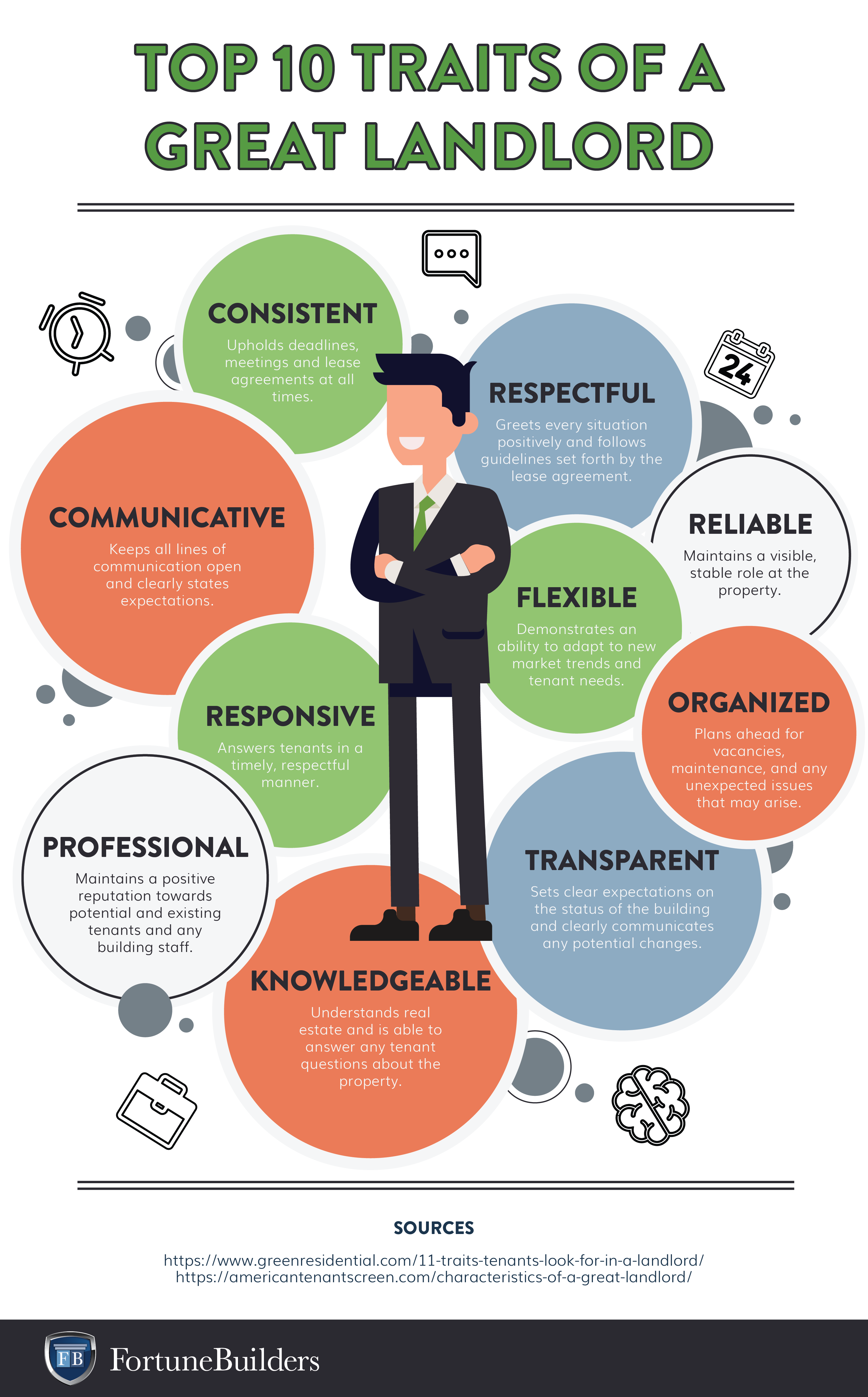 Summary
More often than not, landlords are the glue that keep properties running smoothly. They are in charge of rent collection, tenant communications, maintenance and more—making this position crucial to the success of the property. Anyone interested in becoming a landlord or improving their existing skills, can use the above landlord tips to prepare for the job. When done right, working as landlord can be a highly rewarding experience.
What is your best landlord advice? Share your thoughts in the comments below:

---
Ready to start taking advantage of the current opportunities in the real estate market?
Click the banner below to take a 90-minute online training class and get started learning how to invest in today's real estate market!