When a seller receives multiple offers and offer letters, how do you make yours stand out? By using a real estate offer letter template, you're following a professional format to make an emotional appeal, but without going overboard. Keep reading to find out how to construct a winning real estate offer letter. Not only that, but make sure you download the free real estate offer letter template at the end of this article to add to your home-buying toolkit.
What Is A Real Estate Offer Letter?
A real estate offer letter is a physical representation of a prospective buyer's intentions to buy a home. As its name suggests, a real estate offer letter is a letter (handwritten or typed) given to the property owner to inform them of a prospective purchase. Not only that, but a good real estate offer letter will (not surprisingly) present the owner with a concrete offer to buy the home. That said, writing an offer letter isn't as simple as telling the owner you want to buy the property; you need to approach the situation tactfully. There are several things a good real estate offer letter will have in it, not the least of which I will go into detail below.

---
[ Thinking about investing in real estate?
Register to attend a FREE online real estate class
and learn how to get started investing in real estate. ]
---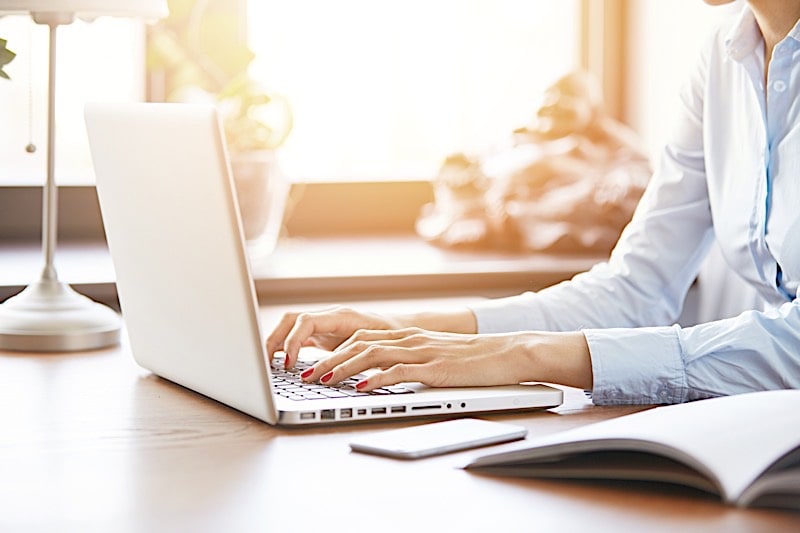 What Should Be Included In A Real Estate Offer Letter?
A real estate offer letter is not an official legal document or contract, as such there is no formula of required components to follow. That being said, there are several elements buyers should include to effectively communicate to sellers. Over the years many in the real estate world have become accustomed to various sections being present in an offer letter. The following is a brief overview of what should be included in a real estate offer letter:
An address and description of the potential property

The sale price

Proposed terms for the sale

Ideal closing date

Earnest money deposit amount

Deed and title discussion

How utilities and taxes will be adjusted during the transaction

Any provisions and contingencies necessary to the sale

State specific clauses if required

Date by which the offer will expire
The above list is not exhaustive in any way; it is simply the "bones" of a standard offer letter. Continue reading to learn how to include the above items and guidelines for adding personal elements to a real estate offer letter.
What To Leave Out Of Your Letter
Just as there are pieces of information that will benefit your letter, some things should be left out entirely. You don't want to rub the seller the wrong way, and you definitely don't want to cross any legal boundaries set in place by the Fair Housing laws. Read the following list before writing your letter to ensure your appeal is as streamlined and effective as possible:
Don't provide too much personal information. Including your race, gender, religion, or other information on a protected class can create a possible violation of the aforementioned Fair Housing laws. If the seller were to take any of that information into account when choosing a buyer, it would violate these laws. Avoid including personal photographs, which also fall under this umbrella.

Leave out the financial details. While you want to include the sale price and deposit amount, don't overshare your financial situation in the offer letter. Including extra financial details could hurt your case when negotiating during the closing process. Stick to the necessary numbers and leave out anything that could cause the seller to worry about your financing.

Focus on the good. Be careful not to include any plans you have for their home that may differ from what they have done themselves. Talking about your vision of knocking down a few walls and redoing the basement could be considered an insult to their home. Instead, highlight what you already love about the property.

Don't contradict the purchase agreement. Avoid anything that will be decided in the final purchase agreement. Remember that an offer letter is about standing out during the homebuying process; the hard negotiations will happen afterward. Above all else, make sure you don't contradict yourself or your agent — as this could confuse everyone involved.

Avoid sounding desperate. While it's great to show your earnest interest in buying the home in question, be careful not to sound too desperate. This could signal to the seller that you might be willing to pay more for the home, so they might counter with a higher price.
How To Write A Real Estate Offer Letter
The hardest part about writing a real estate offer letter will be including all of the necessary information, while sticking to the point. A strong offer letter should stay around one page long, or 1000 words. Keep this in mind as you walk through the following steps:
Make your case and state why you want the property

Include something personal and connect with the seller

Support your offer with necessary financial information

Gently explain any contingencies you may have
1. Make Your Case
In some instances, a seller will merely be looking for an offer that allows for a smooth sale. However, in other cases, a seller may have an emotional attachment to their property and want it to go to the "right" buyer. Buying and selling a home can be a highly personal experience, so writing a heartfelt offer letter can help humanize the transaction. Attempt to make your case,  but remember to limit the personal information. A good guideline is to treat the letter like you are talking to a new friend. Include personal details while still keeping it short and to the point.
Letters help make your offer stand out in a competitive environment or explain your offer if it is lower than the asking price. In some cases, sellers may opt for buyers with a slightly lower offer because they want the property to go into good hands. State why you want to purchase the home and demonstrate why you would be a good fit. This portion of the letter should show how serious you are about the property. All in all, making your case is about finding balance. Aim to be personable and sincere without divulging too much information.
2. Build A Relationship With The Seller
There are several approaches to help to make your offer letter stand out, all of which hinge on your ability to make a connection with the seller. When writing your offer letter, find specific ways to relate to the seller's emotions—and take a problem off their hands. For homebuyers, perhaps you can outline why this property is perfect for you and your family. For investors, appeal to how you can provide a solution to the seller's needs, such as offering to pay for moving or cleaning services. Put yourself in their shoes and think through how you could help the situation run more smoothly. Kris Lippi, the owner of ISoldMyHouse, offers this insight: "a striking offer letter includes compliments about the property. People like to be acknowledged for the work they've put into the house they're about to surrender to you. A simple recognition of what you like about the home is enough to make the owner feel appreciated for the time, hard work, and money they've put into their property".
As you write, be sure to stay honest and friendly without going overboard or sounding phony. The idea is to make your letter stand out because of its sincerity, not its drama. Some ideas include handwriting the letter and envelope addresses, attaching a photo of your family or pets, or even including a drawing made by your child. This is your chance to make a strong impression on the seller.
3. Support Your Offer
The details of your offer are essentially the meat and potatoes of the letter. This is where you will outline the specifics and hopefully meet the conditions of the listing. Include information on your loan status (if you are approved) and the amount of your down payment. Be careful to avoid overstating your financial status, and instead stick to your offer throughout the letter. Any financial information should be direct and accurate, as misrepresenting yourself could cause problems during negotiations. This is also a good time to reinforce the closing date, which will let the seller know you are ready to move forward with the transaction should your offer be approved.
4. Explain Your Contingencies
The end of your letter should accomplish two main things. First, it should outline any contingencies that you have for the property. These could include getting a home inspection or appraisal, for example. Don't worry about "ruining" your chances for the property, as these topics will likely be revisited during negotiations. It is more important to be transparent about your expectations.
Finally, the conclusion should reiterate why you are the best fit for the property. For example, if any special features within the house stand out to you, like a stone fireplace or stained glass window, mention them as you wrap up your letter. Then, write a sentence or two explaining their significance to you and how you will incorporate them into your plans for the property. This will allow you to bring the focus back to the home while also ending on a personal note.
---
[ Learning how to invest in real estate doesn't have to be hard!
Our online real estate investing class
has everything you need to shorten the learning curve and start investing in real estate in your area. ]
---
Free Real Estate Offer Letter Template
Click the image below to download the offer letter template, which provides a professional layout and will help you brainstorm talking points for when you craft your own stand-out offer letter: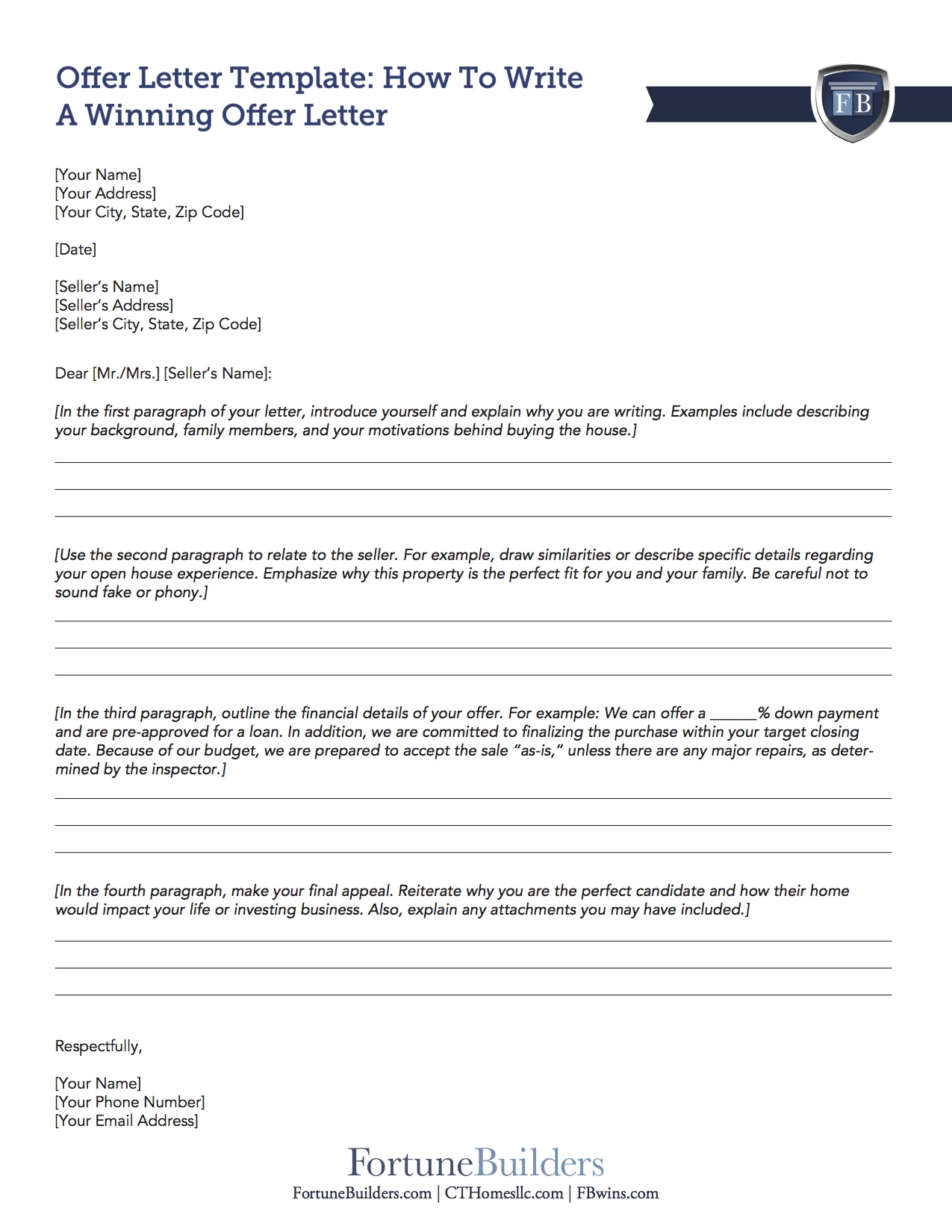 Price Negotiation
After finding the perfect property, many homebuyers will feel motivated to act quickly to avoid losing out. However, the speed of a real estate transaction should not discourage buyers in even the most competitive markets from negotiating a sale. Instead, homebuyers should make sure the sale price is fair and adjust their offer accordingly. To ensure you are getting a good price, research the value of the home and ask your real estate agent for feedback.
In many cases, aspiring homebuyers will make an offer based on the information they know but leave room in the offer letter for contingencies. This allows them to negotiate if the appraisal or inspection reveals new information to anyone involved in the transaction. Additionally, there are a few other factors to look for that may signal sellers are open to negotiation. These include a property that has been on the market for a considerable amount of time, an estate sale or similar circumstance, or if the market is moving slowly in that area. Homebuyers can use all the information they have to their advantage to negotiate the sale price and secure a fair deal on their new home.
Types Of Offers
There are two types of offers that you can make when purchasing real estate. The first type is a firm offer. A firm offer is used when the buyer is willing to purchase the property with no specific conditions. No more negotiation is required from either side if a seller accepts a firm offer.
The second type of offer is called a conditional offer. A conditional offer is used when the buyer wants to purchase a property but does have specific conditions that they want met. This means that the sale will not be finalized until the terms of the offer are agreed upon and completed. An example of a condition would be requesting a professional inspection of the property to identify any issues before purchase. Only once these requests are met can the sale be finalized.
Related Documents
There are a few other related documents associated with the early stages of the home buying process. It can be helpful to review these before you begin the transaction:
Summary
A strong offer letter could mean the difference between securing a great property or walking away empty-handed. That's why it is important to build a positive relationship with the seller and provide them with peace of mind. Always maintain a balance between personal and professional, and above all, demonstrate your genuine interest in the property. Remember: whether you are an investor or first-time homebuyer, our real estate offer letter template is here to help.
---
Ready to start taking advantage of the current opportunities in the real estate market?
Click the banner below to take a 90-minute online training class and get started learning how to invest in today's real estate market!