Key Takeaways
Offer letters can be a powerful tool to make your offer stand out to the seller.
Making an emotional appeal to the seller can help humanize the transaction.
Download our offer letter template to help you brainstorm your own letter.
---
When a seller receives multiple offers and offer letters, how do you make yours stand out? By using an offer letter template, you're ensured to follow a professional format and make an emotional appeal, but without going overboard. Keep reading to find out how to construct a winning offer letter. Be sure to download the offer letter template below to add to your home-buying toolkit.
Real Estate Offer Letter Template: Write Your Winning Offer Letter
In many cases, a seller will merely be looking for a top offer that allows for a smooth sale. However, in other cases, a seller may have an emotional attachment to their property and will want it to go to the "right" buyer. Buying and selling a home can be a highly personal experience, and writing a heartfelt offer letter can help humanize the transaction. Offer letters are also helpful in making your offer stand out in a competitive environment, or in explaining your offer if it is lower than the asking price. In some cases, a seller may opt for a buyer with a slightly lower offer because they want their property to go into good hands.
There are several approaches to help making your offer letter stand out. First, download the offer letter template below to help you properly format your letter, as well as to get pointers on what to include. When writing the letter, be sure to find specific ways to relate to the seller's emotions. For buyers, perhaps you can outline why this property is perfect for you and your family. For investors, appeal to how you can provide a solution to the seller's needs, such as offering to pay for moving or cleaning services. When writing, be sure to be honest and personable without going overboard or sounding phony. Other ideas to make your offer letter stand out from others' include handwriting both the letter and envelope addresses, or attaching a photo of your family, pets or even a drawing made by your child.
Click the image below to download the offer letter template, which provides a professional layout and will help you brainstorm talking points for when you craft your own stand-out offer letter: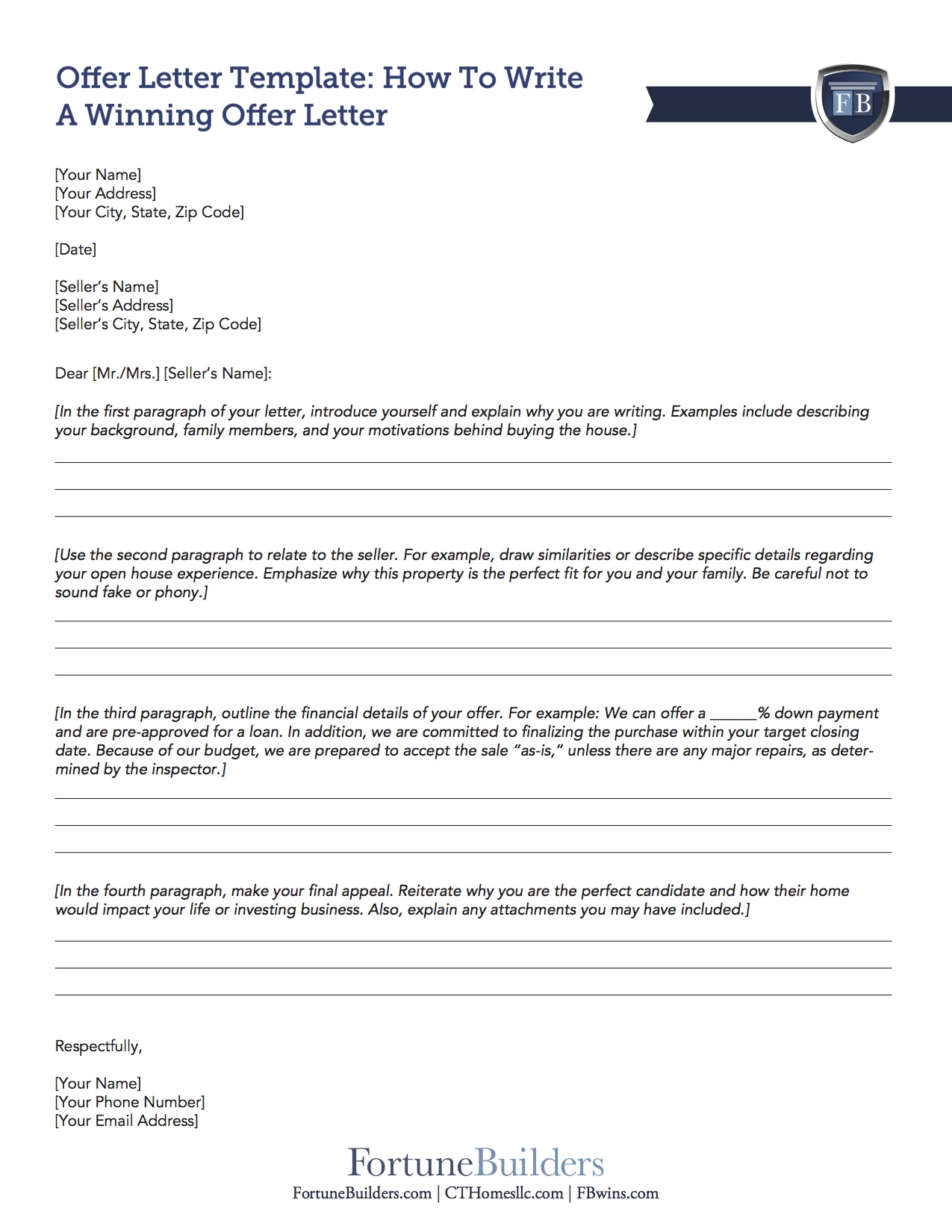 🔒 Your information is secure and never shared. By subscribing, you agree to receive blog updates and relevant offers by email. You can unsubscribe at any time.