Key Takeaways
---
Have you been thinking about creating a system for your real estate accounting, but keep procrastinating on it? Do you feel like you could better spend your time on other profit-making activities? Read on to find out just how important accounting for real estate investors is, a crash-course on how it works, and some of the best real estate accounting software available on the market.
Who Uses Real Estate Accounting?
Anyone who manages properties uses real estate accounting. Understanding how to do accounting will help you keep your finances in order and ultimately run your business more efficiently. Accounting is a necessary aspect of property management to analyze profits, track spending, and evaluate your properties' success. Real estate investors need to understand how to use real estate accounting to ensure their business's long-term success.
Why Should I Care About Real Estate Accounting?
One should care about real estate accounting as it is an invaluable tool that helps entrepreneurs manage their businesses effectively. Perceived by many as a tedious task that eats into time that could be spent on profit-making activities, real estate investment accounting is often pushed to the wayside. Nonetheless, entrepreneurs need to understand how their financial transactions are managed, especially when dealing with large sums. Real estate accounting is a crucial activity that allows business owners to analyze the health of their operations, deal with taxes more effortlessly, and better devise business strategies.
For starters, keeping up-to-date on financial records allows for the calculation of key performance indicators, which help to measure any progress made towards goals and benchmarks:
Cash flow

Profit and losses

Net worth
Next, investors will find that accounting will prove to be a tremendous boon during tax season. Every year, individuals and businesses across the nation scramble to dig up information and documents required for filing taxes. By keeping detailed records, businesses can prepare annual tax returns without the often-associated stress. Here are some added benefits brought about during the tax season:
Cut down on hours billed by your CPA

Have records neatly organized in case of an IRS audit

Keep track of and defend any deductions claimed
If you are not yet convinced on the importance of accounting for real estate investors, perhaps this next topic will. If not for accounting and bookkeeping, what evidence and data will you use when devising your business strategies? Meticulous record keeping provides entrepreneurs with the evidentiary information needed to form strategies, such as how to improve upon past years' performance. Here are some other areas in which real estate accounting will prove to be insightful:
Compare year-over-year growth

Identify properties that are performing well or poorly

Provide performance data to help raise capital
If for anything, proper record-keeping at the most basic level will help business owners understand how much cash is on hand at any given time, pay bills and invoices in a timely manner, as well as stay on top of upcoming expenses. However, those who invest the time to set up a proper accounting and bookkeeping system will be able to reap the most benefits.
---
[ Interested in owning rental properties that pay you monthly? Register for our FREE online real estate class to learn how to start building a rental property portfolio of your own. ]
---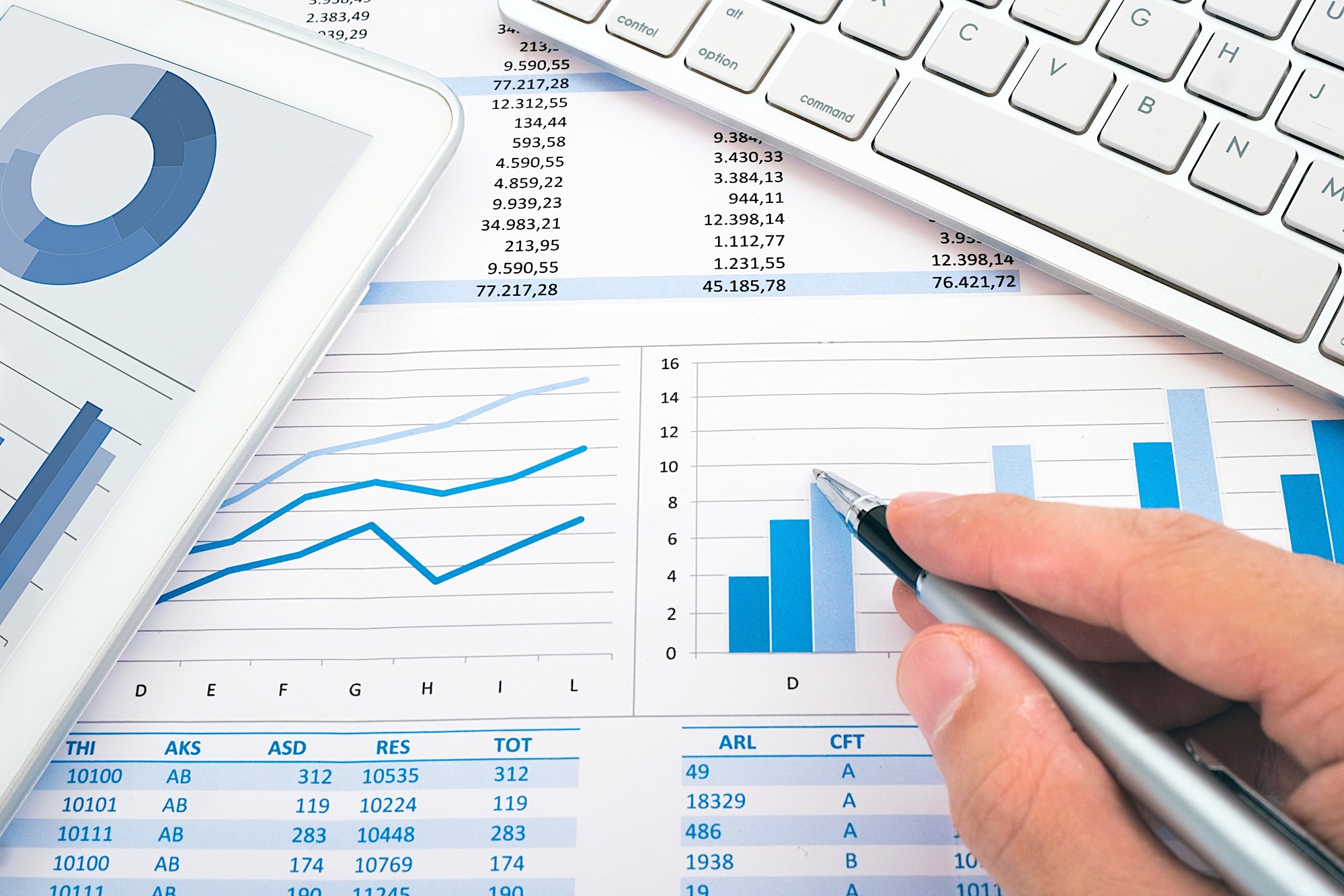 Real Estate Accounting Software, Spreadsheets & Bookkeeping
Most business owners keep track of their financial activity by using a system of spreadsheets and supporting documents. Real estate accounting spreadsheets are commonly referred to as "books," which are ledgers that record each and every financial transaction. These real estate accounting books can be separated by category, while transactions typically include purchases, sales, receipts and payments.
The act of recording each of these transactions is referred to as bookkeeping, which also includes organizing and maintaining documents to support each transaction. These documents include invoices, receipts, statements, and tax return documents, to name a few.
You might imagine how recording every single transaction, as well as managing documents to support each transaction, will get increasingly difficult as a business grows. Many business owners take their bookkeeping to the next level by making use of real estate accounting software. According to PC Mag, some of the best software systems for small to medium sized businesses are:
QuickBooks

Wave Accounting

AccountEdge Pro

FreshBooks

Zoho

Sage

Xero
Many of these software systems offer mobile access and document management, and some even include modules to manage time tracking, payroll, and inventory tracking.
Accounting For Real Estate Investors With LLC's
Most real estate investors take the time to set up an LLC to limit their personal liability, as well as to establish themselves as a legitimate business. Investors should understand that operating a legitimate business should include a proper accounting system. Not doing so can compromise liability protection, or even jeopardize the entity's status. Investors might spend quite a bit of time reading real estate accounting books to learn the principles of accounting, but there is one overarching rule that is the most important to remember. This rule is an equation, which is as follows:
Assets = Liabilities + Equity
When recording all transactions, an accountant's primary goal is to ensure that the books are properly balanced. This means that all liabilities and equity combined should equate to the entity's total assets when all entries have been recorded. If not, the accountant then knows that an error has occurred somewhere in the books. In this case, assets are any resources owned by an entity, including line items such as cash, investments, property, and supplies. Any current financial obligations, such as invoices or credit cards to be paid, are called liabilities. Any remaining assets that can be claimed by the owner is referred to as equity. Luckily, accounting software makes account balancing easy, where the accountant only has to record transactions. However, it is still important to understand how the golden rule in accounting works.
Real Estate Accounting Principles & Tips
Implementing a fundamental accounting system while you are first getting started is completely understandable. Accounting systems will naturally become more robust with time as business owners learn from past mistakes and gain experience. However, investing the time early on to build up these accounting systems can help you save both time and money down the line. Here are some real estate accounting principles and tips to consider as you get started:
Go digital: Earlier, we discussed the concept of record keeping. Every transaction on the ledger should be backed up with some evidence. Use technology, such as a portable scanner or smartphone application, to help you scan receipts on the spot. Going digital can provide peace of mind if any receipts are lost or knowing that you have evidence on file in case of an audit.

Use a cloud-based accounting program: Cloud-based accounting software can provide you with access to your financial data at any time and any place, as well as share access across your team. Also, applications (such as your document scanner) can be linked up to your platform to allow for cross-functionality.

Open a new bank account: Business owners should without a doubt have bank and credit accounts that are separate from their personal ones but can take this a step further by having a separate account for each of the properties they manage. This way, it is much easier to trace back debits and credits on the books to a specific property.

Know how debits and credits work: Speaking of debits and credits, these are terms that will come up time and time again in accounting. Although confusing, a debit is an entry that either increases an asset account or decreases a liability account. Conversely, a credit either decreases an asset account or increases a liability account. It might be easier to wrap your head around this by thinking about how a credit card statement works instead of a debit card statement.

Hold a monthly review meeting: Reviewing your books every month will allow you to review transactions and statements, to make sure there are no errors or any outstanding payments (either to be made or to be received.) If you are using accounting software, you should be able to download analytics reports to measure progress made toward financial goals as well.

Consider outsourcing: It may be tempting to manage your company's real estate accounting yourself to cut down on costs, but outsourcing this task should be given careful consideration. You can either hire an accountant or outsource to a CPA firm that provides accounting services.

Choose an accounting method: There are two main systems used for business accounting: accrual and cash-based. Accrual accounting requires you to record two opposite entries for each transaction, with the goal being more accurate books. Cash-based accounting only requires one entry for each transaction. Cash-based accounting is easier to keep up with, but accrual can be more accurate over time. Familiarize yourself with each method before deciding on one for your business.

Separate business and personal funds: It is crucial to keep your business and personal funds separate. Open a new bank account as soon as you start your business to keep expenses and income in the right place. Not only will this help you manage your business, but it will also prevent you from running into any tax troubles.
Summary
Real estate accounting is an essential activity for investors who hope to stay on top of their finances, analyze the health of their business, and even identify which of their properties are performing the best (or worst.) This process might seem tedious, but it can actually be made much easier by setting up an automated system as soon as possible. Getting started sooner than later will allow you to measure your entity's current financial status and set benchmarks and goals to help your business thrive.
---
Is a lack of funds keeping you from investing in real estate? Don't let it!
One of the obstacles many new investors face is finding funding for their real estate deals. Our new online real estate class, hosted by expert investor Than Merrill, is designed to help you get started learning about the many financing options available for investors, as well as today's most profitable real estate investing strategies.
Register for our FREE 1-Day Real Estate Webinar and get started learning how to invest in today's real estate market!