Even the most left-brained, technical real estate practitioners may find themselves overwhelmed by the legal forms that have become synonymous with the investing industry. The assignment of contract strategy, in particular, has developed a confusing reputation for those unfamiliar with the concept of wholesaling. At the very least, there's a good chance the "assignment of contract real estate" exit strategy sounds more like a foreign language to new investors than a viable means to an end.
A real estate assignment contract isn't as complicated as many make it out to be, nor is it something to shy away from because of a lack of understanding. Instead, new investors need to learn how to assign a real estate contract as this particular exit strategy represents one of the best ways to break into the industry.
In this article, we will break down the elements of a real estate assignment contract, or a real estate wholesale contract, and provide strategies for how it can help investors further their careers.

---
[ Are you ready to get started in real estate wholesaling? Get to know more about this lucrative investment strategy by attending our FREE online real estate class. ]
---
What Is A Real Estate Assignment Contract?
A real estate assignment contract is a wholesale strategy used by real estate investors to facilitate the sale of a property between an owner and an end buyer. As its name suggests, contract assignment strategies will witness a subject property owner sign a contract with an investor that gives them the rights to buy the home. That's an important distinction to make, as the contract only gives the investor the right to buy the home; they don't actually follow through on a purchase. Once under contract, however, the investor retains the sole right to buy the home. That means they may then sell their rights to buy the house to another buyer. Therefore, when a wholesaler executes a contact assignment, they aren't selling a house but rather their rights to buy a house. The end buyer will pay the wholesale a small assignment fee and buy the house from the original buyer.
The real estate assignment contract strategy is only as strong as the contracts used in the agreement. The language used in the respective contract is of the utmost importance and should clearly define what the investors and sellers expect out of the deal.
There are a couple of caveats to keep in mind when considering using sales contracts for real estate:
Contract prohibitions: Make sure the contract you have with the property seller does not have prohibitions for future assignments. This can create serious issues down the road. Make sure the contract is drafted by a lawyer that specializes in real estate assignment contract law.

Property-specific prohibitions: HUD homes (property obtained by the Department of Housing and Urban Development), real estate owned or REOs (foreclosed-upon property), and listed properties are not open to assignment contracts. REO properties, for example, have a 90-day period before being allowed to be resold.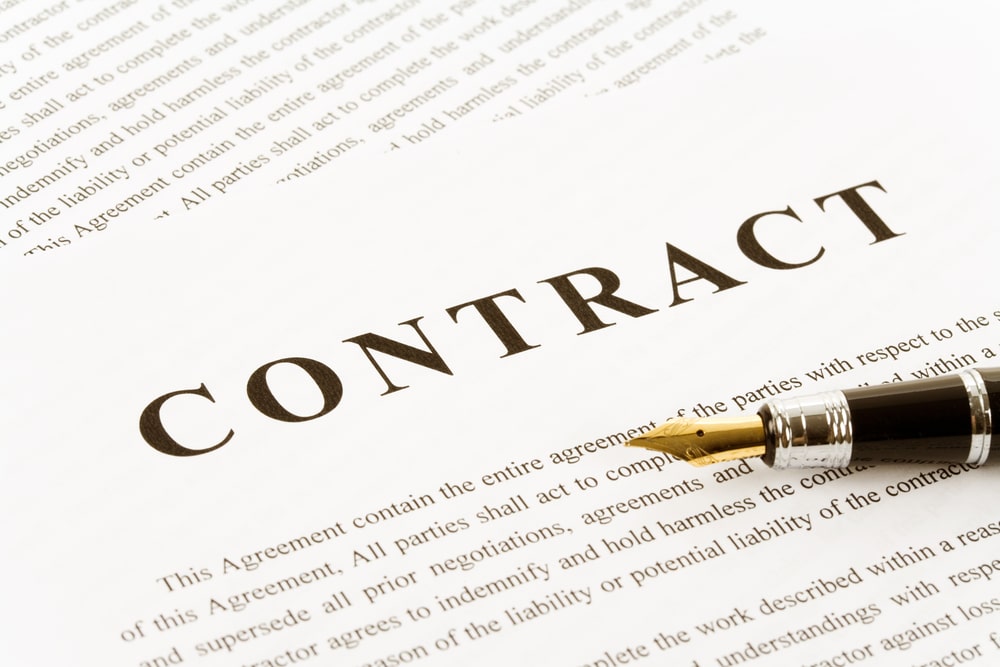 What Is An Assignment Fee In Real Estate?
An assignment fee in real estate is the money a wholesaler can expect to receive from an end buyer when they sell them their rights to buy the subject property. In other words, the assignment fee serves as the monetary compensation awarded to the wholesaler for connecting the original seller with the end buyer.
Again, any contract used to disclose a wholesale deal should be completely transparent, and including the assignment fee is no exception. The terms of how an investor will be paid upon assigning a contract should, nonetheless, be spelled out in the contract itself.
The standard assignment fee is $5,000. However, every deal is different. Buyers differ on their needs and criteria for spending their money (e.g., rehabbing vs. buy-and-hold buyers). As with any negotiations, proper information is vital. Take the time to find out how much the property would realistically cost before and after repairs. Then, add your preferred assignment fee on top of it.
Traditionally, investors will receive a deposit when they sign the Assignment of Real Estate Purchase and Sale Agreement. The rest of the assignment fee will be paid out upon the deal closing.
Assignment Contract Vs Double Close
The real estate assignment contract strategy is just one of the two methods investors may use to wholesale a deal. In addition to assigning contracts, investors may also choose to double close. While both strategies are essentially variations of a wholesale deal, several differences must be noted.
A double closing, otherwise known as a back-to-back closing, will have investors actually purchase the home. However, instead of holding onto it, they will immediately sell the asset without rehabbing it. Double closings aren't as traditional as fast as contract assignment, but they can be in the right situation. Double closings can also take as long as a few weeks. In the end, double closings aren't all that different from a traditional buy and sell; they transpire over a meeter of weeks instead of months.
Assignment real estate strategies are usually the first option investors will want to consider, as they are slightly easier and less involved. That said, real estate assignment contract methods aren't necessarily better; they are just different. The wholesale strategy an investor chooses is entirely dependent on their situation. For example, if a buyer cannot line up funding fast enough, they may need to initiate a double closing because they don't have the capital to pay the acquisition costs and assignment fee. Meanwhile, select institutional lenders incorporate language against lending money in an assignment of contract scenario. Therefore, any subsequent wholesale will need to be an assignment of contract.
Double closings and contract assignments are simply two means of obtaining the same end. Neither is better than the other; they are meant to be used in different scenarios.
Flipping Real Estate Contracts
Those unfamiliar with the real estate contract assignment concept may know it as something else: flipping real estate contracts; if for nothing else, the two are one-in-the-same. Flipping real estate contracts is simply another way to refer to assigning a contract.
Is An Assignment Of Contract Legal?
Yes, an assignment of contract is legal when executed correctly. Wholesalers must follow local laws regulating the language of contracts, as some jurisdictions have more regulations than others. It is also becoming increasingly common to assign contracts to a legal entity or LLC rather than an individual, to prevent objections from the bank. Note that you will need written consent from all parties listed on the contract, and there cannot be any clauses present that violate the law. If you have any questions about the specific language to include in a contract, it's always a good idea to consult a qualified real estate attorney.
When Will Assignments Not Be Enforced?
In certain cases, an assignment of contract will not be enforced. Most notably, if the contract violates the law or any local regulations it cannot be enforced. This is why it is always encouraged to understand real estate laws and policy as soon as you enter the industry. Further, working with a qualified attorney when crafting contracts can be beneficial.
It may seem obvious, but assignment contracts will not be enforced if the language is used incorrectly. If the language in a contract contradicts itself, or if the contract is not legally binding it cannot be enforced. Essentially if there is any anti-assignment language, this can void the contract. Finally, if the assignment violates what is included under the contract, for example by devaluing the item, the contract will likely not be enforced.
[ Ready to take the next step in your real estate education? Learn how to get started in real estate investing by attending our FREE online real estate class. ]
How To Assign A Real Estate Contract
A wholesaling investment strategy that utilizes assignment contracts has many advantages, one of them being a low barrier-to-entry for investors. However, despite its inherent profitability, there are a lot of investors that underestimate the process. While probably the easiest exit strategy in all of real estate investing, there are a number of steps that must be taken to ensure a timely and profitable contract assignment, not the least of which include:
Find the right property

Acquire a real estate contract template

Submit the contract

Assign the contract

Collect the fee
1. Find The Right Property
You need to prune your leads, whether from newspaper ads, online marketing, or direct mail marketing. Remember, you aren't just looking for any seller: you need a motivated seller who will sell their property at a price that works with your investing strategy.
The difference between a regular seller and a motivated seller is the latter's sense of urgency. A motivated seller wants their property sold now. Pick a seller who wants to be rid of their property in the quickest time possible. It could be because they're moving out of state, or they want to buy another house in a different area ASAP. Or, they don't want to live in that house anymore for personal reasons. The key is to know their motivation for selling and determine if that intent is enough to sell immediately.
With a better idea of who to buy from, wholesalers will have an easier time exercising one of several marketing strategies:
Direct Mail

Real Estate Meetings

Local Marketing

Online
2. Acquire A Real Estate Contract Template
Real estate assignment contract templates are readily available online. Although it's tempting to go the DIY route, it's generally advisable to let a lawyer see it first. This way, you will have the comfort of knowing you are doing it right, and that you have counsel in case of any legal problems along the way.
One of the things proper wholesale real estate contracts add is the phrase "and/or assigns" next to your name. This clause will give you the authority to sell the property or assign the property to another buyer.
You do need to disclose this to the seller and explain the clause if needed. Assure them that they will still get the amount you both agreed upon, but it gives you deal flexibility down the road.
3. Submit The Contract
Depending on your state's laws, you need to submit your real estate assignment contract to a title company, or a closing attorney, for a title search. These are independent parties that look into the history of a property, seeing that there are no liens attached to the title. They then sign off on the validity of the contract.
4. Assign The Contract
Finding your buyer, similar to finding a seller, requires proper segmentation. When searching for buyers, investors should exercise several avenues, including online marketing, listing websites, or networking groups. In the real estate industry, this process is called building a buyer's list, and it is a crucial step to finding success in assigning contracts.
Once you have found a buyer (hopefully from your ever-growing buyer's list), ensure your contract includes language that covers earnest money to be paid upfront. This grants you protection against a possible breach of contract. This also assures you that you will profit, whether the transaction closes or not, as earnest money is non-refundable. How much it is depends on you, as long as it is properly justified.
5. Collect The Fee
Your profit from a deal of this kind comes from both your assignment fee, as well as the difference between the agreed-upon value and how much you sell it to the buyer. If you and the seller decide you will buy the property for $75,000 and sell it for $80,000 to the buyer, you profit $5,000. The deal is closed once the buyer pays the full $80,000.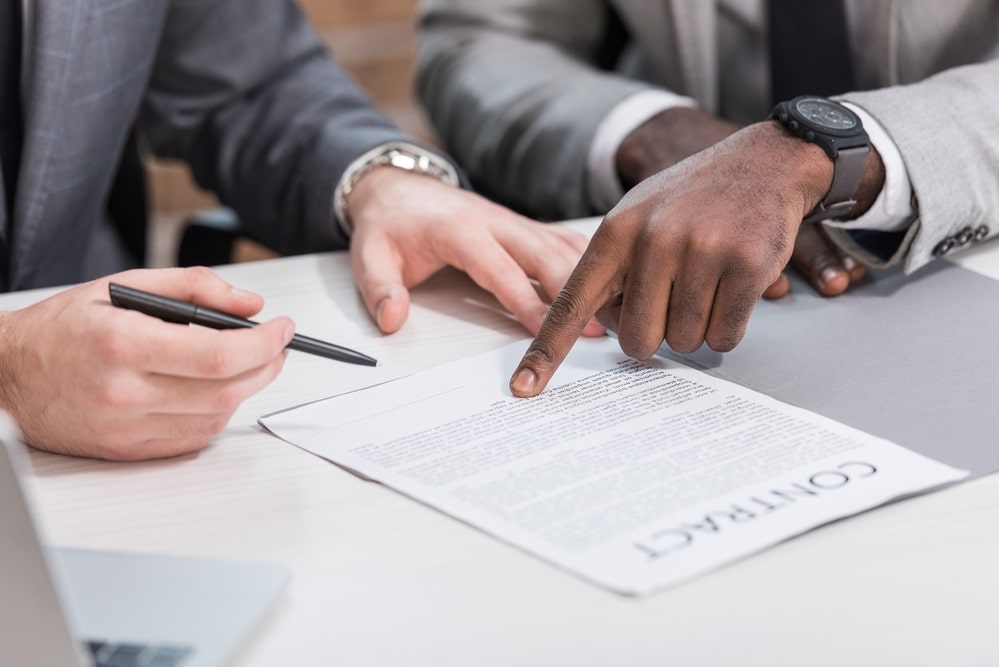 Assignment of Contract Pros
For many investors, the most attractive benefit of an assignment of contract is the ability to profit without ever purchasing a property. This is often what attracts people to start wholesaling, as it allows many to learn the ropes of real estate with relatively low stakes. An assignment fee can either be determined as a percentage of the purchase price or as a set amount determined by the wholesaler. A standard fee is around $5,000 per contract.
The profit potential is not the only positive associated with an assignment of contract. Investors also benefit from not being added to the title chain, which can greatly reduce the costs and timeline associated with a deal. This benefit can even transfer to the seller and end buyer, as they get to avoid paying a real estate agent fee by opting for an assignment of contract. Compared to a double close (another popular wholesaling strategy), investors can avoid two sets of closing costs. All of these pros can positively impact an investor's bottom line, making this a highly desirable exit strategy.
Assignment of Contract Cons
Although there are numerous perks to an assignment of contract, there are a few downsides to be aware of before searching for your first wholesale deal. Namely, working with buyers and sellers who may not be familiar with wholesaling can be challenging. Investors need to be prepared to familiarize newcomers with the process and be ready to answer any questions. Occasionally, sellers will purposely not accept an assignment of contract situation. Investors should occasionally expect this, as to not get discouraged.
Another obstacle wholesalers may face when working with an assignment of contract is in cases where the end buyer wants to back out. This can happen if the buyer is not comfortable paying the assignment fee, or if they don't have owner's rights until the contract is fully assigned. The best way to protect yourself from situations like this is to form a reliable buyer's list and be upfront with all of the information. It is always recommended to develop a solid contract as well.
Know that not all properties can be wholesaled, for example HUD houses. In these cases, there are often anti-assigned clauses preventing wholesalers from getting involved. Make sure you know how to identify these properties so you don't waste your time. Keep in mind that while there are cons to this real estate exit strategy, the right preparation can help investors avoid any big challenges.
Assignment of Contract Template
If you decide to pursue a career wholesaling real estate, then you'll want the tools that will make your life as easy as possible. The good news is that there are plenty of real estate tools and templates at your disposal so that you don't have to reinvent the wheel! For instance, here is an assignment of contract template that you can use when you strike your first deal.
Summary
As with any part of the real estate investing trade, no single aspect will lead to success. However, understanding how a real estate assignment of contract works is vital for this business. When you comprehend the many layers of how contracts are assigned—and how wholesaling works from beginning to end—you'll be a more informed, educated, and successful investor.
---
Want to learn more about how to start a real estate business?
With so much information out there, starting a real estate business or LLC can be a complicated process. Our new online real estate class, hosted by expert investor Than Merrill, covers the basics you need to know to get started with real estate investing. These time-tested strategies can help teach you how to profit from the current opportunities in the real estate market.
Register for our FREE Real Estate Webinar and get started learning how to start a successful investment business today!