Key Takeaways
A real estate line of credit can be a great way to draw on equity in your current properties to build your investor portfolio.
Whether you are just starting out or are a seasoned pro, there is a real estate line of credit that can work for your business goals.
Applying for a real estate investor line of credit is a quick, simple process that can be done online.
---
As real estate investors, we know that we're more likely limited by our ability to fund deals than by the availability of deals themselves, and accessing a real estate line of credit can provide valuable access to financing. For investors, having multiple and varied sources of capital is essential.
You know about conventional financing, private and hard money lending, and even utilizing retirement accounts, but you may wonder how to get a line of credit for real estate investing. There are several options for drawing on lines of credit that a real estate investor has, whether you are at the outset of your investing career or a seasoned deal-maker. A real estate investor line of credit can provide you the resources to grow and expand your business in new ways.
How Does A Real Estate Investor Line Of Credit Work?
A real estate investor line of credit is a relatively simple concept. Much like a business credit card, a real estate line of credit allows you fast access to cash, and you only accrue interest on the amount you use. With a real estate line of credit, you gain access to funds that are usually determined by a subject property's own equity.
A real estate line of credit can be an excellent resource for a rapidly growing business. Typically, a line of credit can be drawn on multiple times, meaning that you can even use it for multiple projects. You will only pay interest on the amount you draw, unlike a traditional loan, and your fees are usually much lower than they would be with a hard money lender.
Simply put, acquiring a real estate investor line of credit may provide you with flexible capital, making it an appealing financing option for the investor with a growing business. Due to the flexibility of a business line of credit for real estate investors, it can be an essential piece of both short-term and long-term business financing plans.
---
[ Thinking about investing in real estate? Learn how to get started by registering to attend a FREE real estate class offered in your area. ]
---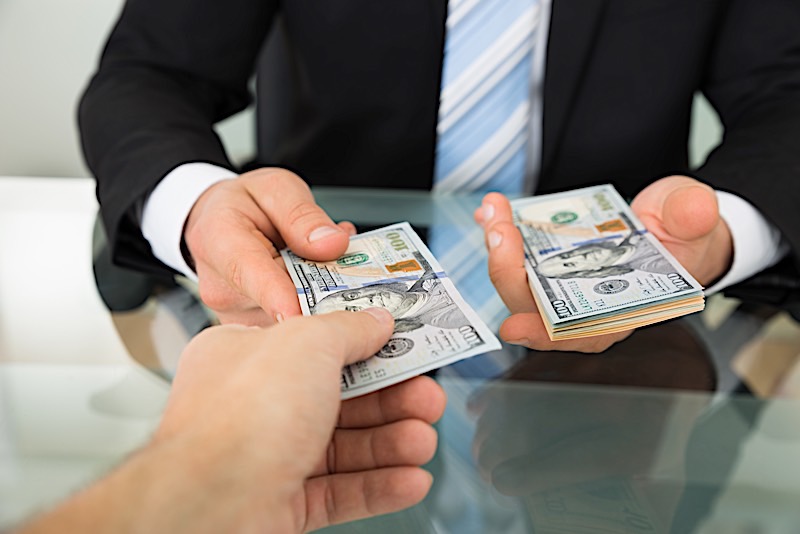 The Pros
Long repayment term
Tax benefits on interest paid
Lower interest rate compared to other financing options
You only pay interest on the amount you draw on
Faster access to cash than a loan option
No prepayment or early exit fees
The Cons
Requires a high credit score to qualify
Lower LTV than other financing options
Restricted use of funds (i.e. you can't use the money to start a business)
Limitations on how many units the property can have
Investment Property Lines Of Credit Types
Home Equity
A home equity line of credit (HELOC) is a revolving line of credit that grants you access to the equity in your primary residence. HELOC funds can be used for almost anything, from paying college tuition, to consolidating debt and making renovations to your home. You will only pay interest on the funds you use, and they usually come with low interest rates (.25% above prime rates for 1st position). It is worth noting, however, that HELOCs will use the subject property as collateral, so spend the money wisely.
Single Investment Property Line Of Credit
A single investment property line of credit is similar to a HELOC, but the property from which you are drawing equity is an investment, not the primary residence of the owner. The funds from a real estate investment line of credit can be used for anything related to the investment property, so your options are slightly more limited than with a HELOC. If you want to draw funds from one property as opposed to your portfolio as a whole, a single investment property line of credit may be your best fit.
Portfolio Investment Line Of Credit
If you are a high net worth investor with over $1 million in equity or you have a robust portfolio of properties, a portfolio investment property line of credit is right for you. With a portfolio investment line of credit, you can access equity from an entire portfolio of properties, meaning you have more capital at your disposal. If you are looking for a commercial real estate line of credit, a portfolio investment LOC (line of credit) is a great option for you. With this type of LOC, qualification is based more on your overall financial picture, rather than just your credit score.
Acquisition Line Of Credit
A real estate acquisition line of credit is a relatively new, but rapidly growing, method for financing investment deals. Unlike traditional financing, acquisition lines of credit can be obtained without drawing on equity in your portfolio. Lending is, instead, based on your profile as an investor and your financial wherewithal. Essentially, with unsecured real estate lines of credit, your approval depends on your track record as an investor. This is a powerful financing option for an experienced real estate investor with a proven record of successful investing.
Qualify For A Real Estate Acquisition Line Of Credit In 5 Steps
Choose The Right LOC: There are a variety of LOCs available, so you will want to choose the one that best fits your business and your goals. If you own one investment property, a single home investment property line of credit may be for you. If you own a portfolio of properties, drawing a line of credit on the portfolio as a whole will allow you access to more capital. Take a look at the options available to you and then align those options with your investing goals to choose the smartest LOC for your situation.

Gather Required Documentation: You will need any current property-related documents, along with pay stubs, bank statements and your last two years of tax information. You should have these scanned and digitized to make submitting your application online a breeze.

Complete A LOC Application: You can complete your LOC application online, making the application process as flexible, convenient and painless as possible. You will be asked to submit your documentation as a part of your application.

Review Your Application: After submitting your LOC application, a representative will contact you to review your application. You can expect them to go over the documents you submitted and ask for any additional documentation they may deem necessary. Your representative should be able to let you know if you are approved at the time of the call.

Receive Your Approval: Once you are approved by your LOC representative, you will receive a formal letter of approval, typically within 30 days. Upon approval, you will be able to begin drawing on your new real estate investor line of credit within 10 days.
Raising capital and financing deals is part of the day-to-day operations of smart, savvy real estate investors. With more capital, investors can do more deals, and finding creative and varied ways to access money can make a huge difference in their long-term success.
Have you utilized a real estate line of credit? Which option did you find worked best in your case? Please feel free to let us know how the process worked out for you in the comments below.
🔒 Your information is secure and never shared. By subscribing, you agree to receive blog updates and relevant offers by email. You can unsubscribe at any time.