What are the main ingredients of a real estate online marketing strategy?
Marketing is the heart and soul of any business. It not only embraces the face, voice and personality of the brand, but the narration of its past, present and future. It's a central component to how brands connect with their audience, especially online — and it's the forefront of how real estate investors conduct their business. For what it's worth, there is nothing I'm aware that has the ability to attract, retain and cultivate customers in real estate quite like a staunch online presence. That said, investors will need to arm themselves with a real estate online marketing strategy.
Real Estate Online Marketing: The 3 Must-Haves
While a real estate online marketing strategy is a critical component to success, an investor's first consideration should be establishing their identity. A real estate brand identity will help to not only establish who you are and how you intend to benefit the customer, but pinpoint your target audience. In addition, a well-maintained brand identity will assist in building credibility, recognition, and the customer's trust. Although online marketing is a tricky endeavor, cementing a real estate brand identity in advance will accommodate investors in launching a more complete and effective plan of action.
The key to launching a successful real estate online marketing strategy begins with developing a brand identity. The following outlines the beginning stages of creating a brand identity in real estate:
Evaluate The Competition
Define Your Brand
Create Your Brand
Implement Your Brand
Continuously Improve It
If brand identity represents who a business is and what they stand for, the marketing strategy is the deliverance of those ideals. However, establishing an online marketing presence will be no easy task. In fact, a portion of your real estate marketing strategy will encompass due diligence in the form of continuous improvements. Successful online marketing requires consistency, and implementing a successful marketing strategy will necessitate tweaks here and there in order to improve the overall image of the brand. While continuous improvements will need to be made, there are a select key ingredients that every real estate online marketing strategy will need, including the following: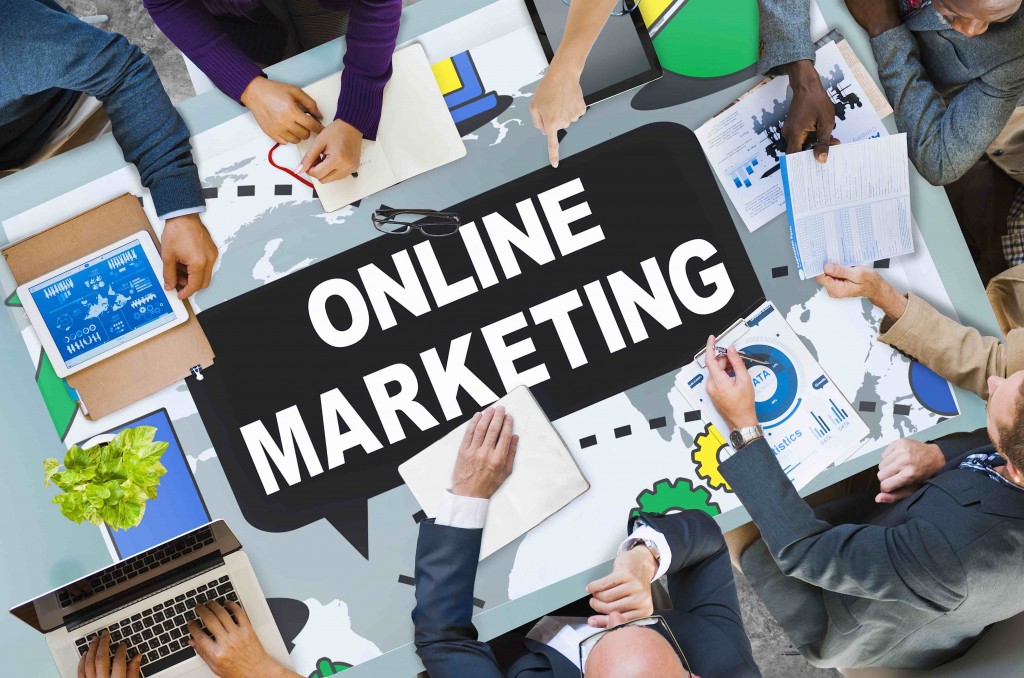 1. Website
The first step in developing a dominant online presence is creating a brand website. As a real estate investor, your website will serve as your kingdom come in the world of online marketing, as this is where customers come to access information, contact your services, and learn more about your offerings. In essence, it will be the home of your brand and a dominant force in your online presence.
In addition, a real estate website will also serve as a lead generation funnel for investors. I can attest that online lead generation has become a major part of how real estate investors accomplish deals today. Done right, a website is an invaluable asset with the potential to produce a consistent stream of leads, while establishing a strong online presence. Those looking to upgrade their brand website should consider the following: Installing a response web design, adding a blog section, including a bio, links to social media channels, a mission statement, and customer reviews
2. SEO Content
Another aspect of a real estate online marketing strategy is Search Engine Optimization (SEO). As one of the cornerstones to online marketing, SEO refers to the way in which online content is written to generate search results. The copy is optimized to send signals to search engines to show your article, and the keywords it's comprised with, have the authority to rank in their index, with a goal to rank near the top of the search page. That said, the second step to a real estate online marketing strategy is creating SEO content.
The basics to writing SEO content involve three simple elements: the article's title tag, it's meta description, and internal links. While this doesn't entail everything about SEO, these three aspects represent a starting point for investors when getting started.
Title Tag: The section tells search engines what the page is about. It is typically placed between the <HEAD></HEAD> tag and used to represent the headline of the story. According to Kissmetrics, the title tag on pages of your website should be 70 characters or less and include your business or brand name, including keywords that relate to that specific page only.
Meta Description: The meta description provides insight into your story. As the section that shows up in search results, the meta description is generally used to entice future readers.
Internal Links: This hyperlink is used within the content of your article to link back to another page on your website. It's used to help search engines learn more about your website, while assisting in building authority for those keywords.
While the rules of writing SEO content are vast and plentiful, the golden rule that every marketer should abide by is don't over do it. As simple as it sounds, many inexperienced writers attempt to cram as many keywords into an article as possible in hopes of achieving higher search results. While the effort is appreciated, this tactic will do nothing but hinder your ranking.
3. Social Media
A real estate online marketing strategy wouldn't be complete without a social media presence. This final ingredient will serve as one of the many distribution outlets for your content. Done right, investors will see a wide array of appeal from various audiences, helping to redirect it back to their website. In essence, this will play a role in your real estate lead generation.
With roughly 3.4 billion active Internet users worldwide, and 2.3 billion with social media accounts, social media marketing is the real deal. That said, a real estate online marketing strategy should utilize one or more of the following social media sites:
Facebook
Twitter
LinkedIn
Instagram
The keys to investing in real estate for beginners is having a strong online presence. Creating a real estate online marketing strategy entails a recipe of ingredients to be successful, and the above mentioned components will assist investors in getting started. The benefits of implementing a quality online marketing strategy are remarkable and investors should begin to see immediate results, when done correctly.