Key Takeaways
Retirement planning strategies are crucial for your financial future, no matter what age you are now.
There are a number of real estate investment strategies for retirement that can help contribute to your future financial success.
Mind due diligence when considering any retirement plan strategies, as the right decision will depend on your financial goals.
---
According to a study by Northwestern Mutual, over 78 percent of Americans are worried they will not have enough money for retirement. To prevent yourself from being a part of this number, it is a good idea to start thinking of retirement strategies, no matter your age. It is never too early or too late to think about your financial future, and there are real estate investment opportunities for any age group that can help offer financial security through retirement. By putting together a personal retirement plan, you can help avoid stress down the road.
6 Ways To Prepare For Retirement Now
Regardless of whether you are 20 or 60, there are steps you can take to help ensure a smooth transition into retirement. It is a good idea to set aside a few hours to put together a plan that can save you countless hours of worry in the future. Here are six simple tips to help you get started today:
Analyze Your Income: Do you have a monthly budget? If not, it is a good idea to evaluate how much you're bringing in and spending each month. In order to ensure you have savings for investments or retirement, it is crucial to understand how much money you are working with on a monthly basis. By examining your monthly income in comparison with your monthly expenses, you will gain a better understanding of potential areas of improvement to ensure a smooth retirement.

Look Into Your 401(k): Determine whether or not your employer offers a 401(k) and look into the details of the account. Take a look at any past contributions you have made (if any) and plan out how much you should add during the year. Depending on your age, there will be different limits for your contributions, and it is worth finding out what those are.

Set Goals: As you examine your current financial situation, you should keep in mind what goals you have for the future. Try to ask yourself at what age you expect to retire, where you want to be living, and what kind of trips or hobbies you hope to pursue in the future. It is a good idea to plan out what is important to you moving forward, as it can help paint a picture of what kind of secure retirement strategies you will need to make that happen.

Eliminate Debts: Pay attention to unnecessary debts or high interest payments; they can represent financial areas to work on. While not all debt is bad debt, if monthly payments are getting in the way of important financial decisions it can be a good idea to look into ways to pay off your debts. Examples could be multiple credit cards with high interest rates or a car payment that could be lowered.

Use A Retirement Calculator: Look up an online calculator that can give you an idea of what your potential social security payments will look like, or how much you should be saving right now. This tip is especially important if you are approaching retirement because it can offer insights into how realistic your current financial plans are. Bankrate has a social security calculator that can help you with this.

Set Up A Savings Process: If you determine you want to contribute to a savings or retirement account, it is a good idea to commit to a set amount and schedule. A great way to implement retirement savings strategies is to set up automatic transfers for the end of the month to ensure you are saving on a regular basis. By setting up a process for saving money, you can hold yourself accountable to your financial goals.
---
[ Want to create a roadmap to a financially secure retirement? Register for a FREE real estate class to learn the powerful wealth building strategies real estate investing has to offer. ]
---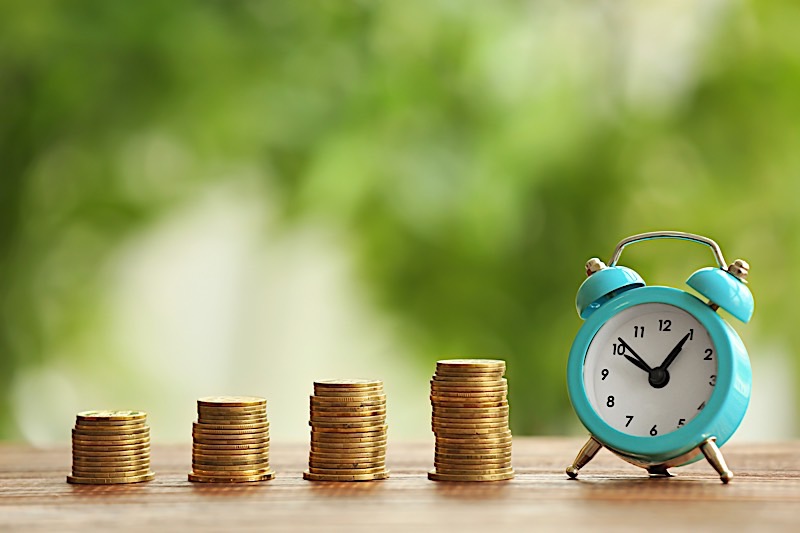 Top 4 Real Estate Retirement Strategies
There are a number of opportunities to invest in real estate that can require varying levels of involvement, making them a great retirement strategy for any age. It is important, however, to mind due diligence and conduct research in order to determine which real estate investment strategy fits best with your financial goals. Get started preparing for your retirement with these common real estate investing strategies:
Tap into your home equity.
Invest in REITs.
Look into crowdfunding real estate.
Buy rental properties.
Home Equity
As you pay off your mortgage, you build equity in your home. As you approach retirement age, you will likely have a significant portion of home equity built up. There are several ways to take advantage of this money as you approach retirement, such as a home equity line of credit or cash-out refinancing. These can provide homeowners with access to funds that can then be used for a variety of reasons, ranging from home renovations to purchasing an investment property. Homeowners with a significant portion of equity may also consider downsizing in order to decrease living costs and pocket the difference from the sale.
REITs
Real estate investment trusts are slightly different than traditional real estate investing strategies, and instead offer the opportunity to invest in real estate companies––not unlike a stock. REITs are attractive for investors looking for retirement income strategies without actually purchasing properties. They offer a degree of flexibility that can be highly attractive to individuals approaching retirement who may be seeking a more passive role in investing.
Crowdfunding
Crowdfunding is an emerging real estate investment strategy that allows investors the chance to collectively buy into a given property. For example, potential investors can search properties through an investment firm and determine whether or not to buy shares in the project. Crowdfunding awards individuals the opportunity to benefit from a real estate investment without seeking out an actual property, making this strategy appealing to individuals preparing for retirement without a significant amount of time to dedicate to finding an investment property. Additionally, due to the collective nature of crowdfunded properties, they are considered less risky when compared to other retirement investment strategies.
Rental Properties
Rental properties are one of the most appealing early retirement strategies for investors of all ages. This is due to a number of reasons, the most notable being that rental properties allow the opportunity to be as hands on or as hands off as you want. Passive income properties can be a great opportunity for investors seeking to earn stable income with a low level of involvement in the property, while short-term rentals can be great for investors seeking a more involved role in their property. There are a number of resources available if you are considering buying a rental property.
Retirement Investment Strategies By Age
Here is a breakdown of different investments for any age:

Investments For Your 20s and 30s
If you fall in this age group and are already planning for retirement, congratulations––you are likely ahead of your peers. That being said, this is a great time to invest in your financial education, as to ensure you are fully prepared for your future. There are a number of resources out there that can help you learn how to retire early with real estate. For example, consider seeking out a mentor or attending networking conferences to learn from those around you. There are also a number of real estate podcasts and investing books that can help improve your financial literacy and get you ready for an investing career.
There are multiple investing strategies that can be well suited for investors in their 20s and 30s, such as wholesaling, short-term rental properties and house hacking. While these are three very different investing strategies, they can each provide attractive returns for beginners in the real estate industry. For example, house hacking involves renting out a property while simultaneously living in it, this can refer to either renting a room or separate area of the property. It allows investors the opportunity to gain experience in property management while lowering living costs. Due to its flexible nature, house hacking is one of several retirement strategies that can be appealing to investors in their 20s and 30s.
Investments For Your 40s
Your 40s are a great time to begin diversifying your existing investment portfolio, or building one if you do not have one already. REITs can be a great way to contribute to any investments you currently have or to get started investing in real estate. They do not require significant capital to get started, and enable investors to dabble in real estate without actually owning a physical property. This flexibility can be attractive for a number of reasons.
If you opt to take a more hands-on approach to real estate investing, your 40s can be a great time to get into rehabbing or start investing in rental properties. There are a number of steps you should be aware of when it comes to rehabbing a property, but keep in mind an experienced partner or mentor can help you ease into the real estate industry. On the other hand, investing in rental properties offers another way to get into real estate. Consider which locations may offer the most attractive returns, and don't forget to do your research before moving forward with a property.
Investments For Your 50s
As you get closer to retirement, it is a good idea to review the existing plans you have in place. Make note of your current income and savings. As you do so, you will likely gain a better understanding of whether or not your current path is bringing you closer to your financial goals. Pay careful attention to any investments you do have and look for ways to expand. One opportunity you may find appealing is to downsize from your current home into a smaller space. Downsizing can both decrease your living costs and lead to a steady stream of income if you decide to rent out your former home.
In addition to downsizing, look into buy and hold properties, which can offer supplemental income down the road. To finance the holding costs you can rent out the property, which can also bring in stable cash flow. By purchasing a buy and hold property in your 50s, you can set yourself up for future financial success as you transition to retirement.
Investments For Your 60s +
Don't worry if you are still evaluating your retirement plans in your 60s; there are a number of investment opportunities that can boost your financial standing. One of the first things you will want to do, however, is evaluate your existing investment strategies. It is a great idea to focus on expanding and opportunities for increased cash flow. Begin to consider low-risk strategies and evaluate your finances to determine how much capital you will be comfortable investing at this time.
One of the most common strategies for investors in their 60s is to look into stocks and bonds, which can boost your retirement income while still involving relatively low risk. One of the most attractive appeals to this strategy is that you can set up bond payments throughout the year, allowing you to spread out your income over time.
Finally, a reverse mortgage can offer attractive benefits in your 60s. This process involves borrowing against the equity in your home and can provide either a line of credit or lump-sum payment to qualifying homeowners. Owners have to be at least 62 years old to qualify and must have a significant amount of equity built up in the home. For more information on eligibility requirements, learn more about the pros and cons of a reverse mortgage.
Summary
With the vast majority of Americans feeling unprepared for retirement, it is a good idea to set aside time to plan for your financial future. No matter your age, there are steps you can take to help ensure you have a smooth transition ahead. Remember, when done correctly, real estate investing can offer financial security well through retirement. It is worth looking into which real estate investment strategies are right for you based on where you are currently at in life. Taking the time to plan for retirement can help ensure you avoid stress down the road, and can allow you set yourself up for future success.
Which retirement strategies sound most helpful to you? Leave us a comment below and share your thoughts.
🔒 Your information is secure and never shared. By subscribing, you agree to receive blog updates and relevant offers by email. You can unsubscribe at any time.