Key Takeaways
Like the rest of the country, San Diego is facing an inventory shortage that has simultaneously driven up home values and rental prices.
San Diego real estate investing, while not the cheapest option out there, remains a viable option for determined entrepreneurs.
The San Diego real estate market is one of the hottest in the country, and there's no reason savvy investors can't take advantage of it.
---
The San Diego real estate market is firing on all cylinders, as is indicated by a recent "hot list" published on Realtor.com. More specifically, however, San Diego real estate made the top 10 list of cities where homes were selling the fastest. At number nine on the list, homes in San Diego are moving off the market at an incredible pace, and there's nothing to suggest the trend won't continue for the immediate future. There is simply too much demand in the Southern California City to think otherwise.
There is, however, one significant concern: inventory levels, or lack thereof. For all intents and purposes, San Diego's real estate market is perfectly healthy, but there are not currently enough homes on the market to meet demand. As a result, the city has seen historically high prices continue to march upwards.
San Diego is on a hot streak, which begs the question: What's it all mean for San Diego real estate investors? What does all of this San Diego real estate news mean for people that want to start investing in the area? Perhaps even more importantly, should you invest in San Diego real estate?
Median Home Price San Diego
The median home price in San Diego has trended upwards for the better part of six years, as the recovery appears to have hit a greater stride than the city could have ever imagined. At this time of the year, exactly six years ago (March 2012), the median home value in the San Diego area was roughly $372,000, according to Zillow. Flash-forward to today, and you will notice that San Diego homes have nearly doubled in value. Appreciating as much as 10% in the last 12 months alone, homes in San Diego now boast a median value of $608,200, according to Zillow. If that wasn't impressive enough, industry experts and pundits are convinced San Diego home values could increase an additional 5% in the coming year. That said, median home values in the city of San Diego could reach $665,000 by this time next year.
---
[ Want to own rental real estate? Attend a FREE real estate class to learn how to invest in rental properties, as well as strategies to maximize your cash flow and achieve financial freedom. ]
---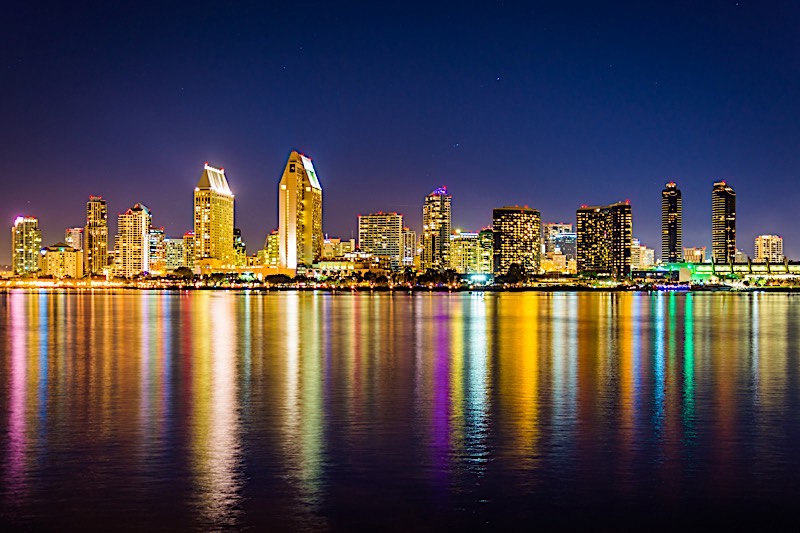 Median Rent Price San Diego
For all intents and purposes, San Diego is a seller's market; there is a lot of demand for the amount of homes that are currently available. That means homeowners can increase their asking prices — that is, if bidding wars don't beat them to the opportunity. As a result, there will inevitably be those that either can't afford to buy a new home or simply can't beat out the competition. Either way, it is safe to assume more people will be renting, which, in turn, allows landlords to increase their prices. And that's exactly what we have seen in the San Diego real estate market. Rental prices have increased, and look like they will continue to do so as long as home inventory remains short. According to Zillow, "The median rent price in San Diego is $2,500, which is lower than the San Diego Metromedian of $2,545."
San Diego Foreclosure Trends & Statistics
Due largely, in part, to the momentum gained by the impressive recovery we have witnessed since the last recession, more and more homeowners are finding themselves with equity they once thought gone forever. As a result, San Diego is home to fewer foreclosures than in years past. In fact, the number of properties that received a foreclosure filing in San Diego, CA was 34% less than this time last year — not a decline to scoff at.
That said, it's not like the San Diego real estate market doesn't have any foreclosures at all. As it stands, there are currently 955 properties in the San Diego area that RealtyTrac has identified in some stage of foreclosure. More specifically, however, there are nearly 1,000 properties that have already been repossessed by the bank, placed up for auction, or are in a state of pre-foreclosure (at risk of being foreclosed on).
The number of foreclosures in San Diego means one thing: there are plenty of deals to be had for San Diego real estate investors. While prices are historically high at the moment, foreclosures in San Diego represent a great opportunity for those interested in San Diego real estate investing. Distressed properties, or those in some state of foreclosure, can be had at a significant discount, sometimes as much as 6.9% off of their non-distressed counterparts. "The median sales price of a non-distressed home was $475,000. The median sales price of a foreclosure home was $442,000," according to RealtyTrac. For those of you keeping tabs, that's about a $33,000 discount — an attractive amount for anyone trying to boost their bottomline.
San Diego Real Estate Market Predictions
The San Diego real estate market is on par with some of today's most prosperous cities. As I already alluded to, San Diego real estate has already appreciated by as much as 10% in the last year, settling comfortably at a median home value of $608,200. It is worth noting, however, that today's high prices are mostly the result of one important indicator: inventory. At the very least, San Diego doesn't have enough inventory to keep up with demand — there are simply too many people wanting to buy, and not enough options for them to choose from. What's more, it doesn't look as if inventory levels will ease anytime soon.
As a result, I would expect prices to continue to ascend. The lack of available housing has made San Diego a seller's market. It is, therefore, reasonable to forecast an increase of median home values somewhere in the neighborhood of five percent. In one year's time, we could be looking at a median home value in San Diego as high as $665,000.
In addition to home values, rents will march upwards, as supply and demand will also work in favor of landlords. Those that can't find houses to buy will be forced to rent, and have no other option than to pay the high asking prices. Though that's not good news for renters, investors that have taken the buy and hold approach could be seeing huge dividends.
Fortunately, builders have been made aware of the inventory shortage across the country, and San Diego is no exception. New homes are, in fact, on the way, and when they get here, they should pull home prices back down to earth. Until then, however, we can expected tempered price gains to continue throughout the year.
San Diego also looks like it will benefit from a tech renascence, of sorts. As prices in Silicon Valley (the hub of technology for the last two decades) continue to drive tech companies away from Northern California, many are looking to relocate to cities like San Diego. As a result, many forecasts suggest San Diego's population would increase by as much as 3% in the next 36 months. Perhaps even more importantly, those new jobs will create more demand for housing. If San Diego can add more inventory to the supply, the city should be in great shape, but don't expect that to happen for at least another year or two.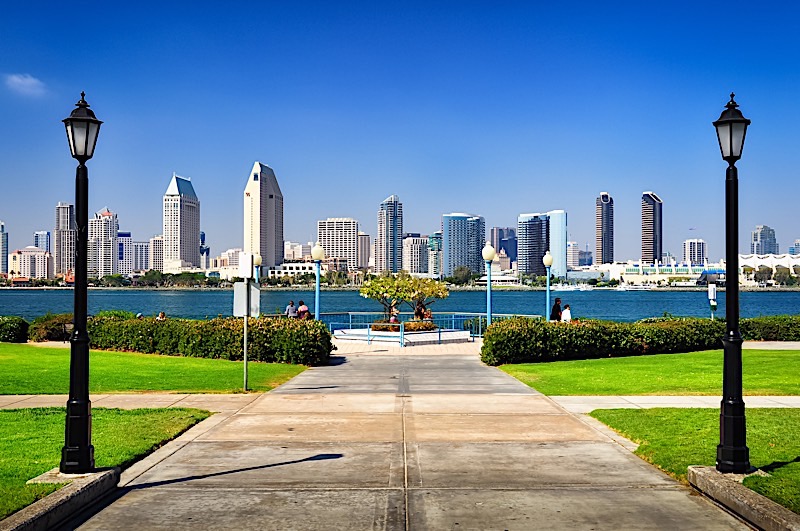 San Diego Real Estate Market Summary
To nobody's surprise, the San Diego real estate market isn't only one of the most desirable places to live in the country, but also one of the most expensive. With a median home value of $608,200, San Diego fits in just fine with its West Coast counterparts like Los Angeles and San Francisco, but it's on a whole other level when compared to almost anywhere but the East Coast — with a few exceptions, of course.
San Diego remains a great location for real estate investors to set up shop. If for nothing else, there's a great exit strategy for any stage of the market — even one as high priced as San Diego. While prices are certainly high, and the cost of entry is nothing to scoff at, San Diego real estate investors can take solace in the fact that the buy and hold strategy remains more viable than ever. You see, owning rental property should allow many investors to recoup the added cost that comes with buying high priced homes. Many of today's investors will attempt to buy a home, rent it out for a while (to offset the high purchase price), and flip it at a later date if the right conditions are met.
There's no doubt about it: San Diego real estate is expensive. However, demand remains in tact, and that means there will always be room for investing. So long as you run the numbers on your particular exit strategy, the San Diego real estate market can be a great place to start investing.
*The information contained herein was pulled from third party sites. Although this information was found from sources believed to be reliable, FortuneBuilders Inc. makes no representations, warranties, or guarantees, either express or implied, as to whether the information presented is accurate, reliable, or current. Any reliance on this information is at your own risk. All information presented should be independently verified. FortuneBuilders Inc. assumes no liability for any damages whatsoever, including any direct, indirect, punitive, exemplary, incidental, special, or consequential damages arising out of or in any way connected with your use of the information presented.
🔒 Your information is secure and never shared. By subscribing, you agree to receive blog updates and relevant offers by email. You can unsubscribe at any time.