Key Takeaways
The San Jose real estate market is one of the most expensive in the country, but that hasn't stopped investors from making their profits.
Real estate in San Jose has appreciated for the better part of a decade, and triple the rate of the national average in the last year.
San Jose real estate investing boasts some of the largest gross net profits in the country.
---
The San Jose real estate market has seen appreciation rates triple that of the national average, and there's nothing to suggest price increases will temper anytime soon. It is worth noting, however, that demand hasn't declined in the face of today's historical price jumps. Despite eclipsing the million dollar threshold, there still appears to be healthy demand, which suggests the market is doing well. San Jose real estate investing, in particular, looks as if it'll be able to maintain strong momentum, at least for the foreseeable future.
San Jose Real Estate Market Overview
Median Home Value: $1,106,600
1-Year Appreciation Rate: 24.4%
Median Home Value (1-Year Forecast): 13.8%
Median Rent Price: $3,400
Number Of Foreclosures: 515
Homes For Sale: 590
Recently Sold: 4,381
---
[ Thinking about investing in real estate?
Register to attend a FREE online real estate class
and learn how to get started investing in real estate. ]
---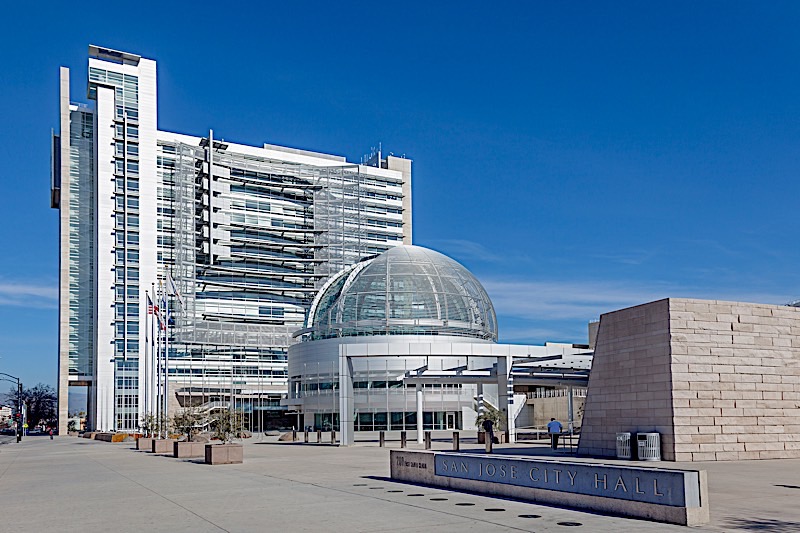 Median Home Price San Jose
If the California real estate market is pacing the entire country's current rate of appreciation, you could argue San Jose has a lot to do with it. To that end, real estate in San Jose has appreciated at a rate that is about three times that of the national average, 24.4% and 8.3% respectively. There's no doubt about it: the San Jose real estate market is as healthy as can be and firing on all cylinders. Median home values have increased an incredible $767,000 since August of 2012, when the recovery started to get its legs underneath it. Following roughly six years of historical appreciation, the median home value in the San Jose real estate market is now about $1,106,600. And that's not all: the experts over at Zillow expect median home values to increase an additional 13.8% in the next 12 months.
San Jose Foreclosure Statistics
Per RealtyTrac, "a real estate information company and an online marketplace for foreclosed and defaulted properties," there are somewhere in the neighborhood of 515 properties that have already been classified as distressed. That means there are at least 515 homes that may fall into one of three categories: default, auction or bank-owned. More importantly, however, each of the aforementioned properties represent something much more important to those interested in San Jose real estate investing: an opportunity. If for nothing else, distressed properties represent a chance to acquire a home at a discount.
Of course, those that intend to acquire distressed properties should know where to look. More importantly, some zip codes in the San Jose real estate market have demonstrated an increased propensity for higher foreclosure ratios. It stands to reason that investors may have an easier time finding distressed properties if they look in the following neighborhoods:
95119: 1 in every 1065 homes is currently distressed
95121: 1 in every 1944 homes is currently distressed
95133: 1 in every 1970 homes is currently distressed
95138: 1 in every 2021 homes is currently distressed
95139: 1 in every 2297 homes is currently distressed
San Jose Real Estate Investing
"The 2018 housing market is a double-edged sword for home flippers," said Daren Blomquist, senior vice president at ATTOM Data Solutions. "Rapidly rising home prices boosted by low available inventory of homes for sale or for rent are padding profits at the back end when flippers sell, but those same market realities are eroding flipping returns at the front end by forcing flippers to pay more to acquire homes to flip."
Attractive profit margins have been harder to find as prices have increased, and the San Jose real estate market is no exception. Real estate in San Jose is expensive, even for a city in California, but I digress. Despite the historically high home values we are currently witnessing in San Jose, there's still plenty of room for opportunity. In fact, San Jose remains particularly attractive to real estate investors at the moment, as it's one of five qualifying areas whose average gross flipping profit was more than $325,000 per flip.
According to Attom Data Solutions, a leading provider of publicly recorded tax, deed, mortgage and foreclosure data, real estate flips in the San Jose real estate market generated an average gross flipping profit of $350,000 in the first quarter of 2018.
As I already alluded to, however, profit margins are shrinking in most markets, especially those as high priced as San Jose. As a result, those unable to find profit margins they are comfortable working with may want to consider an alternative to the traditional flip: rental properties. It is entirely possible for San Jose real estate investors to offset today's high acquisition costs with years, or even months, of rent. According to Zillow, "the median rent price in San Jose is $3,400," which should help make up for today's high prices sooner rather than later.
San Jose Real Estate Market Summary
The San Jose real estate market is incredibly expensive at the moment, not unlike the rest of the country. However, as a result, real estate in San Jose currently boasts some of the highest gross net profit potential. While it may cost more upfront to buy a house, San Jose rehabbers are seeing larger paydays on the backend of deals. That said, San Jose real estate investing may lean more in favor of long-term strategies like rental properties. Buy and hold strategies may award savvy investors the ability to offset high acquisition prices in a matter of a few years. Either way, there are still plenty of opportunities to invest in San Jose; you just need to know which exit strategy will get you closer to your goal.
*The information contained herein was pulled from third party sites. Although this information was found from sources believed to be reliable, FortuneBuilders Inc. makes no representations, warranties, or guarantees, either express or implied, as to whether the information presented is accurate, reliable, or current. Any reliance on this information is at your own risk. All information presented should be independently verified. FortuneBuilders Inc. assumes no liability for any damages whatsoever, including any direct, indirect, punitive, exemplary, incidental, special, or consequential damages arising out of or in any way connected with your use of the information presented.