by Paul Esajian | @pesajian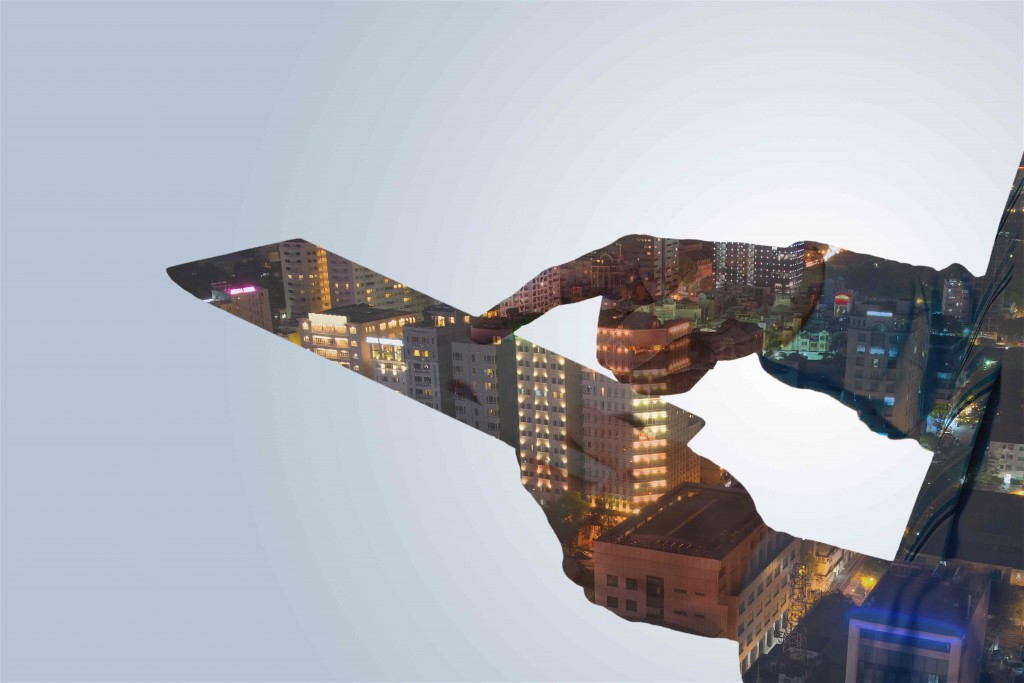 Can a real estate app automate the way you find and analyze investment deals?
The real estate market is a mixed bag of great–and not so great–investment deals. While the appeal of some investments will shout from the heavens, other real estate deals will sit quietly aside as you pass them by. The difficult part of investing in real estate is often differentiating between a great deal and a bad one. For those just starting out, the key is learning how to find investment properties, including how to correctly value and analyze properties to ensure they're worthwhile. That said, real estate apps like FlipComp has completely reinvented the way investors search, locate and analyze real estate deals.
How To Search & Analyze Investment Deals With Real Estate App FlipComp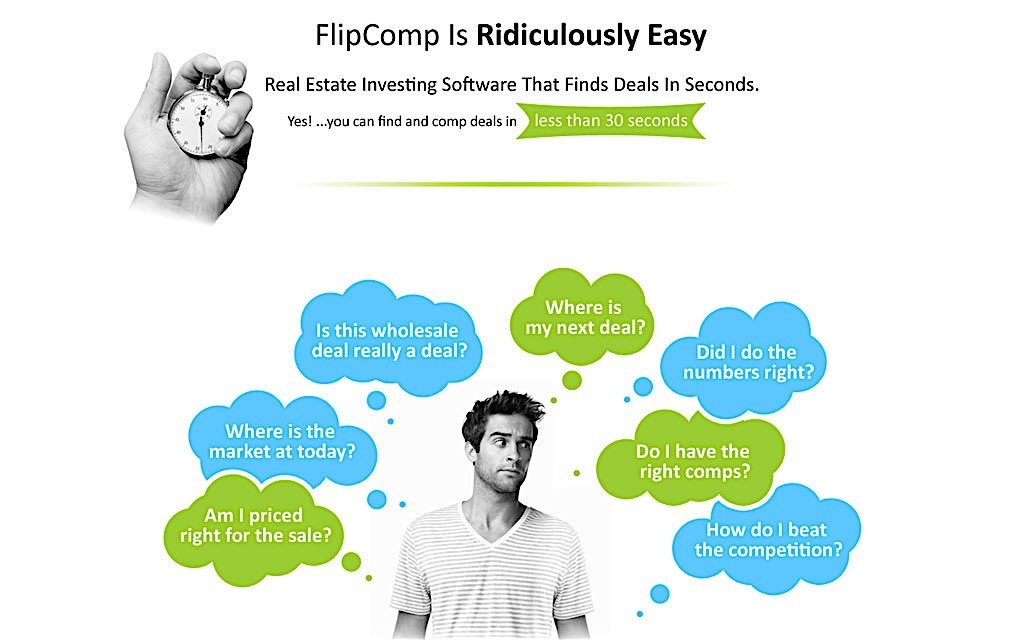 Known as FlipComp, this real estate app is an innovative tool built specifically for investors to better improve how they search and analyze real estate deals. The platform, which currently services more than 195 counties in 25 states across the country, connects to the MLS (Multiple Listings Services) to find, comp and analyze real estate deal in seconds. With FlipComp, users have access to a complete database of properties in their area, including key details such as sell price, comparables, and After Repair Value (ARV). The real estate app essentially streamlines the investing hunting process, a time-consuming and difficult process of weeding through property listings, and in return, provides investors a breakdown of key details to better assist their decision making.
One of the features that makes FlipComp so unique is the fact it provides an ARV with each listing. The ARV, otherwise known as After Repair Value, is the estimate of a property's value after all repairs and upgrades are completed. For investors, the ARV is a critical component in determining not only the potential value of a property after all repairs are made, but determining the associated expenses as well. That said, the real estate app FlipComp offers several compelling and beneficial features for investors, including the following:
Instant Access To MLS Listings: The MLS is a haven for real estate agents and investors alike. According to Realtor.Org, the MLS is a comprehensive database created, maintained and paid for by real estate professionals to help their clients buy and sell property. While some information is available to the public free-of-charge, the majority of information found on the MLS is for real estate agents only.
With FlipComp, real estate investors can obtain 24/7 access to MLS listings in multiple areas. With the most accurate property listing database in the country, real estate investors can get the important data they need to make the best decisions for their next investments.
Comp & Analyze Deals Through Automation: Another big advantage of utilizing the real estate app FlipComp is automating the analyzing stage of a deal. With FlipComp, users will gain access to key details of properties, including sell costs, comps, size of lot, and number of rooms/bathrooms, as well as number of days on market. In fact, users can set their own default settings to let FlipComp crunch the numbers for them, helping investors to cycle through deals at a high rate of speed. That said, each property listing will include the costs to purchase the property as well as the potential profit earnings based on an investor's settings. In addition, investors can actually search properties by profit potential using the deal analyzer.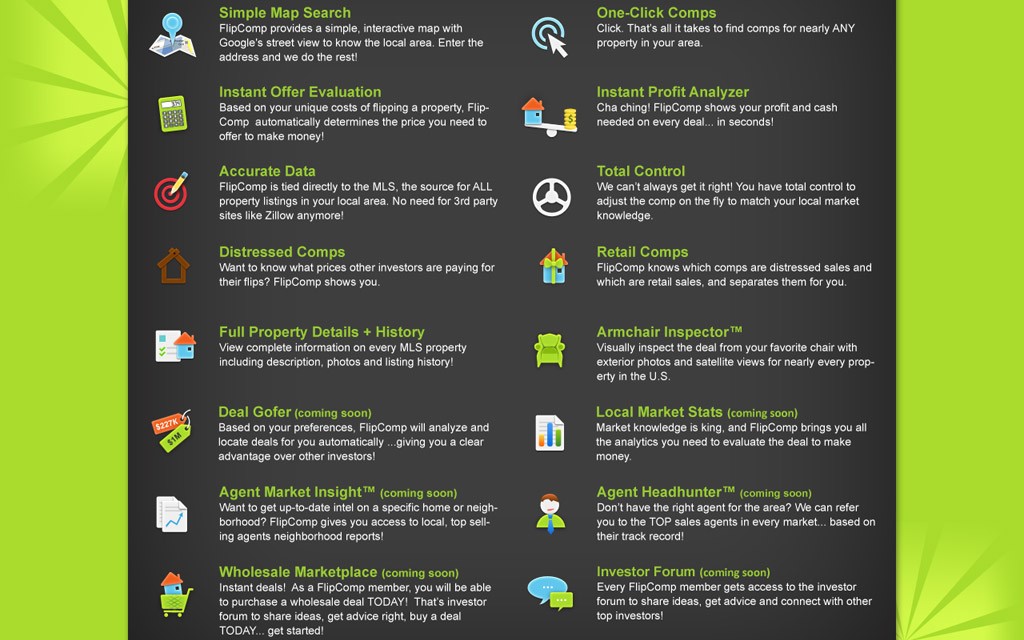 Custom Alerts: FlipComp not only eliminates the time-consuming process of finding the real estate deals you want, but they make it easier, too. Users can actually use keywords to save time when searching for investing deals, as well as eliminating the confusion of combining through listings to find what you're looking for; simply input the keywords you're looking for and FlipComp will provide the rest.
FlipComp also offers custom property alerts based on an investor's search criteria. Finding the hottest real estate deals has never been easier as FlipComp will alert investors of new deals the moment they hit the MLS.
Access Public Data: Because not all real estate properties are created equal, it's important to know the backstory of a property because investing in it. Is it a foreclosure? An REO property? Shortsale? With FlipComp, users can access public property data to learn valuable information on properties which will not only provide critical details of the current state of a property and ensure investors understand the conditions of a property, but it could possibly provide investors leverage when making an offer. As a real estate investor, the more you know about a property the better — and there's no better way to gain insight on an investment than with FlipComp.
Becoming a successful real estate investor is all about making smart, calculated moves in every facet of your business. While you won't win them all, it's more important as a beginner investor to comprehend the real estate playing field to ensure you're making the best investment decisions possible. For investors looking to automate the searching and analyzing stage of real estate investment, look no further than FlipComp and try the real estate app today.
🔒 Your information is secure and never shared. By subscribing, you agree to receive blog updates and relevant offers by email. You can unsubscribe at any time.