Key Takeaways
Creating a physical copy of your real estate portfolio isn't simply something interesting to look at, but rather an invaluable tool that can simultaneously boost performance and help you land more deals. 
Compiling all of your real estate assets into one real estate portfolio will help your business in more ways than you can imagine.
If you aren't quite sure how your own portfolio should look, we have provided a real estate portfolio template below to help you get the ball rolling.
---
With the real estate portfolio template below, investors of all levels should be able to compile their assets in a way that are invaluable to their future performance. If for nothing else, a proper portfolio will serve as an important tool in building out your career. Much more than a cosmetic gimmick, a real estate portfolio is essentially your resume to provide others with in the event you hope to do business together in the future. That said, building an investment portfolio can't come off poorly; it must create expectations of your own experience. How else will people know if they want to work with you or not?
Make no mistake about it: a real estate portfolio is absolutely essential to your success as an investor. It's the one tool that can put your talents on display and convince those in the industry that you are indeed a worthy person to go into business with. And since it is so important, there is no reason to leave anything up to chance. I maintain that you should use a real estate portfolio template when making your own asset collection.  That way, you know your presentation will shine through.
One of the greatest assets a residential redeveloper can own is a well-maintained real estate portfolio. This will not only act as an anthology of current and past real estate deals, but serve as your marketing arsenal when it comes to finding and acquiring funding for potential deals. In essence, a real estate portfolio is a compilation of different investment assets based on a combination of factors like your risk tolerance, time horizon, and objective for the primary purpose of achieving your goal. (Key for a first time real estate investor.)
Along with showcasing your personal investment goals and strategies, a real estate investment portfolio will reveal the inner workings of deals you've completed and currently own. For those unfamiliar, a real estate portfolio template will include your main objective, a breakdown of the numbers pertaining to your real estate transactions, asset allocation, and management. That said, the importance of your real estate portfolio as a residential redeveloper is vital. Not only is it essential to growing long-term wealth, but it's a critical component to obtaining financing for future projects.
The Perfect Real Estate Portfolio Template
Although not every investment portfolio will look the same, the following breaks down the perfect real estate portfolio template for residential redevelopers to get started: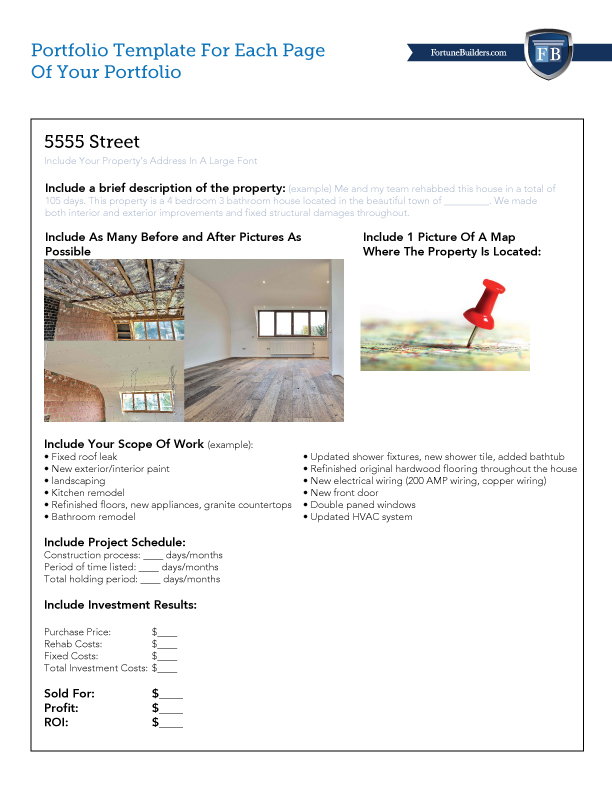 real-estate-portfolio-template
Have you ever wanted to build a real estate portfolio, but weren't sure where to start? Perhaps you have had better luck with a real estate portfolio template of your own? Whatever the case may be, we would love to hear about what ha worked for you in the past, and even what hasn't. Let us know in the comments below what your experience has been
🔒 Your information is secure and never shared. By subscribing, you agree to receive blog updates and relevant offers by email. You can unsubscribe at any time.