Key Takeaways
Creating a physical copy of your real estate portfolio isn't simply something interesting to look at, but rather an invaluable tool that can simultaneously boost performance and help you land more deals. 
Compiling all of your real estate assets into one real estate portfolio will help your business in more ways than you can imagine.
If you aren't quite sure how your own portfolio should look, we have provided a real estate portfolio template below to help you get the ball rolling.
---
With the real estate portfolio template below, investors of all levels should be able to compile their assets in a way that is invaluable to their future performance. If for nothing else, a proper portfolio will serve as an important tool in building out your career. Much more than a cosmetic gimmick, a real estate portfolio is essentially your resume to provide others with in the event you hope to do business together in the future. That said, an investment portfolio is not to be taken lightly; it must represent a strong display of your own experience. How else will people know if they want to work with you?
What Is An Investment Portfolio Template?
Make no mistake about it: a real estate portfolio is absolutely essential to your success as an investor. It's the one tool that can put your talents on display and convince those in the industry that you are indeed a worthy person to go into business with. And since it is so important, there is no reason to leave anything up to chance. I maintain that you should use a real estate portfolio template when making your own asset collection.  That way, you know your presentation will shine through.
One of the greatest assets a real estate investor can own is a well-maintained real estate portfolio. It will not only act as an anthology of past and present real estate transactions, but serve as your marketing arsenal when it comes to finding and acquiring funding for potential deals. In essence, a real estate portfolio is a compilation of different investment assets based on a factors like your risk tolerance, time horizon, and objective for the primary purpose of achieving your goal. (Key for a first time real estate investor.)
Along with showcasing your personal investment goals and strategies, a real estate investment portfolio will reveal the inner workings of deals you've completed and currently own. For those unfamiliar, a real estate portfolio template will include your main objective, a breakdown of the numbers pertaining to your real estate transactions, asset allocation, and management. That said, the importance of your real estate portfolio as a residential redeveloper is vital. Not only is it essential to growing long-term wealth, but it is a critical component to obtaining financing for future projects.
---
[ Do you have what it takes to run your own real estate business? Register for a FREE real estate class offered in your area, where you can learn from experts how to replicate successful business systems. ]
---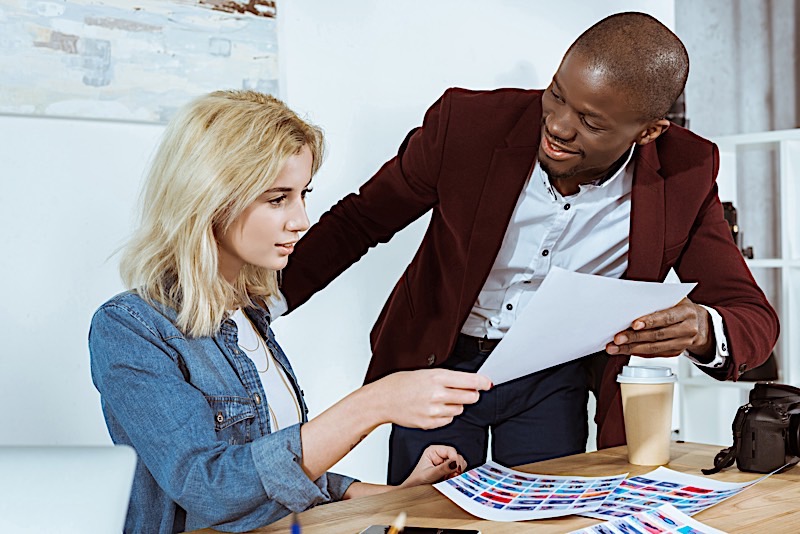 Pro Tips For Building An Investment Portfolio
Creating a strong investment portfolio is crucial to your success as a real estate investor. Although, there is more to it than simply showcasing your existing deals. Investors eager to build their investment portfolios need to understand the real estate industry and be prepared to seek out new deals. Here are just a few tips for building your investment portfolio:
Don't Be Afraid To Start Small: As you seek out new properties to invest in, don't be concerned if you think the property type or deal is "too small" for your investment portfolio (so long as it aligns with your interests). It is important to remember that every investor has to start somewhere, and even if your deals seem small now, they will likely not remain that way forever.

Create A Strong Deal Analyzer: One of the most important aspects of real estate investing is being able to identify a good deal, and walk away from a bad one. Rely on a strong analyzer and don't be afraid to ask questions when considering a given property. To get started, be sure to check out these calculations every real estate investor should know.

Add To Your Portfolio As You Go: Don't wait until the night before a networking event or pitch meeting to add your latest deals to your portfolio. Instead, track your progress as you go along and make sure you are always prepared for potential opportunities.

Understand The Financing Available: When identifying new deals, it is important to make sure you are aware of the variety of financing options available to you. Do not let a lack of funding get in the way of building your real estate portfolio. There are a wide variety of financing options available for your next deal, some of which you may not even be familiar with. Check out this article on real estate financing to learn more.
Download This Real Estate Portfolio Template
It is not uncommon to feel challenged when putting together your first real estate investment portfolio. Showcasing your best work can involve a lot of pressure; however, it is important to know you can adjust your portfolio at any time. As you gain experience in the real estate industry, you will likely get a better idea of how you want to set up your portfolio and can make changes from there. Although not every investment portfolio will look the same, the following real estate portfolio example serves as the perfect template for investors to get started: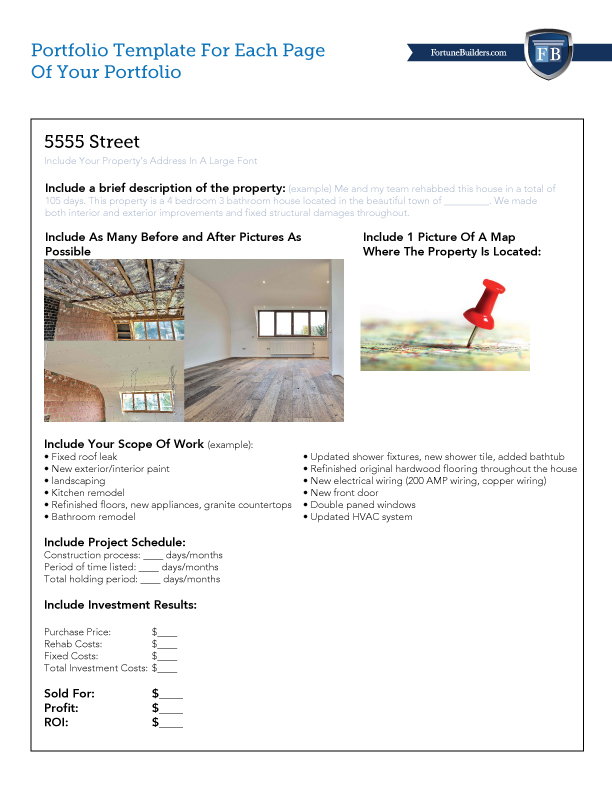 real-estate-portfolio-template
Summary
Have you ever wanted to build a real estate portfolio, but weren't sure where to start? Perhaps you have a template, but it doesn't represent your best deals? Whatever the case may be, our real estate portfolio template can help you showcase your investment history today. With the right investment portfolio, you can be well on your way to securing your next deal.
Did you change up our investment portfolio template? Let us now how you customized it in the comments below.
🔒 Your information is secure and never shared. By subscribing, you agree to receive blog updates and relevant offers by email. You can unsubscribe at any time.