Key Takeaways
Key Takeaways
---
When it comes to a vacant property, beauty is often in the eye of the beholder. For neighbors, vacant properties may represent an eyesore. For savvy investors, on the other hand, a vacant property can represent a unique opportunity to land a deal. Even the most experienced investors often do not have experience working with vacant properties; however, this strategy might land you some impressive deals if you know what to look for. Keep reading to learn how to find vacant properties and more information on what to do when you find them.
What Is A Vacant Property And Why Should I Invest In One?
A vacant property is exactly that: vacant. The property is abandoned, and no one lives in it anymore. They can often be spotted by overgrown yards, notices on the windows, or damage to the outside of the house. In most situations involving a vacant property, the owner is separated from the home and no longer performs regular maintenance, hence the name vacant property.
If the houses are not in the best condition, you may be wondering, "why should I do a vacant property search?" Well, the answer is easy: vacant property investing can offer numerous benefits to those willing to put the time in to search for them. According to Hutch Ashoo, founder and CEO of Pillar Wealth Management, LLC, "vacant property is any land or structure that is not currently used, including vacant lots and systems. Vacant properties can occur for various reasons, from seasonal vacancies in vacation homes to intentional abandonment of a property with no intention of finding new tenants or making changes". While vacant properties may appear to require more deals than usual, they also often equate to highly motivated sellers. A vacant property may lead to a great deal for investors looking to secure properties under market value.
Business attorney Matt Carter suggests that "vacant or abandoned properties can be good investments because it is
easier to increase their value. Distressed properties often sell for less, so improvements can often net you more money than if you are simply buying and selling occupied homes, for example".
Investors may also be excited to learn that vacant properties can also offer unconventional financing methods, such as seller financing. This is especially appealing to investors who do not have the highest credit score. Owners of vacant properties are often more than willing to let the property go; therefore, they may be more accommodating of your financial history.
Most investors do not go after vacant houses because they don't offer unique opportunities (they do). More often than not, investors are unaware of the scope of benefits associated with the strategy. Knowing how to invest in a vacant property can often give a leg up to investors, especially those operating within competitive markets.
---
[ Thinking about investing in real estate?
Register to attend a FREE online real estate class
and learn how to get started investing in real estate. ]
---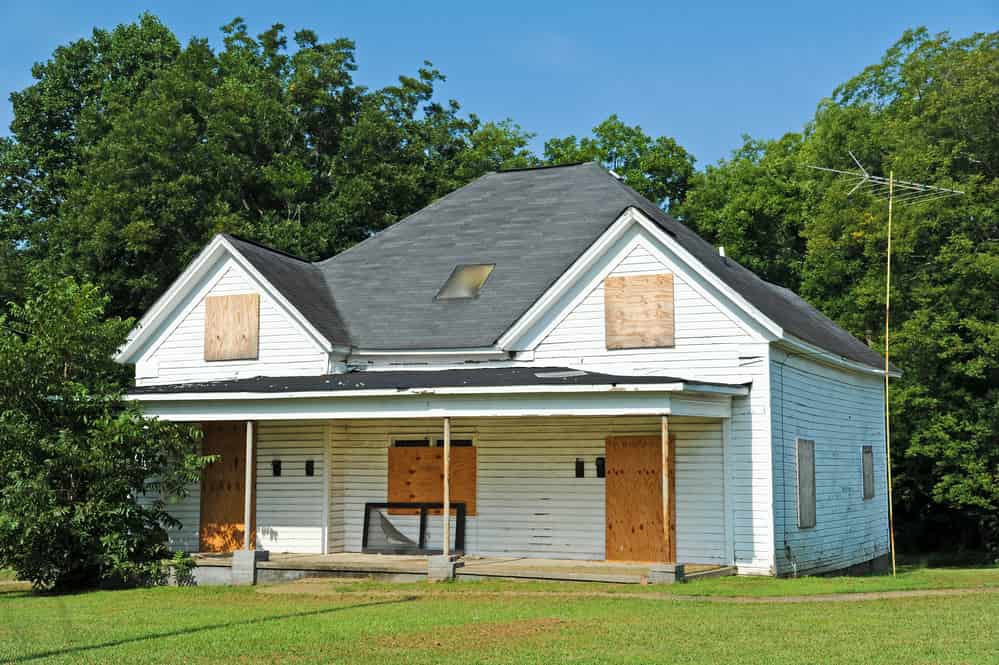 Vacant vs. Unoccupied Property
Vacant and unoccupied are terms commonly used to describe the state of a property. While they are used synonymously, unoccupied and vacant properties are different in terms of real estate. A home is "vacant" when there is no personal property inside the home. This includes chairs, beds, or any other type of furnishing someone can use to live within the property.
An unoccupied property does contain the furnishings described above. However, the homeowner is not presently living there. For example, someone may have a summer home where they live for months at a time. Their other home is now considered "unoccupied" while they are away.
How To Find Vacant Properties
By strategizing the best ways to identify abandoned properties, you can work your way towards a vacant property list of your own. Here are several tactics you can employ to make your search a little easier:
The number one way to find vacant houses is to drive around your area. You would be surprised how often you come across vacant properties in your own neighborhood. You don't need to drive around for hours to find vacant properties. Instead, one of the best ways to find vacant homes is to mix up the routes you usually take in favor of new drives. When driving, keep a lookout for the telltale signs of a vacant property, and you might be surprised how many you find.

When looking for vacant properties, you can also reach out to local postal workers. Vacant properties will receive notices from the post office to no longer receive mail so that it does not pile up, meaning post office employees often know exactly where these houses are. I do not suggest you show up on your local worker's route, but you could contact a local post office in your area to better understand where to start.

Another way to boost your vacant property search, often before a property ever becomes vacant, is by researching estate sales. It may be worth your time to make note of the address so you can search the owner's names. With this information, you may find the owner's contact information and inquire about the state of the property.

Advertising is also a great way to find vacant properties. Neighbors around a given property may be eager to provide information in the hopes that the property is taken care of. For this reason, investors who employ their usual advertising techniques with the added focus of finding vacant properties may have good luck finding them through advertising.
How To Find Vacant Property Owners
Now that you have a good idea of finding vacant properties, you may be wondering how to identify their owners. This is where you may have to do a little digging. These are some of my best tips for learning how to find vacant property owners:
Checking the tax records of a given property is a tried and true method for identifying a vacant property owner. While property owners do not always keep updated contact information with the county, think of pulling tax records as going straight to the source.

Another way to find a vacant property owner is to leave a note on the house or in the mailbox. Now, I know what you're thinking: if the property is vacant, it is unlikely the note will ever be seen. You may be right, but when it comes to finding the owner of an abandoned property, it can be helpful to exercise all of your options.

Another effective method for finding a vacant property owner is to ask the neighbors around the house. More often than not, they will be able to provide more information than what you have. You should take extra care when reaching out to anyone regarding a vacant property and make sure you are clear in your communication that you are interested in buying the property. Helpful neighbors may be able to point you in the right direction.

If any of these methods reveal a forwarding address for the owner, try writing a letter. The key here is to stand out from typical direct mail campaigns or marketing letters. Handwrite a note or postcard for the seller, including your contact information.

When looking for vacant property owners research and persistence are key. Review as many public records as you can, and don't be afraid to try more than one method. Each vacant property will be different, and it will likely take multiple tries to get in touch with an owner.
[ Learning how to invest in real estate doesn't have to be hard! Our online real estate investing class has everything you need to shorten the learning curve and start investing in real estate in your area. ]
Buying Vacant Property: 4 Things You Need To Know
When it comes to buying vacant property, the first thing to note is that a vacant property can encounter a few more problems than usual. Since the property is sitting vacant, there may be damage from bugs, mice, or even vandalism. While these issues could create a small speed bump for your investment deal, they should instead be thought of as factors that would increase the likelihood of a sale from the owner's point of view.
Similarly, vacant properties, like any, demand upkeep. As I have already pointed out, they may fall victim to several issues simply by sitting untouched over a given period. Depending on the amount of time a property has been vacant, sellers may not even realize how much upkeep should be going into the home. For those wondering how to buy a vacant property, consider the seller's motivation: they may be ready to part ways with the home because of their current holding costs.
When it comes to vacant property insurance, there is some grey area. Homeowners will often believe that any damage done to a vacant property is covered under their traditional homeowners insurance. However, this is not the case. Homeowner's insurance typically requires the property to be occupied for claims to be made. This information can be used to your advantage, as property owners are often even more willing to part with a property after learning it has the potential to be a liability.
Finally, you may have varied luck when searching for vacant properties. At the beginning of your search, you may find that you encounter vacant properties often; however, some days, you may struggle to find any leads at all. Buying vacant properties is not a more well-known strategy among real estate investors because they are slightly misunderstood. That being said, finding vacant properties isn't more or less difficult than finding regular leads; it can just take a little more time to identify which properties in your area are worth pursuing.
Vacant Commercial Property
Vacant properties are not exclusive to residential real estate. Interested investors may be able to find abandoned or commercial properties if they know what to look for. According to many insurance policies, a commercial property is considered vacant if less than 30 percent of its total square footage is occupied. This means you could search for commercial properties with a significant number of vacancies, but they don't necessarily need to be entirely vacant to appeal to the previous owner.
Note that the problems, or opportunities depending on how you look at it, that come up with vacant properties may be more significant in commercial real estate. Commercial properties require more maintenance to be up to code than residential properties, and therefore can demand more upkeep over time. Investors need to think about the possibility of broken sprinklers, water damage, leakage, and more. These can make strong negotiation points, but they can also demand significant capital to fix. Keep these things in mind before trying your hand at vacant commercial deals.
Financing Vacant Rental Properties
Vacant properties don't just apply to residential real estate. In your investing career, you may encounter a vacant rental property or even a vacant commercial property. It is key to have a system to ensure you understand how to move forward in those situations. Vacant rental property listings may not come around often, but when they do, they can represent a unique opportunity for building wealth.
When it comes to a vacant property, you are more often than not working with motivated sellers. In most instances, property owners may not even know they are classified as motivated sellers, despite all the signs being present. That being said, seller financing can often come into play with a vacant property. In many cases, the vacant property owner has received notices from neighbors, the Department of Housing and Urban Development, and other agencies about leaving the property unoccupied. These factors, while unfortunate, can increase the seller's flexibility when it comes to getting rid of the property.
Vacant Property Insurance
The insurance requirements for a vacant home are different than those for your standard home insurance. The policy on the vacant home needs to address the issues that a vacant home faces, which are different than those of a normal occupied home policy. There are multiple coverage options available for a vacant home, varying from full coverage to partial coverage options. Most insurance companies make it simple to switch between coverages, as they know that tenants come and go and your insurance needs can often change frequently. Finding an insurance company that you trust and that offers varying levels of coverage can be very beneficial for vacant property owners.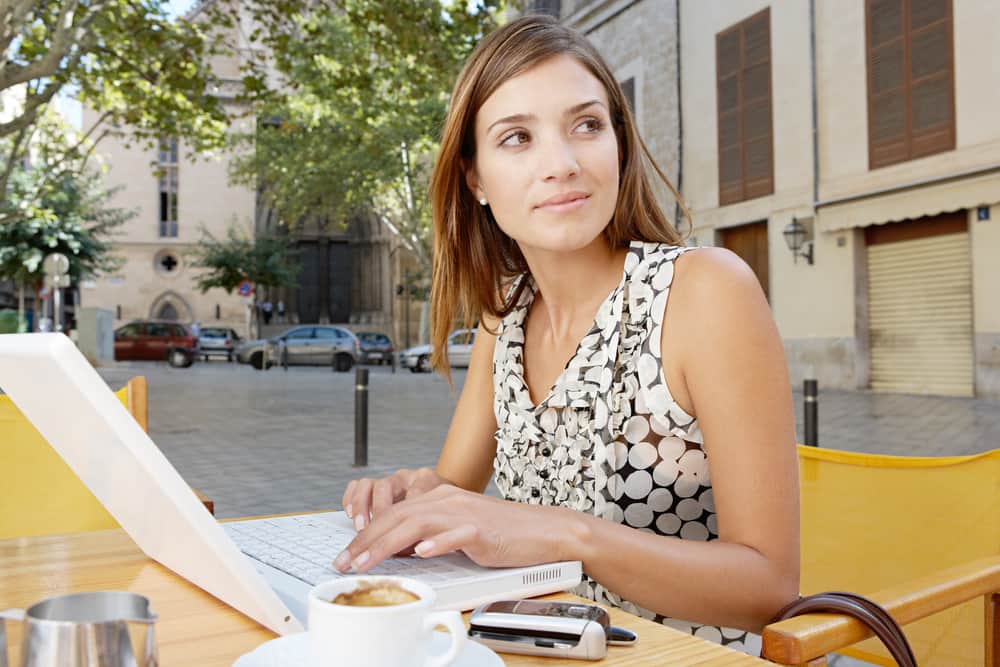 Summary
Investing in vacant properties can offer a variety of benefits for savvy real estate investors. Searching for vacant properties is a great way to expand your efforts with unconventional forms of real estate investing while still employing tactics you would use in your everyday business. You may have to spend a little more time searching for the properties and their owners, but if a vacant property deal goes as planned, you may find success using this investing strategy.
Have you ever invested in a vacant property? Let us know how the process went in the comments below.
---
Ready to start taking advantage of the current opportunities in the real estate market?
Click the banner below to take a 90-minute online training class and get started learning how to invest in today's real estate market!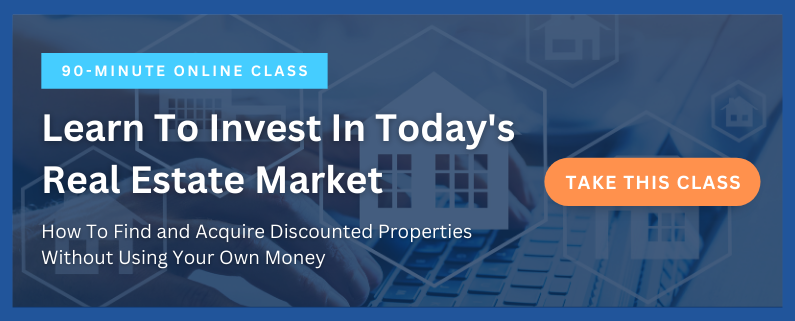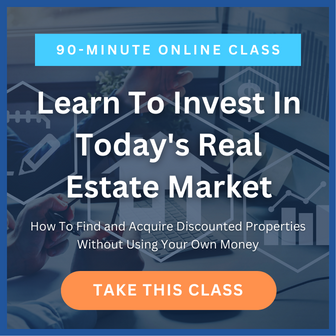 ---
The information presented is not intended to be used as the sole basis of any investment decisions, nor should it be construed as advice designed to meet the investment needs of any particular investor. Nothing provided shall constitute financial, tax, legal, or accounting advice or individually tailored investment advice. This information is for educational purposes only.