Owning a vacation rental property is a great way to increase your monthly cash flow, diversify your investment portfolio, and stay ahead of your competition. Not to mention, you get a free place to stay anytime you (or members of your family) decide to take a break from reality.
While jumping into the vacation rental property investing sphere sounds like an easy way to get started, it's not all fun and games. The fact of the matter remains: people's expectations are changing. More and more people are choosing vacation rentals over hotels when selecting accommodations for their travels.
How does this affect you? Well it should make you want to consider performing a few strategic vacation rental property upgrades.
Tattered furniture and stained bedding will no longer be enough to impress guests. Because travelers are opting for a more immersive cultural experience (which is easier to achieve when you rent a home as opposed to stay in a chain hotel), they are demanding cleaner, more sophisticated living quarters. You can provide a space that meets those needs by keeping your property updated with these home improvements:
Vacation Rental Property Upgrades You Can't Afford To Ignore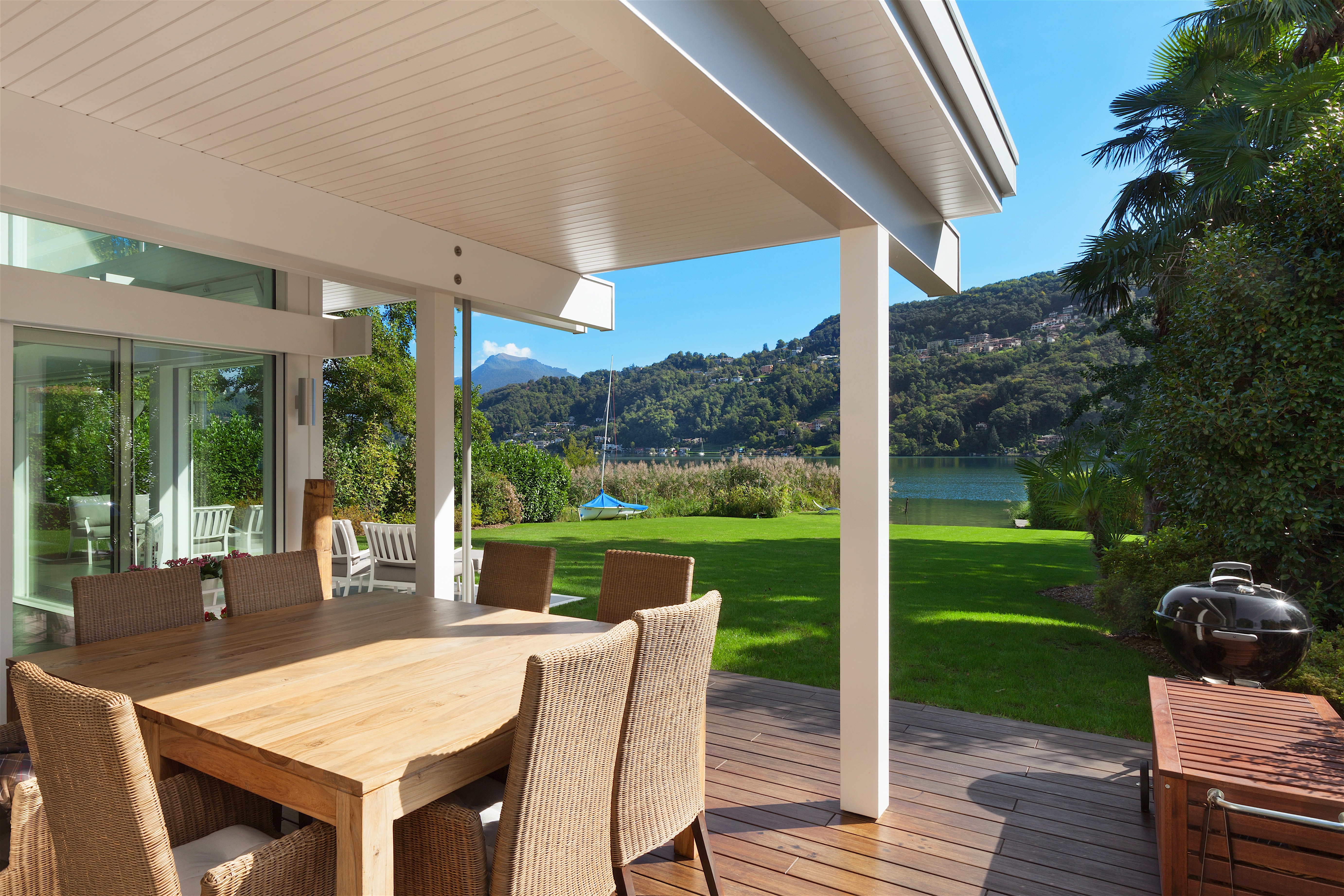 Keeping your rental property up to date doesn't have to be hard, as long as you stay on top of basic maintenance and upgrades.
Updated Curb Appeal: First impressions are everything. When your vacationers arrive at your property, you want them to be "wowed" from the moment they pull into the driveway. Dry grass or poor landscaping will not be tolerated by guests looking to indulge in a luxurious weekend getaway. The good news is: updating your property's curb appeal is not as hard as you'd think. Decluttering the entryway, pulling weeds, replacing dead plants, and giving the front door and window trims a fresh coat of paint can all be done in a day's work. If you are posting photos of your vacation rental on sites like FlipKey and VRBO, having exterior images is key. Guests want to know what they can expect. If a bright front door or beautiful flowers catch their attention, they will be more likely to choose your property over another.
WIFI Should Be Free: People should be able to indulge their every whim at your vacation rental. If this means Billy wants to surf the waves at the beach and Bob wants to stay in bed playing games on his iPhone, make it possible; do this by providing WIFI, for free! The last thing any guest wants to deal with after an exhausting plane or car ride is figuring out how to make their cell phones function in a new area. So take one less worry off their plate and make it clear that WIFI will be provided at no extra cost. Make the password easy to find and easier to remember; your guests will thank you.
Fun Amenities: If your guests are traveling from far away places, they won't be able to pack anything more than their essentials. Use this as a chance to impress guests by providing them with fun amenities. Bikes, beach toys, and boogie boards are perfect for tropical locations; while sleds, snowboards, and extra logs for the fireplace are ideal for colder climates. If fun amenities are not in your vacation rental budget, that's okay! Make up the difference by supplying your guests with a guide full of local activities. Include maps of the town, restaurant recommendations, nearby shopping centers, and any other information about what makes your city unique.
Luxurious Master Bedroom: Those renting vacation homes are often looking to escape reality and indulge this luxury. Don't assume that all your guests will be partaking in activities away from home and instead make your home their ideal destination! One of the greatest perks of staying at a hotel is the king sized bed topped with crisp sheets, fluffy pillows, and a down comforter. Allow your guests to experience this treat by updating the master bedroom. Vacationers want to unwind, which is why sprucing up the bedrooms is the key to attracting more bookings and earning better reviews. Mixing patterns and appealing textures are a must when upgrading your bedding. While potential renters browse through your online photos, they shouldn't be able to resist imaging themselves blissfully asleep in your cozy bed.
Optimized Sleeping Spaces: While it is important to update the master bedroom, you must not neglect other sleeping quarters. Optimize your property to sleep as many guests as possible. This means, opt for bunk beds, trundle beds, and pull-out couches as you shop for furniture. The more sleeping spaces you can offer to guests, the more you can charge for your property.
Cleanliness Is Key: This should go without saying, but it is absolutely necessary to prioritize your vacation rental's cleanliness. Don't treat your property as a dumping ground for the unwanted furniture from your own home. Both furniture and decor should look fresh if you expect guests to give you a five star rating. Modern homes with open floor plans and minimalistic designs are currently trending and it is important for rental property owners to stay up to date with current fads. Be sure to hire a professional cleaning crew between renters so that every group of guests receives the same pleasurable experience.
Spruce Up The Bathroom: Create a spa like experience for your guests by sprucing up your property's bathrooms. Nothing says relaxation like a bubble bath, candles and a glass of wine. Provide your guests with fun bath products, fluffy white towels, and complimentary robes. Although it will take a little extra work (and money) to ensure all products stay full and fresh, it will be worth the investment.
A Functioning Kitchen: More often than not, guests will spend their evenings exploring the town and trying new restaurants. But guests staying in your rental for four days or more will most likely want to cook for themselves for several meals. Be sure your kitchen is stocked with the necessities: pots and pans, silverware, plates and bowls, sharp knives, stirring spoons, mixing bowls, a can opener, and scissors. If you really want to go the extra mile, stock your kitchen with all the appliances you would your own home. You want your guests to feel welcome to express themselves how they wish. If this means cooking elaborate feasts for every meal of the day, so be it. Be sure to advertise your well-equipped kitchen on your property's online listing for it may be the one thing that sets your home apart from the rest.
Tasteful Decor: You don't have to break the bank when decorating your vacation rental property. A few tasteful knick knacks (perhaps artwork, throw pillows, or a funky rug) should be enough to impress any vacationer. Stage the property like you would an open house. Don't go overboard, be tasteful, choose a neutral color scheme, and you're good to go!
Smart Home Technology: Make your guests feel safe by installing a home security system and other automated features. As with all things, don't sacrifice quality for price. Instead, research different security providers in the area and ask if they offer any packaged deals (i.e. a fire/carbon monoxide detector plus a security system). Automated front doors that require a typed code instead of a key are great for vacation rental properties because owners can simply change the lock code after every guest group leaves. You'll also never have to worry about a missing key or lock out fiasco. Review your options and install a security system that meets your needs.
If you want your home to be chosen over the competition, consider performing these 10 vacation rental property upgrades. With better reviews, come more renters. With more renters come increased profits! Will you implement any of these changes?