As a first-time homebuyer, what are the first steps in assembling an offer?
The key to formulating an irrefusable offer in real estate comes down to one simple aspect: due diligence. Generally referring to the preliminary research conducted before signing a contract, due diligence is an effective form of assessing a real estate property before moving forward with an initial offer.
"A large part of setting your negotiation up for success happens during the due-diligence phase as you are searching and appraising the property," says Than Merrill, CEO of FortuneBuilders and CT Homes.
Before the wheeling and dealing can begin, it's important to understand the property and deal at hand. For a first-time homebuyer, due diligence will not only provide peace of mind knowing you've taken the time to secure the right property at the price you're willing to pay, but it will ensure your long-term success in any housing market, whether it's a seller's or buyer's market.
The following guide will assist first-time homebuyers in navigating the final stages of the buying process, including examining three important aspects before making an offer:
Guide To Making An Offer For First-Time Homebuyers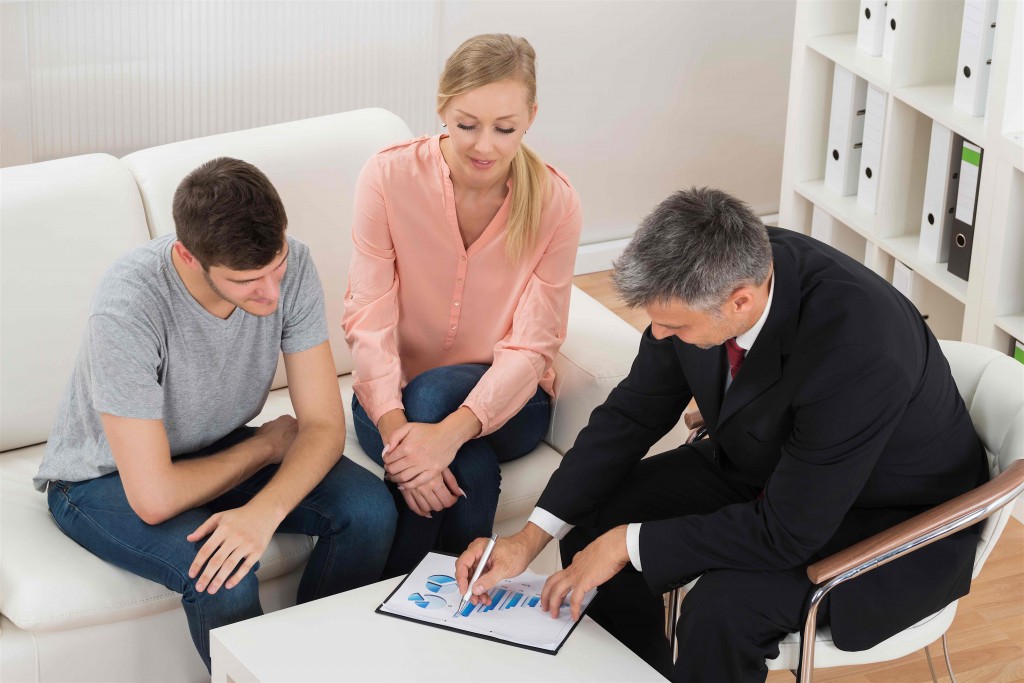 Evaluate The Property
Once you've selected the house of your choice, the next step is to evaluate the property in its entirety. For a first-time homebuyer, the initial walkthrough will help to answer the majority of questions regarding the home and its condition.
"The property walkthrough is vital to your negotiations, because it enables you to see what the interior condition of the property is and what repairs are required. This will help you finalize the offer you are going to make," says Merrill.
The property walkthrough will also serve as an introduction to the owner and is a critical component in the homebuying process, especially in the negotiation stage. In order to align themselves for future success, Merrill recommends first-time homebuyers concentrate on two components when conducting the walkthrough:
Make A Good First Impression: When you arrive at the property, you should do your best to make the seller feel as comfortable as possible. The seller is judging you as much as you are judging them, so it's critical to give the right impression. Be presentable, respectful and be communicative. This is the first stage of building rapport with the seller, and it will play an important role in the negotiation process down the road.
Point Out Possible Issues & Repairs: During the walkthrough, let the seller know that you will be making a repair list as you go, and will communicate any items that need to be fixed or replaced. It's important you take notice of any major concerns such as structural problems or serious wear and tear. Pointing out repairs during the walkthrough will not only inform the seller you're aware of the issues, but it will help you in your negotiation.
Another aspect to consider in your property evaluation is the actual valuation of the house itself. Although it's not an exact science, indicators to use when determining a property's value include: location, square footage, room count and amenities.
Uncover The Seller's Motivation
Understanding a seller's motivation is a critical aspect in the homebuying process, especially when it comes to making an offer. By creating a clear line of communication with the seller, a first-time homebuyer can better align their future offer to match the seller's needs. According to Merrill, the first step is to ask the right questions.
"It is essential that you ask really good, open-ended questions so that you get the seller to open up," says Merrill. "When you talk to the seller, try to maintain a 30/70 dialogue. You must be an active listener and try to understand the seller's deepest motivations in order to discover the person's needs."
Seller motivation will generally be fueled by one of three things: the bottom line (money), a rush to move, and an emotional attachment. Merrill recommends a first-time homebuyer starts out with the following questions:
What is your reason or motivation for selling at this time?
How quickly do you want to sell?
Are you experiencing any financial problems?
It's important first-time homebuyers remember a good first impression, coupled with the right questions, will only enhance how the seller views their offer.
"How you interact with sellers will go a long way in determining how many deals you close," says Merrill. "The more you know about your seller and what they want, the higher your closing ratios will be. Instead of looking at a deal from your perspective, flip that thinking around and put your seller first."
Create A Market Strategy
The landscape of the real estate market will almost always dictate how a buyer/seller approaches the negotiation table. For a first-time homebuyer, the final step before entering the negotiation table is identifying a "setting" strategy.
The local market condition will always play a role in your negotiation strategy, so it's a vital component to consider before making an offer. In a buyer's market, there are more homes for sale than buyers to make offers–giving the buyer more options. On the other hand, a seller's market takes the opposite effect, as less inventory cultivates a tougher market for buyers.
Once you've evaluated the property, detected the seller's motivation and produced a setting strategy, it's finally time to make an offer. We'll discuss the final stages of making an offer in part two, but for now we'll explain the basics of what your offer will need to include. An offer should encompass the following:
Sales price
Terms of the contract
Address of the property
Seller's promise to provide clear title (ownership)
Close date (the actual sale)
Amount of earnest money deposit accompany the offer
Method for how real estate taxes, rents, fuel, water bills and utilities are to be prorated between buyer and seller
Type of deed that will be granted
Provisions on who will pay for title insurance, survey, termite inspections, etc.
Additional requirements specific to the state
Contingencies
A time limit after which the offer will expire
A first-time homebuyer should be aware that once they have assembled a purchase offer, a deposit–earnest money agreement–will be needed to ensure all aspects of the contract are fulfilled.
Purchasing your first house can be one of the most memorable times of your life. By following the above mentioned guide, a first-time homebuyer can take solace in knowing their due diligence has played a critical part in constructing a bullet-proof offer.