Jump To Another Year For The Boston Real Estate Market:
---
The Boston real estate market looks to be in good health, despite everything that is happening in the wake of the Coronavirus. In fact, it would appear as if real estate in Boston has every intention of "staying the course." That is not to say the "shelter in place" order won't impact the local housing sector, but rather that it may only be a temporary setback. If for nothing else, plenty of shoppers are still looking to buy. Incredibly low interest rates combined with pent-up demand look ready to continue the tradition of a busy spring buying season, only a little later in the year. It is safe to assume the pandemic will result in fewer spring transactions, but those who were looking to buy before the crisis are most likely looking to make moves sooner rather than later. As a result, the activity typically seen in spring and summer could potentially take place later in the year, which bodes well for everyone: buyers, sellers and investors.
Boston Real Estate Market 2020 Overview
Median Home Value: $644,743

1-Year Appreciation Rate: +2.4%

Median Home Value (1-Year Forecast): -0.2%

Average Days On Market (Zillow): 120

Median Rent Price: $2,950

Price-To-Rent Ratio: 18.21

Boston-Cambridge-Quincy Unemployment Rate: 2.9% (latest estimate by the Bureau Of Labor Statistics)

Boston City Population: 694,583 (latest estimate by the U.S. Census Bureau)

Median Household Income: $65,883 (latest estimate by the U.S. Census Bureau)

Percentage Of Vacant Homes: 9.10%

Foreclosure Rate: 1 in every 6,152 ( 1.6%)
---
[ Thinking about investing in real estate? Learn how to get started by registering to attend a FREE real estate class offered in your area. ]
---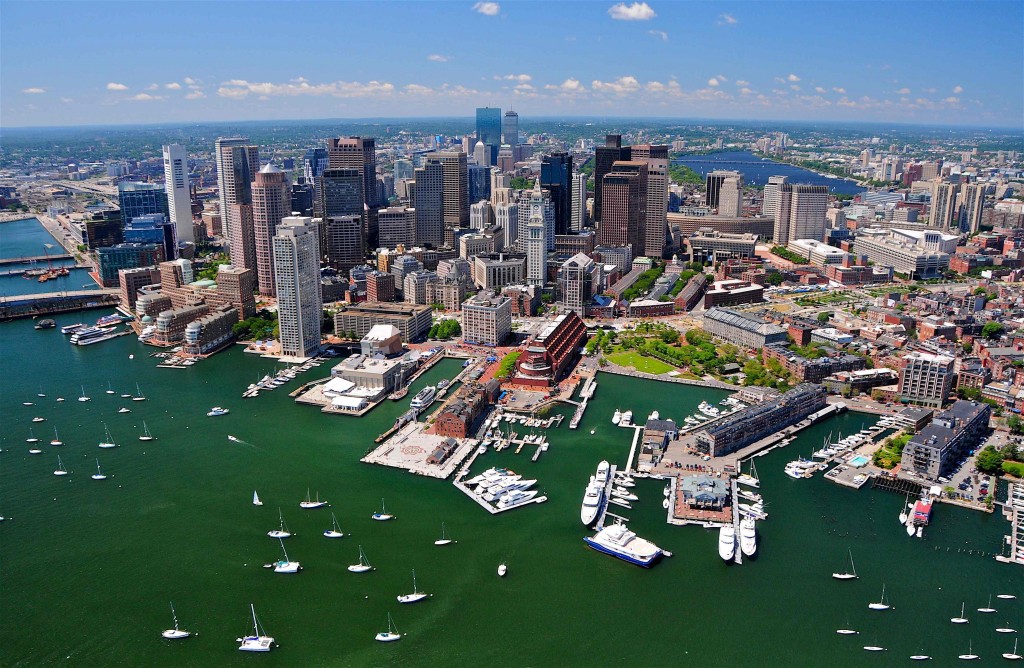 2020 Boston Real Estate Investing
Local investors have become the beneficiary of some rather favorable indicators. Demand still remains intact, despite nearly a decade's worth of appreciation. In fact, a great deal of the city's offers are coming in over the asking price in an attempt to thwart the competition.
Today, competition is expected to grow even fiercer, which could bode incredibly well for the entire investing community. That's not to say there will be more buyers looking in today's environment, but rather that there will be even fewer homes available for sale, which will inevitably drive up prices.
While it may be too soon to tell, it would appear as if more sellers are taking their homes off the market as they attempt to figure out how to best proceed during the Coronavirus pandemic.
"I have had multiple offers over asking price on two homes that went under agreement in March," Kurt Thompson, a broker with Keller Williams in the Leominster area and president of the Massachusetts Association of Realtors. "We are still seeing a significant shortage of homes available for sale, and the COVID-19 crisis is likely to cause some sellers to delay bringing their homes on the market, making that shortage even worse."
Prices are historically high at the moment, which begs a couple important questions: Is Boston real estate a good investment? Perhaps even more importantly, is it a good time to buy a house in Boston?
Investors currently holding onto deals could find their assets demanding even more of a premium in an already bullish market. However, investors who are in between deals have just as much to be excited about. While today's higher acquisition costs may have already eaten into profit margins, a sound buy-and-hold strategy could net more profits over the long run.
With a price-to-rent ratio of 18.21, it is usually more affordable to rent than to buy a house in the Boston real estate market. As a result, it's safe to assume the rental market will see plenty of demand, which bodes incredibly well for rental property owners. That, along with a median rental price of $2,950, should help investors justify today's higher acquisition costs. Years of cash flow can help offset some of the highest home values the area has ever seen.
2020 Foreclosure Statistics In Boston
The Boston housing market currently boasts a price point well above the national average. Not surprisingly, the latest home values are the result of nearly a decade's worth of appreciation. In addition to increasing equity for the majority of owners, however, the city's impressive appreciation rate has simultaneously limited the amount of underwater homeowners. Consequently, the city has a relatively low foreclosure rate.
With one in every 6,152 homes in some state of distress, Boston's foreclosure rate is a healthy 1.6%. The rest of the country, on the other hand, isn't faring as well as Beantown. With a foreclosure rate of 3.4%, approximately one in every 2,893 homeowners are distressed across the whole country (more than twice the rate).
While the city's foreclosure rate is considerably lower than the national average, the city has seen a more modest decline in one year's time. As recently as March, in fact, "the number of properties that received a foreclosure filing in Boston, MA was 5% lower than the previous month and 5% lower than the same time last year," according to RealtyTrac. In that same time, the national average dropped four times more than Boston's foreclosure rate. According to RealtyTrac, "the number of properties that received a foreclosure filing in the U.S. was 3% lower than the previous month and 20% lower than the same time last year."
The majority of the city's distressed homes haven't actually begun the foreclosure process, but instead are at risk of filing for foreclosure. Otherwise known as "pre-foreclosures," homes delinquent on payments (and therefore at risk of foreclosure) make up 57.1% of the city's distressed inventory. As a result, the Boston real estate investing community should place an emphasis on this particular niche; doing so could improve their odds of finding a deal below market value. There is no better lead for a real estate investor than a motivated seller, and pre-foreclosures appear to be the city's largest source of motivated sellers at the moment. Fortunately, delinquent property information is made available at most local courthouses. Investors who know how to navigate the data found within should be able to compile a list of distressed homeowners who may be more likely to sell at a discount.
It is worth noting, however, that these numbers have yet to reflect the true impact of the Coronavirus on the Boston housing market. While it's too soon to say exactly what the Coronavirus will do to the real estate market, it's fair to assume there will be an influx of foreclosure filings once all of the dust settles. For now, mortgage assistance and forbearance programs will keep homeowners in their homes, but lenders will eventually expect payments to become current. When the time comes to collect, a great deal of homeowners may find past payments compounding with current payments, making obligations more difficult to abide by. As a result, there's a good chance the city could see an increase in foreclosures once government assistance runs out.
The real estate investing community should be looking ahead. Start lining up funding and locating potential deals, as the end of 2020 could see an influx of distressed homes hit the market.
2020 Median Home Prices In Boston
The median home value in the Boston housing market is a very healthy $644,743. However, in order to truly understand the position of real estate prices, they must be placed in context with the national housing market. The median home price in the United States is $248,857, which begs the question: Why is Boston real estate so expensive?
The current median home value doesn't tell the whole story. To gain a better perspective, it helps to take a step back and look how prices have performed over a longer period of time. The median home value was as low as $371,000 approximately eight years ago (when the recovery really started to gain momentum). Since then (April 2012 to today), the median home value has increased 73.7%. The significant increase was due—primarily—to three indicators: a strengthening economy, increasing sentiment in the housing sector, and (ironically enough) a lack of available inventory. All of that, combined with a desirable place to live, helped create the perfect storm. Prices started to take off once demand fed the fire, and they haven't looked back since.
According to NeighborhoodScout, the following neighborhoods have appreciated the most since the turn of the century, and are presumably responsible for the city's high price point:
Jeffries Point

Decatur St / Vine St

Border St / Central Sq

Blue Hill Ave / Maywood St

Bremen St / Marion St

Chelsea St / Meridian St

William F Mcclellan Hwy / Addison St

Barnes Ave / Benner St

Mckay Pl / Maverick St

Terminal D / Terminal E
Whether or not these are the best neighborhoods to invest in remains to be seen, but there is no denying the progress they have made in a relatively short period of time.
Over the last 12 months, appreciation rates have started to cool off. From February 2019 to today, the median home value has increased a mere 2.4%. In the previous year (February 2018 to February 2019), the median home value increased 4.2%, nearly twice as much. Looking forward, however, could see appreciation rates stall even more. The Coronavirus is expected to temper price increases for a short period of time, and the Boston housing market is no exception. As a result, industry experts are calling for a short dip in prices for the foreseeable future, followed by a return to today's prices by this time next year.
Massachusetts Real Estate Market
The success of the Boston real estate market may be attributed to several national indicators, but it's important to focus on the city from a more local perspective. The greater Massachusetts real estate market, in fact, has had a huge impact on the progress made in Boston. Performance at the state level can be seen in the Boston real estate market, and vice-versa.
Massachusetts Real Estate Market Trends
The Massachusetts real estate market has kept pace with the national industry. However, in light of the Coronavirus, markets across the country may start to act independently. While it is too early to tell exactly what real estate in Massachusetts will look like for the foreseeable future, it is possible to interpret the early impact of the pandemic. That said, here's a look at the Massachusetts real estate trends which are most likely going to have an impact moving forward:
Unemployment Could Push A Recovery Back Temporarily: While Massachusetts had a better than average unemployment rate heading into the pandemic, the state was hit harder than the national average. Where as unemployment in Massachusetts jumped from 2.8% in March to 16.2% in April, the national unemployment rate went from 4.4% to 14.7%. The difference could potentially prevent Massachusetts from leading the recovery out of "shelter-in-place" orders. As a result, it may take the state a little longer to get back to pre-recession levels of demand.

Builder Inactivity Will Lead To Higher Home Prices: It has taken builders to the midpoint of 2020 to get back to work in most states. As a result, they are behind on adding to the state's inventory levels. Therefore, the inventory shortages that have been driving prices up across the country will most likely continue in Massachusetts. With fewer homes being brought to market, Massachusetts will remain a sellers market, and competition will drive up prices, most likely to levels higher than before the pandemic.

Interest Rates Will Spark Activity: In an attempt to stimulate the economy in the face of a pandemic, the Fed dropped interest rates to historic lows. The move should help offset higher prices resulting from inventory shortages. While home prices are expected to increase eventually, the new benchmark rate should make buying a home more affordable for many buyers.
Massachusetts Real Estate Market Analysis
The Massachusetts real estate market, much like the rest of the country, has benefited from nearly a decade's worth of appreciation. At this point in 2012 (June), the median home value in Massachusetts was about $301,000. Today, exactly eight years later, the median home value is $433,883, or 44.14% higher. In that time, prices increased because of three specific indicators: an improving economy, growing positive sentiment, and a lack of inventory. As it turns out, the same factors that drove up prices across the state were present in Boston. In fact, real estate in Boston is a big reason the state's median home value is so high above the national average.
Boston Real Estate Market: 2016 Summary
Median Home Price: $541,000

Unemployment Rate: 4.0%

1-Year Job Growth Rate: 1.9%

Population: 667,137

Median Household Income: $75,667
Boston Real Estate Investing 2016
Boston real estate news couldn't have been better for local real estate investors in 2016. The housing sector confirmed it was one of the hottest areas to own property in the entire country. Home prices skyrocketed beyond the national average, as the median home price reached as high as $558,000 on the year. While very appealing to the real estate investing community and local homeowners, even better was the city's appreciation rate, which was one of the most competitive in the country at the time. As a result, the Boston housing market was able to build off of 2016, as it made its way to become the powerhouse it is today.
The market was a safe haven for both home price increases and equity gains. On the other hand, the city wasn't exactly known for its affordability, even in 2016. However, despite increases, the ratio of income paid to monthly mortgage payments in the first quarter of 2016 was well below its historical average, coming in at 12.1% for the first quarter.
Unemployment was actually better than the national average, sitting at 4.0%, which was good for the time. That represents a one-year decrease of 0.6%. However, the job growth rate could have used some improvement. At the time, it was one of the primary indicators holding the city back. For the first quarter, the job growth rate was 1.9%.
Boston Real Estate Market: 2014 Summary
The Boston housing market continued to demonstrate an increased propensity towards stability in 2014; that was compared to other metropolitan areas of a similar demographic. In the face of historically high appreciation rates, gains are starting to show signs of slowing down, once again suggesting a period of stabilization.
However, price gains were not the only thing leveling off in the Boston real estate market in 2014. It would appear as if inventory levels did the same. In recent memory, tight inventory has limited buying potential, but the number of homes for sale in 2014 simply didn't meet demand. Fortunately, a shift in supply changed that towards the fourth quarter, as the market stayed relatively balanced (or at least a better than last year).
Boston Real Estate Investing 2014
While affordability remained an issue for some homeowners in the area during 2014, local real estate investors turned to foreclosures. In fact, the median sales price for a non-distressed home was $511,500 during the first quarter, while the median sales price of a foreclosure home was $330,000, or 35.0% lower than non-distressed home sales—a savings of more than $181,000 for real estate investors looking to capitalize on the foreclosure market.
The city had roughly 696 foreclosures on the market in 2014, each of which represented an investing opportunity. Local investors also recognized that those numbers were on the rise. Over the course of a month, foreclosures rose 16.0% during the first quarter of 2014, compared to the last 12 months which witnessed foreclosures increase by 54.0%. An overwhelming majority of the foreclosures within the Boston housing market were of the pre-foreclosure variety. In fact, pre-foreclosures during 2014 made up 64.9% of the entire foreclosure market. That was a 140.0% increase over the course of a year. In a distant second, auction foreclosures represented 32.4% of the market, while the remaining foreclosures were bank-owned. Bank-owned foreclosures were the only distressed properties that declined year-over-year. Real estate investing, as a result, has seen an uptick in the acquisition of distressed properties.
Boston Real Estate County Map: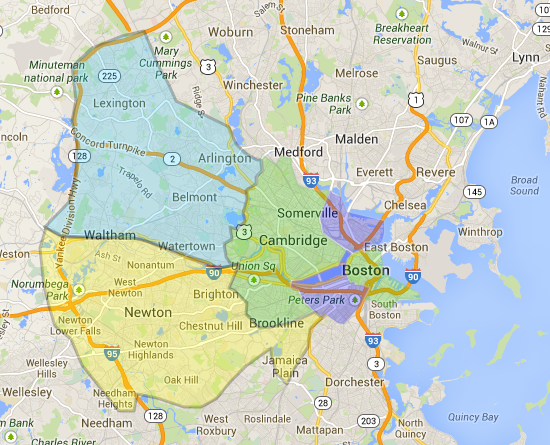 Have you thought about investing in the Boston real estate market? If so, what are you waiting for? We would love to know your thoughts on real estate in Boston in the comments below:
*The information contained herein was pulled from third party sites. Although this information was found from sources believed to be reliable, FortuneBuilders Inc. makes no representations, warranties, or guarantees, either express or implied, as to whether the information presented is accurate, reliable, or current. Any reliance on this information is at your own risk. All information presented should be independently verified. FortuneBuilders Inc. assumes no liability for any damages whatsoever, including any direct, indirect, punitive, exemplary, incidental, special, or consequential damages arising out of or in any way connected with your use of the information presented.
🔒 Your information is secure and never shared. By subscribing, you agree to receive blog updates and relevant offers by email. You can unsubscribe at any time.