Key Takeaways
Few things are more valuable to a new buyer than a first-time homebuyer checklist.
A good checklist for new homebuyers can see to it that all the important steps are taken.
This homebuyer checklist will make sure you do everything necessary to make buying a home a possibility.
---
The process of buying a home starts well before you physically set foot in a property; in fact, preparation is half the battle. It is, therefore, in the best interest of those buying their first home to familiarize themselves with the proper steps. That way, you will be more prepared for what's in store. It is worth noting, however, that first-time buyers aren't awarded the luxury of experience, nor should they be expected to know every minute detail of the buying process. Instead of remembering the intricacies associated with every step of the process, first-time buyers may be better suited to follow a first-time homebuyer checklist than to rely on their limited experience. A checklist for new homebuyers, for that matter, should see to it that everything is in place and accounted for.
---
[ Looking for ways to start increasing your monthly cash flow? Register to attend our FREE real estate class to learn how to utilize passive income strategies in your local market! ]
---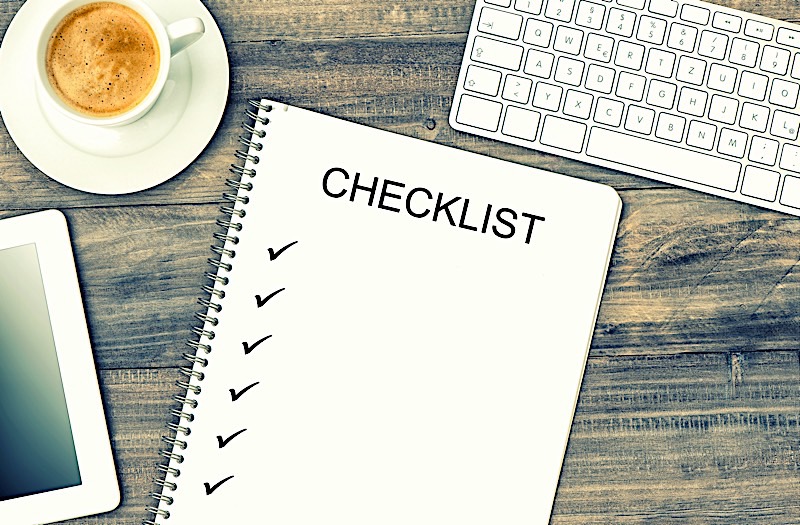 12 Months Out
A good homebuyer checklist should start no less than 12 months out. Some of the items on the list require a significant amount of time to "influence," and should therefore be addressed sooner rather than later. Knowing full well that some items on this checklist for first-time homebuyers can take a long time to get going, here are the three things you should do first:
Credit Check: The most important task any good first-time homebuyer checklist will address is a borrower's credit score. Not only are credit scores integral to receiving loan approval from traditional lenders, but they also take the longest to change. As a result, addressing your credit score should be one of the first things you do. Seeing as how small changes can take months to improve, the sooner you get started, the better. According to the Federal Housing Administration (FHA), "Minimum credit score requirements for FHA home loans depend on which FHA loan product the applicant needs. Generally speaking, to get maximum financing on typical new home purchases, applicants should have a credit score of 580 or better. Those with credit scores between 500 and 579 are, according the FHA guidelines, limited to 90 percent LTV."
Determine A Budget: With roughly a year between you and your purchase, proceed to determine a budget. Temper what you expect to spend, and be realistic with your numbers. Things don't always go according to plan, and that big raise you are expecting isn't necessarily an inevitability. As a general rule of thumb, lenders look positively on those with a debt-to-income ratio of no more than 43 percent. Your total debt should not exceed 43 percent of your gross monthly income.
Draft A Down Payment Plan: If at all possible, consider putting at least 20 percent down. The cost of the loan will be significantly less, as well as the resulting interest rate. Once you have determined how much money you will need to put down, come up with a savings plan. Check with the credit unions in your area to see if they have any programs that can assist you in saving money. Keep in mind that banks will want you to "season" the money you end up saving.
9 Months Out
The perfect homebuyer checklist will have you address the items that take the longest to change first, and for good reason. That said, once you have taken care of the three above, proceed to work on the following; about nine months out should do it:
Prioritize Your Needs: Now is the time to ask yourself what you are looking for in a new home. What is most important to you, and your family? Are you looking for three, or maybe even five bedrooms? What type of neighborhood are you willing to move to? Understanding what you want out of your first home will ultimately make the process that much easier. Not only will you make rational decisions, but you will also eliminate any headaches that coincide with indecisiveness, or even ignorance. Do yourself a favor and have a clear idea of what you are looking for in a home.
Research: I can't stress the importance of due diligence enough. Understand the ramifications of your actions, and know that everything you have done up to this point will greatly impact your impending purchase. To that end, this step is no exception. Research homes that meet your criteria, making sure to vet those that catch your attention. Feel free to research neighborhoods and visit open houses. Get a feel for what is on the market in your price range. The earlier you start, the better.
Budget For Miscellaneous Expenses: As a first-time homebuyer, there are no doubt expenses you may be unaware of, or – at the very least – underestimated. For those of you that are unaware, buying a home comes with several upfront costs. Make sure your budget accounts for all of these costs: A home inspection, title search, property survey, home insurance and more. Of course, these costs will vary significantly between areas, but they are important nonetheless. Find out which costs your purchase will incur and budget accordingly. If cash is tight, start saving now.
6 Months Out
Approximately six months out, a homebuyer's checklist should consist primarily of tasks that deal with the impending loan. Again, loans can take a long time to come to fruition, so the sooner you get started with the loan approval process, the better. More specifically, here's what you should be doing about six months out.
Gather Loan Documents: Gather all the necessary documents you will need to receive loan approval, and get everything in order. While this step seems about as cut and dry as any other, I assure you that it is more difficult than it sounds. Subsequently, this step is dependent on the actions of whichever bank you are looking to borrow from. Banks are, at the very least, particular when it comes to mortgage loans. Everything must be in order for the transaction to progress. Any unexpected omissions or errors could set you back, or even prevent you from getting the loan altogether.
Find A Lender: While you are gathering the appropriate paperwork, it wouldn't hurt to start looking for the lender you intend to give it to. In fact, now is the perfect time to do so. Armed with a better understanding of the loan programs that are available to first-time homebuyers, look for the lender that will accommodate your needs to the best of their ability. Keep in mind that they are competing for your business, so shopping around is an absolute must. Who you decide to borrow from will have a huge impact on the entire process; make sure that you are comfortable with whomever you choose.
3 Months Out
The real fun begins about three months out, when buyers can actually start looking for their next home. Here are some other things they should be focusing on at this critical time:
Get Pre-Approved: First things first, you will need to receive a pre-approval letter from your bank. Schedule an appointment with the lender you have decided to borrow from, and be sure to have all of your paperwork in order. Provided everything goes well at the meeting, and I am sure it will if you have followed these steps, you are just a credit check away from receiving a pre-approval. At this time, you will learn how big of a loan your credentials have earned.
Begin Shopping: Having finally received approval, you will know exactly how much house you can afford. This will help you narrow down your actual home search, and prevent you from wasting time on homes out of your price range. Crosscheck what you can afford with the amenities you are looking for, and go from there. Now is the time to physically walk through properties and narrow your search results. Let your agent find homes that match your criteria and view them whenever you can.
The Homebuyer's Checklist Before Closing
This first-time homebuyers checklist should be used when you are confident you have found the home you want to buy:
Make An Offer: Hopefully your search resulted in finding the home of your dreams, or at least a home you want to move into. If this is the case, it is time to make an offer. Before you submit your offer, ask yourself why the seller would accept it. Sending over a low-ball offer just because the house needs work will probably not get the job done. Your offer needs to be fair, and justified.
Request A Home Inspection: With your offer on the table, any acceptance should be contingent on whether or not the home passes inspection. One of the first things you'll want to do after an offer is accepted is to hire a home inspector to look at the property. If everything checks out, it should be safe to move forward.
Check The Paperwork: With the inspection out of the way, you are finally at the home stretch. Provided you have been updating your documents throughout the process, these last thirty days or so should be the easiest. First, have your agent go through your mortgage documents and check for any errors. It is absolutely critical that everything is correct, or you run the risk of delaying the close.
Get Home Insurance: Prior to closing, you will want to make sure the property is insured. At the closing, you will be required to present proof of insurance before the transaction can go through. Similar to that of choosing a lender, don't hesitate to shop around. Get the best rate you can afford, while still having the protection you need.
Conduct A Final Walkthrough: This is where you will see the home for the last time before the closing. Walkthrough the entire property, and confirm that it is in the condition you and the seller agreed upon.
Have The Cash Ready At Closing: All that is left is to bring the agreed upon amount of cash to the closing. You will be given the exact number a few days before closing, which should be enough time to receive a cashier's check or wire the funds. Remember, regular checks are not acceptable. At the closing, pay for the home and pat yourself on the back. Congratulations; you are now a homeowner.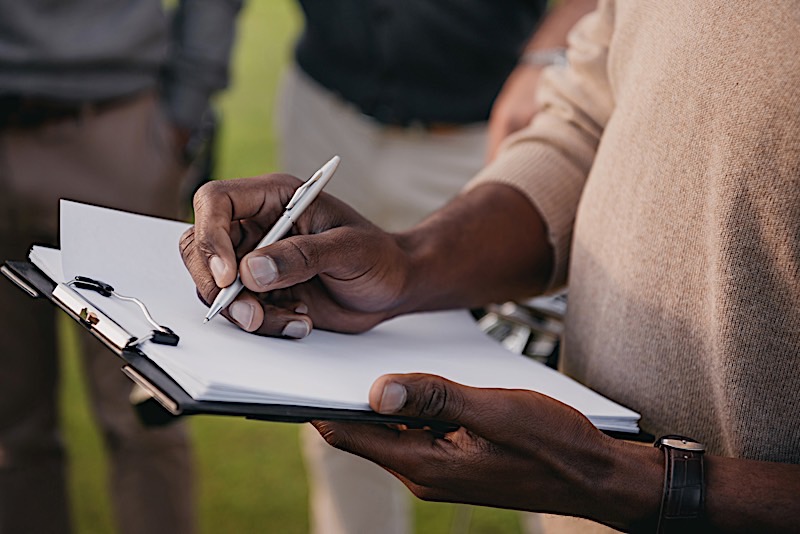 The FortuneBuilders First-Time Homebuyer Checklist
The buying process is not an easy one and involves making sure you have all of your ducks in a row, so to speak. You might feel ready to become a first-time homeowner; however, there are a lot of qualifications many people often forget.
You have to see how big of a loan you qualify for, you must have additional costs (like the down payment, closing costs, and an escrow deposit) available and liquid, and you must learn to be an expert negotiator.
Those soon to be first-time homebuyers should take our short quiz to discover whether or not they are truly ready to begin their search, or if there are still areas in their financial lives that need improvement.
If you score a 10 out of 10, there is no chance a seller will reject your offer!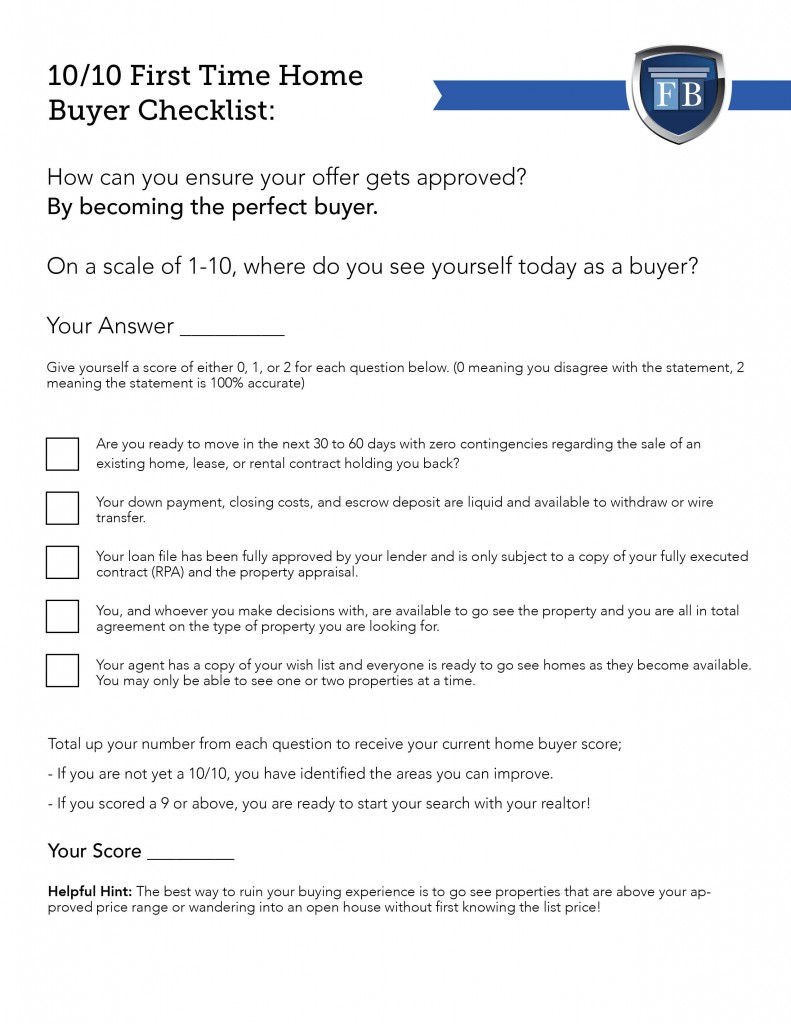 Click Here to Download our worksheet and complete it with your spouse or other roommates: first-time-home-buyer-checklist!
The First-Time Homebuyer Checklist Summary
A good first-time homebuyer checklist can make sure you don't skip a beat. The buying process is, after all, a complicated one. With a good list to follow, you can make sure you take every step necessary to make the buying process as simple and painless as possible.
Do you wish you had a homebuyer checklist the first time you purchased a property? Could you have benefited from knowing the exact steps to take, and when to take them. Please let us know how a homebuyer checklist could have helped you in the past in the comments below.