Perhaps no other market across the country was hit harder by the introduction of the Coronavirus than that of Hawaii's housing sector. The Honolulu real estate market on the South Shore of Oahu, in particular, was reeling from the height of the pandemic. The city's median home value is nearly three times that of the country's, and unemployment numbers shot past the national average, making homeownership a moot point for many locals. To make matters worse, the city's primary source of revenue—tourism—all but disappeared. To be blunt, the South Shore of Oahu is facing a severe economic crisis, and the local housing sector has borne the brunt of the downturn. However, it is worth noting that the latest disruption may have actually opened the door for investors. There's no doubt that the last few years have been rough for the Honolulu real estate market, but 2022 appears ready and willing to build off some positive momentum.
Honolulu Real Estate Market 2022 Overview
Median Home Value: $873,237

Median Sales Price: $1,050,000 (+20.7% year over year)

1-Year Appreciation Rate: +18.8%

Median Home Value (1-Year Forecast): +12.4%

Number Of Sales: 378 (-10.0% year over year)

Median Days On Market: 12 (-1.0 year over year)

Median Rent: $2,600 (+8.8% year over year)

Price-To-Rent Ratio: 27.98

Unemployment Rate (Metro): 5.4% (latest estimate by the Bureau Of Labor Statistics)

Population (Honolulu County): 974,563 (latest estimate by the U.S. Census Bureau)

Median Household Income (Honolulu County): $85,857 (latest estimate by the U.S. Census Bureau)
---
[ Thinking about investing in real estate?
Register to attend a FREE online real estate class
and learn how to get started investing in real estate. ]
---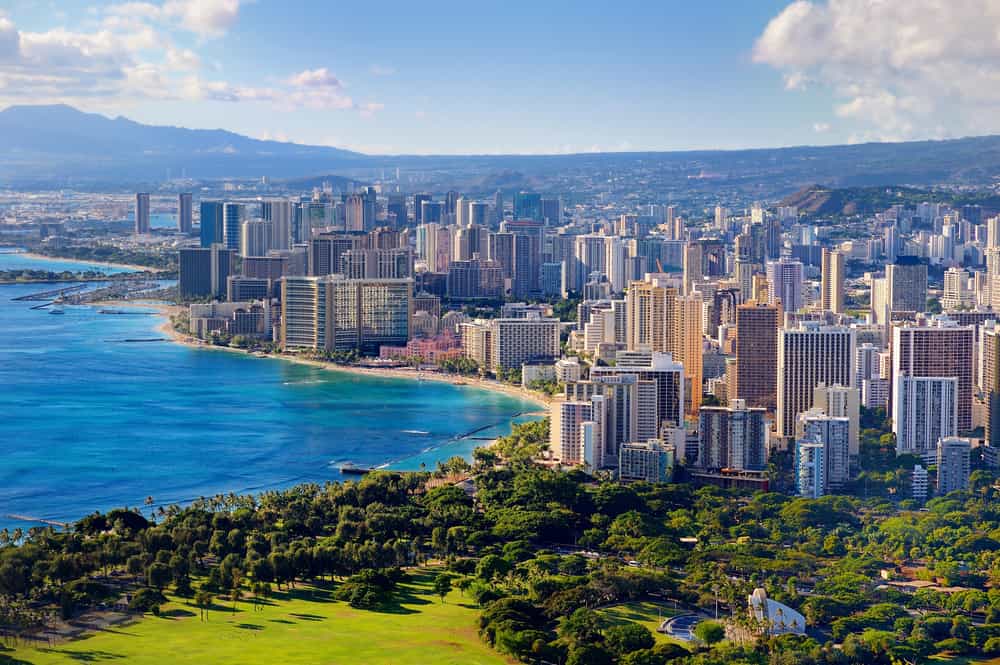 Honolulu Real Estate Market Forecast 2022
The Honolulu real estate market forecast isn't all that different from national trends. If for nothing else, most of the trends expected to play out are the direct result of the pandemic. That said, here are the Honolulu real estate trends most likely to come to fruition over the next year:
Honolulu Home Values Will Increase: Increasing demand, insufficient inventory levels, and lower borrowing costs have already increased the median home value in Honolulu 18.8% over the last 12 months. Despite the drastic increase, however, prices are expected to continue rising. Due largely to the same factors, Honolulu real estate market forecasts are calling for home values to increase as much as 12.4% over the next year.

Interest Rates Will Rise: Interest rates are already up year to date, and the Fed just announced that it sees the economy growing strong enough over 2022 to increase rates. In fact, the Fed is expected to speed up rate increases to combat inflation. Doing so will increase borrowing costs and increase acquisition costs in the real estate industry. Consequently, demand will most likely increase as people try to buy before rates are hiked.

Rental Rates Will Increase: It is growing safer to assume rental rates will increase in the Honolulu housing market. If for nothing else, rental rates have trailed their home value counterparts over the last year—8.8% and 18.8%, respectively. The modest difference will most likely disappear as more people are priced out of buying and forced to rent. The resulting demand is expected to enable Honolulu real estate investors to increase asking prices, perhaps at a faster rate than home values are expected to jump.

Honolulu Real Estate Investors Will Become Landlords: The lack of housing has already relegated many potential buyers to the rental market. However, aspiring landlords may be more attracted to the rental market because of new indicators created by the pandemic. Lower borrowing costs, in particular, will help offset acquisition costs and profit margins on flips aren't what they used to be. All things considered, long-term rental properties just look like the most viable exit strategy moving forward.

Buyers Will Migrate Further Away From The City: The Honolulu real estate market has increased its median home value. Not surprisingly, appreciation has priced more people out of the loan market. In addition to work-from- home trends growing in popularity, more people will trade expensive homes in the city for cheaper alternatives in more rural areas.

Oahu Housing Market
Honolulu County, which includes the entire Oahu housing market, has followed the same trends as its contiguous counterparts for the most part. In particular, prices have increased dramatically in the wake of lower borrowing costs, higher demand, and a lack of available inventory. It is worth noting, however, that real estate in Oahu has appreciated at a slightly slower rate than the rest of the country in the last year—18.8% and 19.6%, respectively.
The disparity is largely due to the island's already high home values, but the tempered appreciation rates may also be due to slightly less demand. In fact, Oahu's population growth has trailed national averages for a decade. While only slightly behind, the population of Oahu isn't growing as fast as other states. Of course, there's only so much room on the island, but the lack of growth may have had something to do with lower demand and—inevitably—lower rates of appreciation.
To be clear, the lack of appreciation isn't an indictment on the Oahu real estate market; instead, it may be just what the island needed. Local real estate has appreciated by as much as 62.3% over the course of a decade. Simply put, many residents have been priced out of the market in a relatively short period of time. Slower appreciation rates may actually serve as a blessing in disguise and catalyze the local real estate market.
Honolulu Foreclosures In 2022
According to a recent ATTOM Data Solutions U.S. Foreclosure Market Report, "lenders started the foreclosure process on 25,209 U.S. properties in Q3 2021, up 32 percent from the previous quarter and up 67 percent from a year ago — the first double digit quarterly percent increase since 2014."
Foreclosures were down significantly because of efforts put forth by the government. In an attempt to reduce foreclosures throughout the pandemic, a number of safety nets were put in place. Most notably, foreclosure moratoriums prevented lenders from starting the foreclosure process on delinquent homeowners—the idea was to avoid another housing crisis (and it appears to have worked). However, government aid is expiring now that the light at the end of the tunnel is starting to shine brighter. The latest increase in foreclosures appears to be directly correlated to the loss of government assistance.
"The foreclosure moratorium on government-backed loans has virtually stopped foreclosure activity over the past year," said Rick Sharga, executive vice president of RealtyTrac, an ATTOM Data Solutions company. "But mortgage servicers have been able to begin foreclosure actions on vacant and abandoned properties, which benefits neighborhoods and communities. So it's likely that these foreclosures are causing the slight uptick we've seen over the past few months."
The state of Hawaii, in particular, is expected to see an increase in foreclosure filings over the remainder of 2022. If for nothing else, previous years saw the state's filing rate drop to a decade low. Therefore, as government programs run their course, there's only one way for foreclosure filings to go: up. Nowhere else in Hawaii are foreclosure filings expected to increase more than in Honolulu. Investors who position themselves well today may be in line to help financially strapped homeowners in the future avoid bankruptcy.
Honolulu Median Home Prices In 2022
The median home value in Honolulu is $873,237. The local median home value is nearly three times the national average at its current valuation, which currently rests somewhere in the neighborhood of $320,662.
Home prices in Honolulu have increased a great deal over the last decade. Ten years ago, when the Honolulu housing market was attempting to remove itself from The Great Recession, the median home value was about $524,000. Since then, real estate in Honolulu has increased about 66.6%. Over that same period, the median home value in the United States increased more than ninety percent. The increases were largely due to three prominent indicators: an improving national economy, positive sentiment, and (ironically) a distinct lack of available inventory.
Appreciation rates in Honolulu were outpacing the rest of the country up until the second quarter of 2018. At the time, prices had increased so much that they experienced a pullback. It wasn't until supply and demand issues caused by the pandemic catalyzed a more rapid rate of appreciation in Honolulu. Since the pandemic started, in fact, the Honolulu housing market has seen its median home value increase more than twenty percent. Not unlike everywhere else, prices increased on the heels of lower interest rates, more competition, and lower inventory levels.
However, of particular importance is how the Honolulu housing market is expected to fare moving forward. The pandemic has a lot of people asking the same question: Will the Honolulu housing market crash? The most likely answer is no; the Honolulu housing market isn't expected to crash. There is too much demand for prices to decrease. In fact, forecasts are calling for a 12.4% increase in the coming year.

Honolulu Real Estate Market: Should You Invest?
Oahu's South Shore has served investors well since the last recession, which begs the question: Is real estate a good investment in Hawaii? In particular, will Honolulu investment properties be worth investors' time? Simply put, an investment property can be an excellent investment. Investors who know how to navigate today's real estate landscape will find the area has plenty of opportunities. If for nothing else, the pandemic has disrupted daily routines and market indicators, which means new openings to capitalize on.
In the Honolulu real estate market, timely investors were able to capitalize on short-term gains resulting from the rapid appreciation. Home prices have tested new highs recently, and investors are finding rehabs harder and harder to come by. Local real estate prices are too high for investors to consider rehabbing the most viable exit strategy on their part of the island. Remember, prices in Honolulu are up an average 18.8% in the last year alone.
While rehabbing is entirely possible, home values—combined with newly introduced indicators brought about by the Coronavirus—have made long-term real estate strategies the most attractive options at the moment. In particular, rental properties appear to be the most attractive investment vehicles at this point.
At the very least, here are three market trends in Honolulu being shaped by the current landscape:
Interest rates on traditional loans are historically low

Years of cash flow can easily justify today's higher acquisition costs

The price-to-rent ratio suggests high home prices will increase rental demand
As of January, the average rate on a 30-year fixed-rate loan was 3.45%, according to Freddie Mac. While slightly higher year to date, mortgage rates are historically low (and will continue to remain low for at least a couple of years). The Fed's decision to lower rates has brought down acquisition costs for investors using conventional financing. At their current rate, mortgage rates will save today's buyers thousands of dollars, and real estate investors will be able to increase monthly cash flow from properties placed in operation.
Lower borrowing costs will help absorb today's high prices, but it's the cash flow potential of real estate assets that make the prospect of owning a rental property even more attractive. With a median rent price of $2,600, it is possible to simultaneously rent out an investment property while having someone else pay down the mortgage. That way, investors could build equity in a physical asset and collect cash flow each month with the right long-term investment.
If that wasn't enough, rental demand appears to lean heavily in favor of rental property owners. In fact, the city's 27.98 price-to-rent ratio suggests it is considerably cheaper to rent than to own, which means more residents will be looking to become tenants than homeowners. The demand should create competition, which could simultaneously increase cash flow and mitigate the risk of costly vacancies.
Investors are lucky to have several viable exit strategies at their disposal. Still, none appear more attractive than building a proper rental property portfolio in the wake of the pandemic. Too many important market indicators are pointing towards becoming a buy-and-hold investor to ignore.

Outside of the attractive metrics supporting long-term exit strategies, there are three variables working heavily in favor of local investors:
Foreign Buyer Interest

Consistently High Demand
Foreign Buyers Fuel Honolulu Housing Market
While all of Hawaii remains irresistible to foreign buyers for several reasons, the Honolulu housing market seems to be the most desired. Buyers from China, Germany, Russia, Japan, Canada, and other nations continue to seek out properties on Oahu. Many are looking for investment properties, but countless others are looking to trade their current lifestyles for the pace of life offered in Hawaii. All things considered, Honolulu remains a commodity for buyers, and there simply aren't enough homes to go around. As a result, it is safe to assume foreign buyers will continue to fuel appreciation for the foreseeable future. That said, even today's high prices may look like a bargain in a year to two.
Hawaiian Paradise Remains Irresistible
Hawaii is not only desirable to foreign buyers; it's equally attractive to domestic buyers looking to alter their current situations. In particular, buyers from California and Arizona appear to be bullish on Hawaiian real estate.
According to Hawaii Realtor Julie Peters, "From January to June 2020, California residents bought $587.6 million worth of Hawaii property, making up 41% of total sales during that period coming from the U.S., according to Title Guaranty, which owns and maintains the largest real estate database in Hawaii."
Domestic buyers continue to find each of the Hawaiian Islands irresistible, and the result works in investors' favor. Again, the demand will most likely increase prices for the foreseeable future, making today's values a great entry point for investors.
Summary
The Honolulu real estate market on Oahu has experienced a great deal of fluctuation in a relatively short period. A mere five years ago, the local housing market was the beneficiary of a bustling job sector propped up by tourism. However, the introduction of the pandemic and quarantine orders issued by the government have made it difficult for real estate in Honolulu to receive support from the economy. As a result, many homes are unaffordable to residents. That said, the disruption may create an opportunity for advantageous real estate investors. While prices are extremely high at the moment, a brief pullback onset by the pandemic could bring down acquisition costs on long-term investments, in addition to lower borrowing costs. All things considered, Honolulu is a costly place to invest at the moment, but there are still opportunities for those who know where to look.
---
Ready to start taking advantage of the current opportunities in the real estate market?
Click the banner below to take a 90-minute online training class and get started learning how to invest in today's real estate market!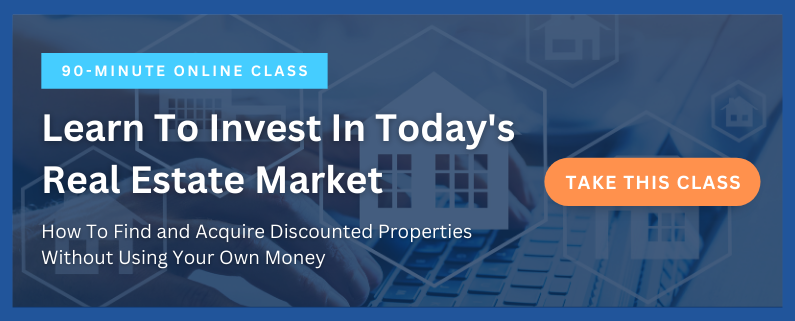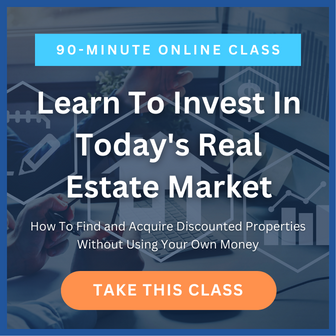 Sources
https://www.zillow.com/honolulu-county-hi/home-values/
https://www.zillow.com/home-values/
https://www.zillow.com/research/data/
https://www.hicentral.com/mpr/mpr-2021-12.php
https://www.redfin.com/news/data-center/
http://www.freddiemac.com/pmms/pmms30.html
https://www.bls.gov/eag/eag.hi_honolulu_msa.htm
https://www.apartmentlist.com/research/category/data-rent-estimates
https://www.census.gov/quickfacts/fact/table/honolulucountyhawaii/PST045219
https://www.locationshawaii.com/learn/market-reports/oahu-real-estate-report/
https://www.census.gov/library/stories/2021/08/more-than-half-of-united-states-counties-were-smaller-in-2020-than-in-2010.html
https://www.attomdata.com/news/market-trends/foreclosures/attom-september-and-q3-2021-u-s-foreclosure-market-report/
https://www.attomdata.com/news/market-trends/home-sales-prices/attom-q3-2021-u-s-home-sales-report/
*The information contained herein was pulled from third party sites. Although this information was found from sources believed to be reliable, FortuneBuilders Inc. makes no representations, warranties, or guarantees, either express or implied, as to whether the information presented is accurate, reliable, or current. Any reliance on this information is at your own risk. All information presented should be independently verified. FortuneBuilders Inc. assumes no liability for any damages whatsoever, including any direct, indirect, punitive, exemplary, incidental, special, or consequential damages arising out of or in any way connected with your use of the information presented.