Key Takeaways
Investors are flipping homes in the Jacksonville real estate market in an average of 99 days.
Real estate in Jacksonville is cheaper than the national average.
Jacksonville real estate investing remains just as attractive as ever.
---
The Jacksonville real estate market has served as a hotbed of activity for real estate investors for the better part of a decade; partly because of its relative affordability. To that end, real estate in Jacksonville comes with a less expensive price tag than the national average, so it only makes sense that real estate investors would gravitate to the Florida city. It is worth noting, however, that Jacksonville hasn't been able to evade the same inventory crisis facing the rest of the country. And while prices may be relatively cheap compared to just about anywhere else, they are exercising an upwards trend.
Jacksonville Real Estate Market Overview
Median Home Value: $166,500
1-Year Appreciation Rate: 10.3%
Median Home Value (1-Year Forecast): 5.6%
Median Rent Price: $1,250
Number Of Foreclosures: 3,611
Homes For Sale: 2,262
Recently Sold: 9,505
---
[ Thinking about investing in real estate? Learn how to get started by registering to attend a FREE real estate class offered in your area. ]
---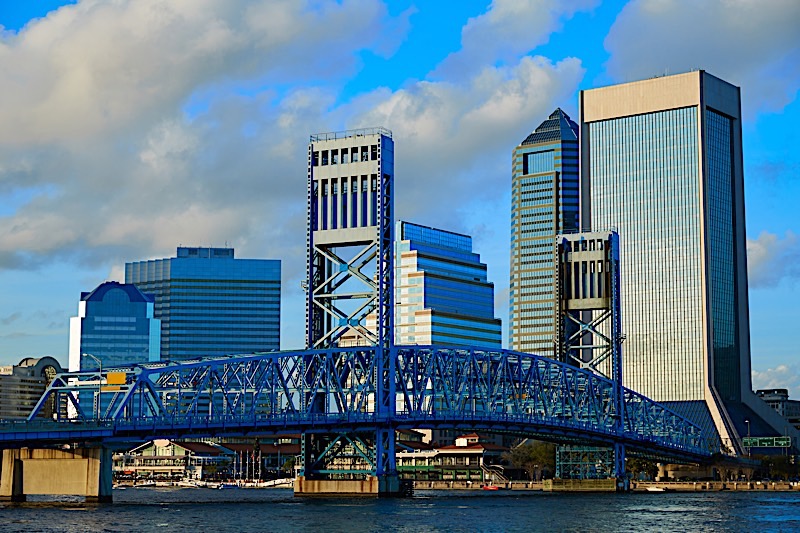 Median Home Price Jacksonville
According to Zillow, the median home price in the Jacksonville real estate market rests somewhere around $166,500. At that price point, real estate in Jacksonville appears to be relatively affordable, as the median home value across the United States is approximately $218,000. Interestingly enough, however, Jacksonville real estate has appreciated at a faster pace than the national average in the last year, 10.3% and 8.0% respectively. While real estate in Jacksonville appears to be cheaper, it looks like it appreciated at a faster rate over the last 12 months, but I digress. Appreciation in Jacksonville looks like it will be reigned in over the next year, and is expected to appreciate at a slower pace than the national average.
Jacksonville Foreclosure Statistics
According to RealtyTrac, there are approximately "3,611 properties in Jacksonville, FL that are in some stage of foreclosure(default, auction or bank owned) while the number of homes listed for sale on RealtyTrac is 2,262." To the average person, that number may seem relatively high, but real estate investors may view it from an alternative perspective; instead of seeing 3,611 distressed properties, they see 3,611 opportunities to acquire a deal at a discount. If for nothing else, distressed properties represent a unique opportunity to buy a house under market value.
Of course, those that intend to acquire distressed properties should know where to look. More importantly, some zip codes in the Jacksonville real estate market have demonstrated an increased propensity for higher foreclosure ratios. It stands to reason that investors may have an easier time finding distressed properties if they look in the following neighborhoods:
32219: 1 in every 272 homes is currently distressed
32254: 1 in every 433 homes is currently distressed
32222: 1 in every 446 homes is currently distressed
32208: 1 in every 476 homes is currently distressed
32218: 1 in every 480 homes is currently distressed
The majority of foreclosures in the Jacksonville real estate market are what industry professionals refer to as pre-foreclosures. More specifically, pre-foreclosures are those homes that are delinquent on their payments, but have yet to begin the foreclosure process. According to RealtyTrac, 60.7% of the homes in Jacksonville are considered to be in pre-foreclosure. In other words, there may be a large number of distressed homeowners that may be willing to sell at a discount. And to locate them, all Jacksonville real estate investors need to do is take a trip to their local courthouse. There, investors can find the contact information of delinquent homeowners and proceed to market accordingly.
Jacksonville Real Estate Investing
"The 2018 housing market is a double-edged sword for home flippers," said Daren Blomquist, senior vice president at ATTOM Data Solutions. "Rapidly rising home prices boosted by low available inventory of homes for sale or for rent are padding profits at the back end when flippers sell, but those same market realities are eroding flipping returns at the front end by forcing flippers to pay more to acquire homes to flip."
The competitive nature of the national market hasn't escaped real estate in Jacksonville. In fact, the ferocious appetite for Jacksonville real estate investing has seen the Florida city take its place amongst the top five zip codes with an average time to flip a home under 100 days. In other words, turnaround times on Jacksonville flips are faster than the majority of the country. The average time to flip a home in Jacksonville just made the cut, with most flips taking 99 days.
Those interested in Jacksonville real estate investing also need to be aware of the inventory crisis facing the rest of the country. Much like everywhere else, it's getting harder to find homes to flip, let alone one with great profit margins, but I digress. Alex Sifakis, president of JWB Real Estate Capital, a real estate investment company based in Jacksonville, Florida may have a solution.
"The market is incredibly hot right now, making it very hard to find homes to flip — but there is an opportunity for flippers to move into the new construction market," said Sifakis. "We will flip about 200 homes this year, but build about 400 new homes — the vast majority of those not in subdivisions but in older neighborhoods where we are buying tear-downs or long-vacant lots." Jacksonville real estate investors may have an easier time focusing their efforts on new builds.
*The information contained herein was pulled from third party sites. Although this information was found from sources believed to be reliable, FortuneBuilders Inc. makes no representations, warranties, or guarantees, either express or implied, as to whether the information presented is accurate, reliable, or current. Any reliance on this information is at your own risk. All information presented should be independently verified. FortuneBuilders Inc. assumes no liability for any damages whatsoever, including any direct, indirect, punitive, exemplary, incidental, special, or consequential damages arising out of or in any way connected with your use of the information presented.
🔒 Your information is secure and never shared. By subscribing, you agree to receive blog updates and relevant offers by email. You can unsubscribe at any time.