Jump To Another Year In The Santa Barbara Real Estate Market:
---
The Santa Barbara real estate market has enjoyed a historic run in home values over the course of a decade. As a result, real estate in Santa Barbara has become a luxury commodity. Despite rapid appreciation, however, demand remains intact and should serve as a catalyst for activity moving forward. It appears as if today's high prices aren't enough to scare away buyers, which begs the question: Is Santa Barbara real estate a good investment?
"In Santa Barbara, for June, July, and the beginning of August, we've seen what we'd normally see in the spring, times 10," said Maureen McDermut, an agent with Sotheby's International Realty. "There are multiple offers, at all price points. Everybody has said, 'We've never seen anything like this in our history of selling in this area.'"
While the pandemic has created headwinds for just about every market in the country, Santa Barbara has seen a healthy amount of activity, which bodes incredibly well for local investors with deep enough pockets. Instead of rehabs, however, local real estate investors have turned to more passive exit strategies. Rental properties appear more suited for today's market, and can help offset the city's exorbitantly high prices. Additionally, the Coronavirus has tilted many of today's most important market indicators in favor of passive income holdings, and investors are starting to reap the rewards.
Santa Barbara Real Estate Market 2020 Overview
Median Home Value: $1,134,649

1-Year Appreciation Rate: +2.0%

Median Home Value (1-Year Forecast): -1.5%

Median Rent Price: $4,500

Price-To-Rent Ratio: 21.01

Unemployment Rate: 11.6% (latest estimate by the Bureau Of Labor Statistics)

Population: 446,499 (latest estimate by the U.S. Census Bureau)

Median Household Income: $71,657 (latest estimate by the U.S. Census Bureau)

Percentage Of Vacant Homes: 7.48%

Foreclosure Rate: 1 in every 5,811 (1.7%)
---
[ Thinking about investing in real estate? Learn how to get started by registering to attend a FREE real estate class offered in your area. ]
---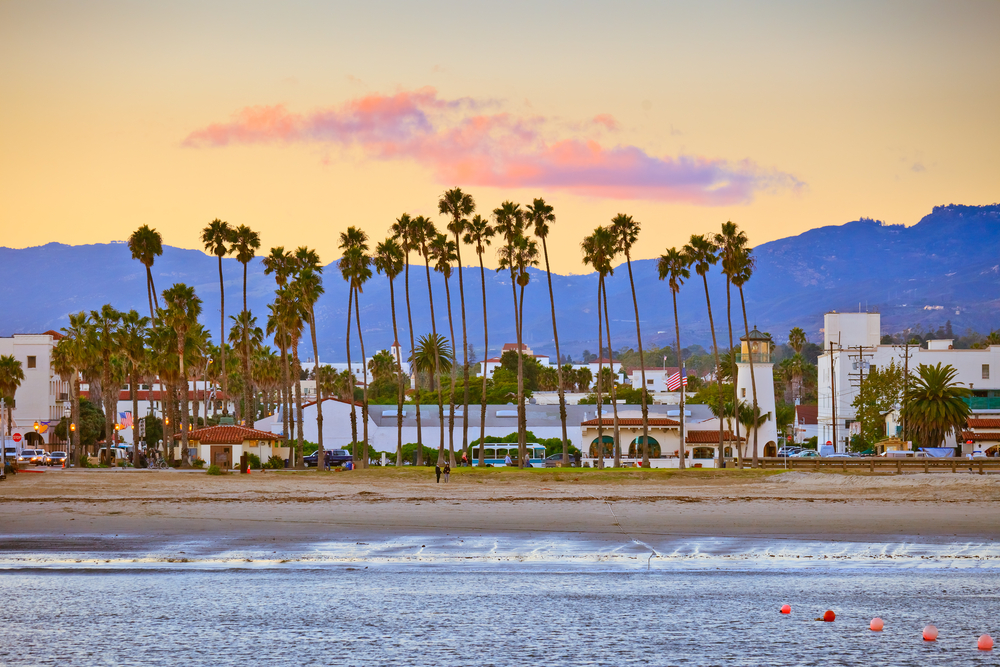 2020 Santa Barbara Real Estate Investing
The Santa Barbara real estate investing community has done well for itself since the Great Recession. Rehabbers have grown accustomed to attractive profit margins fed by demand and appreciation. However, the same price increases that have helped real estate investors in Santa Barbara for eight consecutive years are now forcing them to rethink their strategies.
Santa Barbara is one of the fastest appreciating markets in one of the most expensive states. In fact, the city's latest run up has turned the local real estate market into a destination primarily driven by luxury home sales.
"Median list prices surged in the Santa Maria, CA, metropolitan area, which includes Santa Barbara, CA. They were up no less than 44.0% annually in July, to reach $1,795,050," said Realtor.com. "That was the largest increase in the nation, despite the relatively high percentage of locals out of work (12.0%). In the Los Angeles metro area, prices increased by 24.0%, to a median $994,150."
Nearly decades worth of appreciation, in addition to Santa Barbara real estate trends brought about by the Coronavirus, has made the prospect of rehabbing slightly less attractive. While rehabbing in the Santa Barbara real estate market can still result in attractive profits, a number of trends suggest long-term real estate investing strategies are more viable than their short-term counterparts.
Here are some of the new Santa Barbara real estate market trends benefiting rental property investors:
Interest rates on traditional loans are historically low

Years of cash flow can easily justify today's higher acquisition costs

Inventory shortages will increase rental demand
As of June, the average rate on a 30-year fixed-rate loan was 3.16%, according to Freddie Mac. June also represented one of the lowest average mortgage rates ever, and the Fed announced its intentions to keep rates low for the foreseeable future. As a result, lower borrowing costs have brought down acquisition costs for those looking to add to their passive income portfolio. At their current rate, mortgage rates will save today's buyers thousands of dollars, and real estate investors will be able to pad their bottomline.
Lower borrowing costs will help absorb today's high prices, but it's the cash flow potential of real estate assets which makes the prospect of owning a rental property even more attractive. With a median rent price of $4,500, it is possible to simultaneously rent out an investment property while having someone else pay down the mortgage. That way, investors could potentially build equity in a physical asset and collect cash flow each month with the right long-term investment.
Long-term real estate investors in Santa Barbara will appreciate the cash flow potential and low borrowing costs, but the most attractive aspect about investing in the local market may be supply and demand. As it turns out, Santa Barbara has very low inventory levels (not unlike everywhere else). Active listings are down 19.8% year-over-year, but demand remains incredibly high.
Even with the recent rush of buyers into the Santa Barbara area, Ms. McDermut said, "certainly sellers are taking advantage of the fact that there's low inventory. But buyers are not going to overpay just because the sellers have put these higher prices."
Therein lies the true benefit to becoming a rental property owner in Santa Barbara: demand. There are far too many buyers competing over very few homes, which means many will be forced to rent. Even those who intend to buy will be relegated to the rental market until either demand lets up or more inventory hits the market. Either way, rental property owners will find their cash flows increasing and their vacancies easier to fill.
Investors are lucky to have a number of viable exit strategies at their disposal, but none appear more attractive than building a proper rental property portfolio in the wake of the pandemic. Too many important market indicators are pointing towards becoming a buy-and-hold investor to ignore.
2020 Foreclosure Statistics In Santa Barbara
According to RealtyTrac, there are at least 35 homes which may be classified as default, auction or bank owned in Santa Barbara. One in every 5,811 homes is distressed, or 1.7% of all properties. That is a relatively high foreclosure rate, which may be attributed to the city's unemployment rate.
At 11.6% (as of June), the city's unemployment rate is above the national average, which was 11.1%. Though similar, Santa Barbara's unemployment rate seems to be taking longer to improve. Whereas the national unemployment rate has fallen 4.5% from its peak in April, Santa Barbara's unemployment rate has recovered slightly slower. While improving, local employment could hurt the city's unemployment rate moving forward.
Meanwhile, "the number of properties that received a foreclosure filing in Santa Barbara, CA was 25% higher than the previous month and 62% lower than the same time last year," according to RealtyTrac's foreclosure trends summary. Year-over-year improvements are in line with national averages. However, the latest month-over-month increase appears to be a direct result of the Coronavirus. It was only a matter of time until the unemployment rate took its toll on the local foreclosure rate.
While unfortunate for homeowners, distressed homes represent a buying opportunity for investors. Foreclosed homes in Santa Barbara may be investors' best bet for acquiring deals below market value, which has many people asking one, simple question: Where should I invest in Santa Barbara?
The neighborhoods with the highest distributions of foreclosure in Santa Barbara are as follows:
93108: 1 in every 2,724 homes is currently distressed

93109: 1 in every 5,098 homes is currently distressed

93111: 1 in every 6,760 homes is currently distressed

93105: 1 in every 11,748 homes is currently distressed
While foreclosures have been on the decline since 2019, the presence of the Coronavirus has already resulted in a month-over-month spike from June to July. The unexpected economic downturn has already started to prevent homeowners from keeping up with monthly mortgage obligations. It is safe to assume more homeowners will be distressed later in 2020. While forbearance programs are expected to keep people in their homes for the foreseeable future, homeowners will be expected to become current on their mortgages sooner or later. When that time comes, those who can't comply may find themselves distressed, and well-positioned investors in Santa Barbara may be able to offer a helping hand.
2020 Median Home Prices In Santa Barbara
At this time last year (August 2019), the median home value in the Santa Barbara housing market sat somewhere around $1.1 million. However, having benefited from an impressive appreciation rate, the median home value in the Santa Barbara real estate market has reached $1,134,649. To put the last year into perspective, the median home value in the United States is now $248,857 after appreciating by as much as 4.1% in one year's time. Real estate in Santa Barbara, on the other hand, managed to increase 2.0% over the same period of time.
Since the Santa Barbara real estate market bottomed out in January 2012, home values have appreciated 53.9%. At that rate, Sant Barbara outpaced the national average over the last decade, and certain neighborhoods have benefited more than others.
Years of historic appreciation have made these the most expensive neighborhoods in Santa Barbara (according to NeighborhoodScout):
Alameda Padre Serra / Las Alturas Rd

Montecito

Mission Canyon

N Jameson Ln / Olive Mill Rd

Modoc Rd / Las Positas Rd

Westmont College / W Mountain Dr

Fielding Graduate U / Anacapa St

Hope Ranch

San Marcos Pass Rd / N San Marcos Rd

City Center / Antioch U-Santa Barbara
Moving forward, home prices in Santa Barbara are expected to drop briefly. Common predictions suggest prices will drop a modest 1.5% over the next 12 months. That means prices will remain high, and perhaps even return to previous highs as soon as this time next year. The same inventory shortage that served to increase prices for the better part of a decade may be magnified by home builders sitting on the sidelines during the pandemic. Without new builds being brought to the market, it is safe to assume competition will remain high, driving prices up even higher than they are now.
Santa Barbara Real Estate Market: 2018 Summary
Median Home Value: $1,143,600

1-Year Appreciation Rate: 10.2%

Median Home Value (1-Year Forecast): 8.1%

Median Rent Price: $4,500

Number Of Foreclosures: 101

Homes For Sale: 297

Recently Sold: 725

Median Days On Market:117
Santa Barbara Real Estate Investing 2018
According to Santa Barbara real estate news at the time, Santa Barbara found itself at the forefront of California's real estate market. The coastal city was flourishing in the post-depression marketplace. That said, it was hard to exaggerate just how well the city's real estate market was doing in 2018. Santa Barbara was doing as well as any market could hope to be doing just a few years removed from one of the largest recessions in American history. Nearly every indicator was better off in 2018 than in previous years, which helped establish Santa Barbara as a powerhouse in the real estate market for years.
From 2012 to 2018, home values appreciated at an exponential rate, to the tune of roughly $434,600. As a result, the median home value in the Santa Barbara real estate market was somewhere in the neighborhood of $1,143,600 a few years ago.
More than 50.0% of the foreclosures in Santa Barbara were considered pre-foreclosure. That means the owner had missed a payment and was at risk of entering into the foreclosure process, which eventually led to the home being repossessed. While it was entirely possible that some of those homeowners caught up with their payments, it was safe to assume at the time that many wouldn't. As a result, those homes helped many Santa Barbara real estate investors secure deals.
Santa Barbara Real Estate Market: 2015 Summary
Median Home Price: $1,025,000

1-Year Appreciation Rate: 8.1%

Unemployment Rate: 3.7%

Population: 87,859

Median Household Income: $87,744

Percentage Of Vacant Homes: 7.5%
Santa Barbara Real Estate Investing 2015
Santa Barbara officially moved on from a state of recovery to a period of economic expansion as early as 2015. Consumer confidence jumped, interest rates remained low, and unemployment rates were lower than at the beginning of the recession. The culmination of these indicators, and many more, suggested the future was bright for the Santa Barbara housing market in 2015.
According to data collected by Zillow, the median home value in the Santa Barbara housing market was $1,025,000 at the time. The relatively high price point was the result of an 8.1% appreciation rate over the last year. The average price of a home in the United States, on the other hand, was just over $200,000.
While Santa Barbara's housing statistics were not as gaudy as San Francisco, it is worth noting that Santa Barbara was a luxury market. Few markets were less affordable than Santa Barbara so soon after the recession. Experts also believed prices would continue rising for years, and they did just that.
According to RealtyTrac at the time, the Santa Barbara housing market had approximately 174 homes in some state of foreclosure. These properties were either in default, bank-owned, or are going to be up for auction. Nearly halfway though the year, the number of properties that received a foreclosure filing in the Santa Barbara housing market was 89.0% higher than the previous year.
The Santa Barbara housing market was officially recognized as the least affordable in the state of California. The rise in home prices, in addition to a 34.9% increase in rental rates, made it increasingly difficult for the residents of Santa Barbara to save any money. The cost of living in Santa Barbara was about $79.7k, which was 22.5% higher than the rest of the state.
Santa Barbara County Map: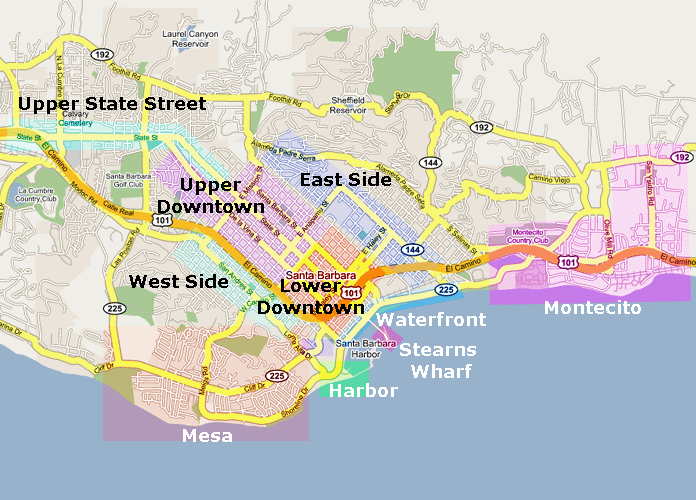 Santa Barbara Real Estate Market Summary
The Santa Barbara real estate market has enjoyed the same lucrative ride many of its California counterparts have. Most notably, prices have increased nearly exponentially since the Great Recession. To the city's credit, however, the price increases don't seem to have detracted from demand. If anything, demand remains relatively healthy, which is the primary reason prices continue to rise. Years of appreciation have actually shifted the way local investors look at deals. While rehabs were once the most popular exit strategy, investors now favor long-term rental properties.
*The information contained herein was pulled from third party sites. Although this information was found from sources believed to be reliable, FortuneBuilders Inc. makes no representations, warranties, or guarantees, either express or implied, as to whether the information presented is accurate, reliable, or current. Any reliance on this information is at your own risk. All information presented should be independently verified. FortuneBuilders Inc. assumes no liability for any damages whatsoever, including any direct, indirect, punitive, exemplary, incidental, special, or consequential damages arising out of or in any way connected with your use of the information presented.
🔒 Your information is secure and never shared. By subscribing, you agree to receive blog updates and relevant offers by email. You can unsubscribe at any time.