The Santa Barbara real estate market has enjoyed a historic run in home values over the course of a decade. As a result, real estate in Santa Barbara has become a luxury commodity. However, despite rapid appreciation, demand remains intact and should catalyze activity moving forward. It appears that today's high prices aren't enough to scare away buyers, which begs the question: Is Santa Barbara real estate a good investment?
While the pandemic has created headwinds for just about every market in the country, Santa Barbara has seen a healthy amount of activity, which bodes incredibly well for local investors with deep enough pockets. Instead of rehabs, however, local real estate investors have turned to more passive exit strategies. Rental properties appear more suited for today's market and can help offset the city's exorbitantly high prices. Additionally, the Coronavirus has tilted many of today's most important market indicators in favor of passive income holdings, and investors are in the beginning stages of reaping years of rewards.
Santa Barbara Real Estate Market 2022 Overview
Median Home Value: $1,751,365

Median List Price: $2,100,000 (-7.1% year over year)

1-Year Appreciation Rate: +31.1%

New Listings: 302 (-21.4% year over year)

Active Listings: 350 (-26.1% year over year)

Homes Sold: 262 (-21.3% year over year)

Median Days On Market: 26 (-10.0 year over year)

Median Rent: $2,401

Price-To-Rent Ratio: 60.71

Unemployment Rate: 3.5% (latest estimate by the Bureau Of Labor Statistics)

Population: 446,475 (latest estimate by the U.S. Census Bureau)

Median Household Income: $78,925 (latest estimate by the U.S. Census Bureau)
---
[ Thinking about investing in real estate?
Register to attend a FREE online real estate class
and learn how to get started investing in real estate. ]
---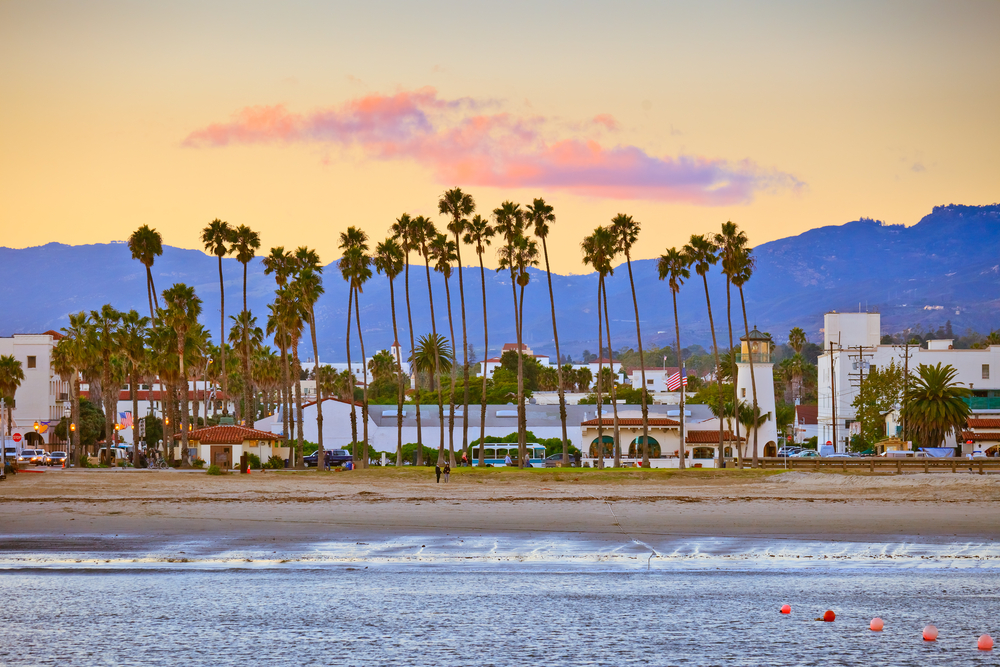 Santa Barbara Real Estate Market Trends 2022
Many of the Santa Barbara real estate market trends occurring in 2022 reflect broad national trends. If for nothing else, the pandemic has shaped how real estate markets operate, and real estate in Santa Barbara is no exception. However, it should be noted that Santa Barbara real estate market trends are more exaggerated due to significant supply and demand constraints in one of the most expensive states in the country. With that in mind, here's a quick look at the current trends taking place in Santa Barbara:
Supply Trends: With a total of 348 active listings year to date, the Santa Barbara real estate market has somewhere in the neighborhood of about two weeks of inventory. With balanced markets exhibiting upwards of six months of inventory, supply is severely insufficient. There aren't nearly enough homes to keep up with demand, leaning the Santa Barbara housing market heavily in favor of sellers. Supply and demand constraints have resulted in steep appreciation, and will continue to do so as long as buyers remain active.

Home Price Trends: Not unlike everywhere else, home prices in Santa Barbara are up significantly. Since the start of the pandemic, home prices have increased nearly fifty percent in the wake of supply and demand constraints. Today, home prices are testing new highs each month in 2022. Moving forward, prices will continue to rise, albeit at a tempered pace. As interest rates rise mortgage applications will decline, taking a little bit of pressure off insufficient inventory levels. Prices will keep rising, but lower mortgage volume will lead to slower appreciation rates.

Interest Rate Trends: In an attempt to combat inflation, the Federal Reserve has increased interest rates. In a recent turn of events, Fed Chair Jerome Powell announced a 50 basis point hike, the largest increase of its kind in two decades. As a result, the average commitment rate on a 30-year fixed-rate mortgage jumped to its highest point in four years. Now above five percent, mortgage rates will make Santa Barbara's already expensive homes even more expensive. While the rate hike was significant, it is expected to be the first of many, which means buying a home in Santa Barbara will continue to get more expensive for the foreseeable future.

Investor Trends: Santa Barbara real estate investors, like homebuyers, will hurry to take advantage of relatively low interest rates before they get too high. Many will turn to rental properties, as rates will help investors simultaneously offset higher prices and increase cash flow. That said, the window is closing. Interest rates will grow prohibitively expensive, but in the meantime, rental properties look like a great investment opportunity.
Santa Barbara Foreclosure Statistics 2022
With about 350 active listings, the Santa Barbara housing market only has a few weeks of inventory on the books. However, it is worth noting that 106 of today's listings are either at risk of foreclosure or are already in the process of being repossessed; that's 30.3% of the market's total inventory.
The overwhelming majority of Santa Barbara's distressed inventory is merely at risk of falling into foreclosure. Consequently, 81 homeowners (23.1% of the city's distressed property) have missed a payment and are currently at risk of losing their homes to the bank. That's not to say these homes will start the foreclosure process, but instead that they are at more risk than their up-to-date counterparts. Another 24 homes (6.9%) have already been repossessed and are expected to sell at auction. Lastly, one home in the Santa Barbara housing market is currently bank-owned.
While Santa Barbara foreclosures have been held in check thanks to government assistance and moratoriums throughout the pandemic, they are expected to rise in 2022. Unfortunately, many homeowners won't be able to make payments when they are asked to come current with their obligations. When that time comes, those who can't comply may find themselves distressed, and well-positioned investors in Santa Barbara may be able to offer a helping hand.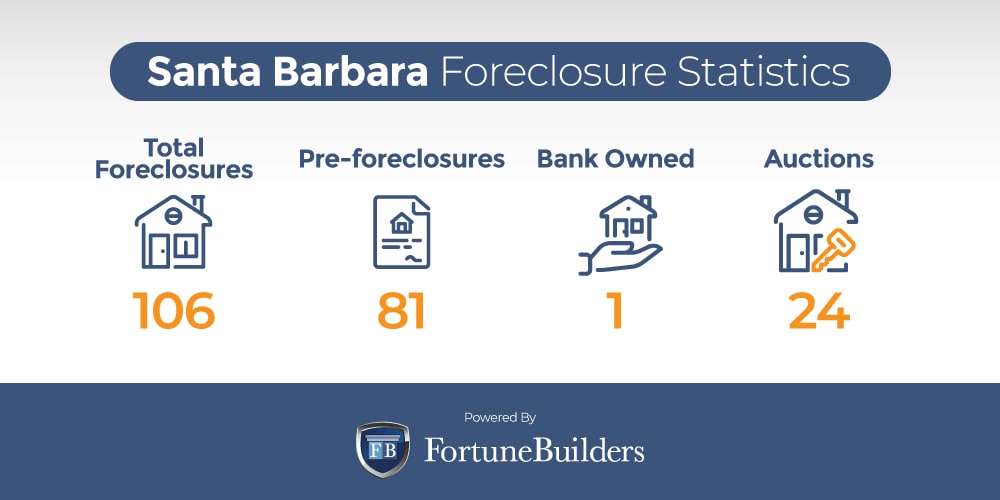 Santa Barbara Median Home Prices
Last year, the median home value in the Santa Barbara housing market sat somewhere around $1.4 million. However, having benefited from an impressive appreciation rate, the median home value in the Santa Barbara real estate market has reached $1,751,365; that's an increase of 31.1%. To put the last year into perspective, the median home value in the United States is now $337,560 after appreciating by as much as 20.6% in one year.
Buying a house in Santa Barbara has grown prohibitively expensive. With only two weeks of supply, there's too much competition over the few homes that are actually for sale. With sellers receiving more offers in the wake of lower interest rates, competition has driven up the price of homes more than anyone expected.
The same inventory shortage that served to increase prices for the better part of a decade may be magnified by home builders sitting on the sidelines during the pandemic. Without new builds being brought to the market, it is safe to assume competition will remain high, driving prices up even higher than they are now.
Prices will continue to rise for the foreseeable future. However, rising interest rates will eventually turn many buyers off. The market has already seen a steep decline in mortgage applications, so it's only a matter of time until competition comes more in line with historical rates. When demand subsides, the market may start to correct itself and drive prices lower.
Santa Barbara Real Estate Market Investing
The Santa Barbara real estate investing community has done well for itself since the Great Recession. Rehabbers have grown accustomed to attractive profit margins fed by demand and appreciation. However, the same price increases that have helped real estate investors in Santa Barbara for 10 consecutive years are now forcing them to rethink their strategies.
Santa Barbara is one of the fastest appreciating markets in one of the most expensive states. In fact, the city's latest run-up has turned the local real estate market into a destination primarily driven by luxury home sales throughout the pandemic.
"Median list prices surged in the Santa Maria, CA, metropolitan area, including Santa Barbara, CA. They were up no less than 44.0% annually in July [2020], to reach $1,795,050," said Clare Trapasso via Realtor.com. "That was the largest increase in the nation, despite the relatively high percentage of locals out of work (12.0%). In the Los Angeles metro area, prices increased by 24.0%, to a median $994,150."
Ten years of appreciation, in addition to Santa Barbara real estate trends brought about by the Coronavirus, has made the prospect of rehabbing slightly less attractive. While rehabbing in the Santa Barbara real estate market can still result in attractive profits, several trends suggest long-term real estate investing strategies are more viable than their short-term counterparts.
Here are some of the new Santa Barbara real estate market trends benefiting rental property investors:
Interest rates on traditional loans are still relatively low

Years of cash flow can easily justify today's higher acquisition costs

Inventory shortages will increase rental demand
As of May, the average rate on a 30-year fixed-rate loan was 5.1%, according to Freddie Mac. As a result, borrowing costs have brought down acquisition costs for those looking to add to their passive income portfolio. At their current rate, mortgage rates will save today's buyers thousands of dollars, and real estate investors will be able to pad their bottom line.
Lower borrowing costs will help absorb today's high prices, but the cash flow potential of real estate assets makes the prospect of owning a rental property even more attractive. With a median rent price of $2,401, it is possible to simultaneously rent out an investment property while having someone else pay down the mortgage. That way, investors could build equity in a physical asset and collect cash flow each month with the right long-term investment.
Long-term real estate investors in Santa Barbara will appreciate the cash flow potential and low borrowing costs. Still, the most attractive aspect of investing in the local market may be supply and demand. As it turns out, Santa Barbara has very low inventory levels (not unlike everywhere else). Active listings are down 26.1% year-over-year, but demand remains incredibly high.
Therein lies the true benefit to becoming a rental property owner in Santa Barbara: demand. There are far too many buyers competing over just a few weeks of inventory, which means many will be forced to rent. Even those who intend to buy will be relegated to the rental market until either demand lets up or more inventory hits the market. Either way, rental property owners will find their cash flows increasing and vacancies easier to fill.
Investors are lucky to have several viable exit strategies at their disposal. Still, none appear more attractive than building a proper rental property portfolio in the wake of the pandemic. Too many important market indicators are pointing towards becoming a buy-and-hold investor to ignore.
Summary
The Santa Barbara real estate market has enjoyed the same lucrative ride many of its California counterparts have. Most notably, prices have increased nearly exponentially. However, to the city's credit, the price increases don't seem to have detracted from demand. If anything, demand remains relatively healthy, which is the primary reason prices continue to rise. Years of appreciation have actually shifted the way local investors look at deals. While rehabs were once the most popular exit strategy, investors now favor long-term rental properties.
---
Ready to start taking advantage of the current opportunities in the real estate market?
Click the banner below to take a 90-minute online training class and get started learning how to invest in today's real estate market!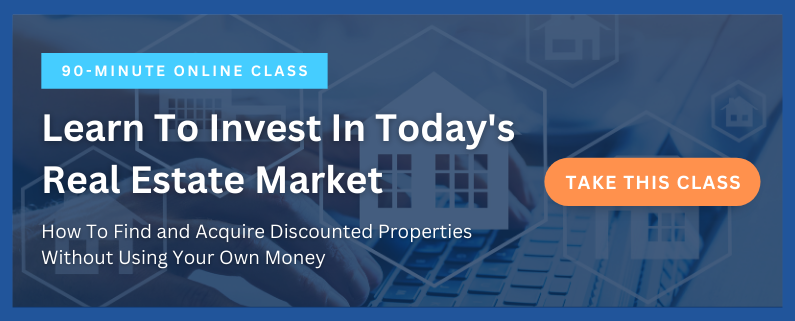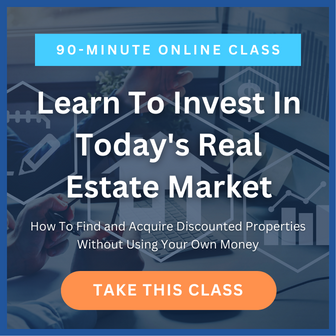 Sources
https://www.zillow.com/santa-barbara-ca/home-values/
https://www.zillow.com/home-values/
https://www.freddiemac.com/pmms
https://www.bls.gov/regions/west/ca_santabarbara_msa.htm
https://www.census.gov/quickfacts/santabarbaracountycalifornia
https://www.sbaor.org/clientuploads/Statistics/2022/March_2022_stats.pdf
https://www.rentcafe.com/average-rent-market-trends/us/ca/santa-barbara/
https://www.realtor.com/news/trends/home-prices-shooting-up-is-housing-market-overheating/
https://www.realtytrac.com/homes/?preForeclosure=true&auction=true&bankOwned=true&notInForeclosure=false&notYetListed=true&listedForSale=false&recentlySold=false&listedOnlineAuction=true
*The information contained herein was pulled from third party sites. Although this information was found from sources believed to be reliable, FortuneBuilders Inc. makes no representations, warranties, or guarantees, either express or implied, as to whether the information presented is accurate, reliable, or current. Any reliance on this information is at your own risk. All information presented should be independently verified. FortuneBuilders Inc. assumes no liability for any damages whatsoever, including any direct, indirect, punitive, exemplary, incidental, special, or consequential damages arising out of or in any way connected with your use of the information presented.