Single-room occupancies (SROs) have been around for centuries, and they have a complicated history. Even in the mid-1800s, when every small town had a lodging house, they didn't always have the most savory reputation. As real estate prices continue to climb, SROs are starting to make a comeback. And with a bit of re-branding, they're beginning to attract a younger, up-and-coming demographic. Let's take a closer look!
What Is Single-Room Occupancy (SRO)?
An SRO is a single furnished room that can be rented month-to-month or for a more extended period. These have often been large buildings in major cities, similar to a low-end hotel. As a matter of fact, many of them feel like hotels but with fewer amenities. Lodging houses have filled the same role in less urbanized areas, but they have disappeared almost entirely, with Airbnb probably being the closest modern analog.
Urban SROs mostly fell out of favor in the late 20th century and can be challenging to find. But they're slowly making a return, in the form of "co-living" buildings.
Background Of SRO Housing
SROs have been around for a long time, but they reached their peak in the late 1800s. During this time, New York City and other major eastern US cities saw a massive influx of workers. Most of these were European immigrants, but many came from the western US, looking for work on the rapidly-industrializing eastern seaboard.
Many of these people were single and sought out single rooms in sex-segregated housing. Young women moved into large boarding houses, with anywhere from a dozen rooms to a few hundred. These female SROs had curfews to keep the residents safe, and hot meals were usually served in the common areas.
Men's SROs were a different story and quickly became magnets for criminals and vagrants. For a while, the YMCA was the only men's SRO without this kind of reputation. Nonetheless, by the middle of the 20th century, SROs went into decline. Simply put, most city residents wanted them gone.
What Are SROs Called Today?
Modern SROs are marketed as co-living spaces or micro-apartments. A co-living space is like a cross between a hotel and a boarding house. Each resident has a small room with a bed, a sink, and oftentimes a toilet. There's a bank of shower stalls for the community and a shared central kitchen.
A micro-apartment is essentially a mini studio. It's a tiny, two-room apartment with a bathroom and a combination bedroom/kitchen.
---
[ Thinking about investing in real estate?
Register to attend a FREE online real estate class
and learn how to get started investing in real estate. ]
---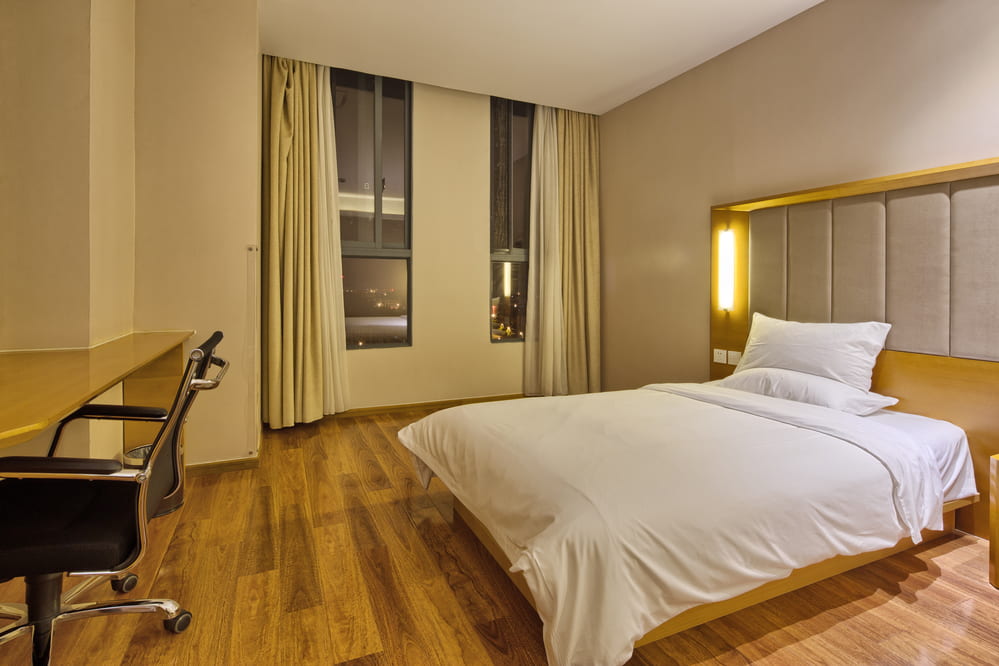 What Are The Uses For SROs?
SROs fill a valuable niche for people who need affordable housing. They're a great choice for students, low-income workers, and people on fixed incomes. They're also a great solution for people who need somewhere to live on an open-ended basis. Recently-divorced people and temporary workers can quickly get housing without getting tied into a long-term lease.
As an added benefit, SROs can provide housing in areas you couldn't otherwise afford. Expensive neighborhoods in Manhattan, San Francisco, and other major cities are too pricey for most people. With an SRO, you can affordably live in the heart of the country's most prestigious neighborhoods.
What Are SRO Conditions Like?
SRO conditions are highly variable, depending on where you stay. On the low end of the scale, many of them feel too confining. These are built in large, open spaces like former warehouses, and individual rooms are created with steel or sheetrock dividers. Since these dividers don't reach the ceiling, the gap is filled with chicken wire or hardware cloth.
On the other hand, some nicer SROs are similar to an extended stay hotel. You won't get amenities like room service or a concierge, but you're getting a truly private space that looks and feels like a real home.
How To Finance An SRO
SRO properties typically require a form of commercial financing because they are multi-unit buildings. Investors can consider a variety of commercial loan options through traditional lenders, but keep in mind they may require a high down payment or strong commercial background for approval. Another possibility is to pursue seller financing. While not every seller will agree to this arrangement, it is entirely possible with SROs. In some cases investors may be tired of managing multiple units and ready to move on. This presents an opportunity to purchase the building — though seller financing often requires a significant interest rate. Finally, there are private money lenders and crowdfunding options available, similar to other forms of commercial property.
Why Are SROs Controversial In Real Estate?
For all of their benefits, there's no denying that SROs can attract vagrants and criminals. You don't have to pay a security deposit or put down the first and last month's rent. As you might imagine, many people aren't thrilled at the prospect of living next door to those individuals.
Then again, there's a strong argument that SROs actually improve neighborhoods. By providing affordable housing, they reduce the incentive for people to turn to crime. Moreover, many residents might otherwise be homeless and living in a shelter – or sleeping on the street.
Can SRO Housing Return?
Absolutely! With co-living spaces and micro-apartments, they already are. And with real estate prices continuing to skyrocket, demand for affordable housing is only going up.
Summary
SROs have been a staple of American life since the very beginning, and they're the most affordable form of housing. While their popularity has waxed and waned over the years, they're currently growing in popularity. Like any other type of real estate investment, there is a spectrum of quality and affordability, and it is critical that you do your research.
---
Ready to start taking advantage of the current opportunities in the real estate market?
Click the banner below to take a 90-minute online training class and get started learning how to invest in today's real estate market!