One of the fastest ways to accelerate an investor's real estate business is through online marketing. The Internet has provided investors with a plethora of options to not only enhance how they communicate with customers and generate leads, but also the identity of their brand. From social media to mobile apps, these digital real estate marketing tools have become a way of life for many of today's investors, helping to improve overall sales and brand awareness.
Digital marketing continues to influence the real estate industry for the better, and that includes transforming how people buy and sell homes. According to the 2015 National Association of Realtors Profile of Home Buyers and Sellers, 42 percent of all recent buyers began their home search process online, with an astounding 92 percent using the web at some point during their search. Furthermore, 82 percent of buyers said online websites were a "very useful information source."
While digital marketing tools are drumming up interest among homebuyers and sellers, including real estate apps, they're also persuading them to take part in open houses and tours. In comparison to traditional house hunting methods, which include viewing the exterior of a home while driving through the neighborhood, 65 percent of buyers last year viewed a property online before walking through it, compared to 38 percent that came in after driving through the neighborhood.
Although working with an agent remains the number one preference when viewing and purchasing real estate, there's no denying that digital real estate marketing tools have become a "must-have" for today's investors.
---
[ Thinking about investing in real estate?
Register to attend a FREE online real estate class
and learn how to get started investing in real estate. ]
---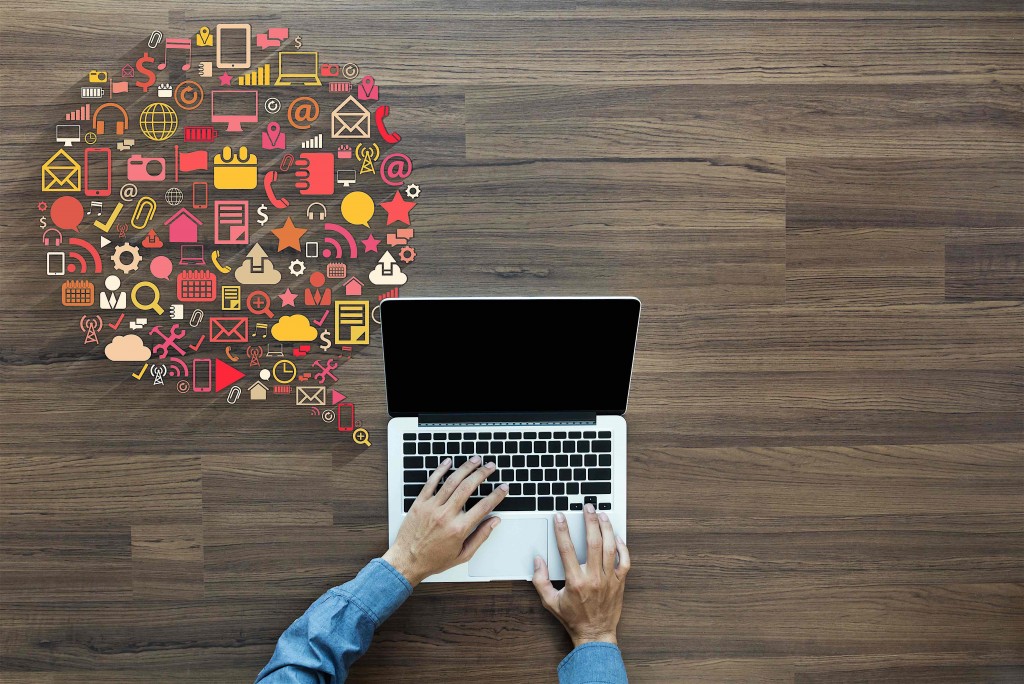 The Ultimate List Of Digital Real Estate Marketing Tools
While having an array of marketing tools by your side is favorable as an investor, a plan of action will be your ticket to success. A real estate marketing plan will outline how you intend to present yourself to the world, including how sales will be made. On the other hand, an online marketing strategy will serve as an investor's guide to establishing both a dominant real estate brand identity and an effective lead generation campaign. For those seeking to amp up their online marketing, the following highlights some of today's greatest digital real estate marketing tools for investors:
Email Marketing Software (EMS)
Email marketing continues to prove itself as an invaluable resource for real estate investors. This digital marketing tool offers tremendous power when it comes to generating attention, including the ability to reach hundreds of thousands of potential customers. By targeting fans of your brand, which have ultimately provided you with their email address, investors can focus on pursuing leads from sent emails, with hopes of converting those into sales.
Investors looking to get a jumpstart on email marketing should consider digital tools such as MailChimp. This uniquely simple email marketing software (EMS) is utilized by more than 12 million people and businesses, sending more than a billion emails every day. Features include automation, A/B testing, segmentation, advanced analytics, and triggered emails. Did I mention it's also very affordable? MailChimp offers three pricing packages: New Business (Free), Growing Business ($10 per month), and Pro Marketer ($199 per month).
Social Media Apps
In today's competitive marketing climate, real estate investors are advised to not simply sign up for social media, but use it thoroughly and regularly. The importance of social media for marketing in real estate is second to none, as it has the power to promote brand awareness, build credibility as an investor and generate a slew of new business.
With roughly 2.3 billion people worldwide having some type of social media account, real estate investors must take full advantage of social media. For those looking to get started, the following sites offer the best "bang for your buck":
Facebook: In terms of digital real estate marketing tools, Facebook is the centerpiece of online marketing, as this crowning jewel attracts 1.71 billion users every month.
YouTube: With one billion active users each month, the video-sharing website YouTube has become an integral component in today's online marketing landscape. In real estate, the popularity of video marketing is running on all cylinders, and the trend should continue for quite some time.
Instagram: For those seeking digital real estate marketing tools that emphasize imagery, Instagram is the go-to app. The mobile app offers investors unique ways to promote their brand with images, whether through filters, hashtags, or direct message. Instagram provides real estate investors with an array of ways to not only build brand awareness but drive engagement.
Pinterest: This content sharing service offers various marketing purposes but the two biggest advantages are the ability to generate residual traffic from pins and getting picked up by Google Search. Both are beneficial for real estate investors.
Hootsuite: Hootsuite specializes in social media management for businesses. This digital real estate marketing tool offers investors an innovative, and time-saving way to schedule and organize social media activity.
More and more investors are turning to their personal devices (cellphones and tablets) for information and assistance. In fact, internet searches are increasingly taking place on mobile devices and outpacing desktop searches. Cellphones are serving as most investors' greatest tools, which is why nobody can ignore today's best real estate apps. No more than a few clicks away, the following real estate marketing tools can help anyone take their career to the next level:
LoopNet: LoopNet is one of today's most popular online real estate marketplaces for connecting tenants and investors with the properties they hope to buy or lease.
Xome: Using big data, Xome hopes to serve as sellers' and buyers' "one stop shop" for completing real estate transactions with confidence.
Dotloop: This app is designed to combine all of your form creation, e-sign, and real estate transaction management systems into one, easy-to-use app.
Buffer: With Buffer, social media marketers can easily schedule posts, analyze performance, and manage every one of their accounts from a single hub.
RedFin: Not unlike its desktop counterpart, the Redfin app serves as a real estate marketplace for buyers and sellers.
Houzz: This is an app used specifically for working on homes and introduces owners to products for the home itself.
Zillow: The Zillow app is yet another trustworthy real estate marketplace for buyers and sellers.
Realeflow: Investors looking to build a serious business in real estate should look no further than Realeflow. With a proven track record of helping more than 30,0000 real estate investors close nearly 10 billion dollars in transactions, Realeflow seeks to assist investors in generating leads, assessing deals, and managing their overall investment transactions. The software system also offers an abundance of investor tools, such as a repair/rehab estimator, a deal analyzer, and a virtual filing cabinet. Also, Realeflow provides investors with instant access to leads, customizable websites, and direct mail/email marketing tools.
REIPro: REIPro and Realeflow are direct competitors, each of which hopes to serve as investors' one-stop-shop for all their needs. At the very least, these real estate marketing tools are all-inclusive, offering inverses everything from leads to marketing strategies. Not unlike Realeflow, REIPro was designed to help investors of every experience level build and maintain a successful business model. Which one you choose may simply come down to personal preference—as many real estate marketing tools often do.
Matterport: Matterport continues to represent the cutting edge of today's most progressive marketing strategies. As one of today's most underutilized real estate marketing tools, Matterport showcases homes in a whole new light. More specifically, however, this particular digital real estate tool uses a top-of-the-line camera to award owners with an immersive 3D showcase, unlimited photos, videos, floor plans, and virtual reality. Simply put, Matterport is revolutionizing the way buyers tour and view homes. Now, prospective buyers can bring subject properties to their mobile app or desktop, all from the comforts of their own home.
DocuSign: Based out of San Francisco, DocuSign has revolutionized the way organizations connect and automate how they prepare, sign, act on, and manage agreements around the world. In its simplest form, however, DocuSign allows anyone conducting business to digitize their important documents and foster unparalleled efficiency. Whether investors are closing a sale or assigning a wholesale contract, it's easy with this app.
General Marketing Tools
For investors looking to take their brand visibility to the next level, these general marketing tools and strategies will help you gain success. From a text messaging campaign to a professional website, here is a list of tools that will give you the competitive edge your brand needs:
Adobe Photoshop Express: It's no secret that first impressions play a huge role in real estate investing. The same can be said for online marketing, as web users can be very quick to highlight errors, mistakes, and unsatisfactory results. However, a photo editing app can work wonders for investors, as photos remain a key component of real estate. That said, one of the more powerful apps is Adobe Photoshop Express. Basic features include rotating, cropping, red-eye, and blemish removal, while others include adjustments to correct contrast, exposure, and white balance. Also, photos can be saved to your phone's camera roll or used directly via social media.
Text Message Marketing Campaign: One of the hottest marketing trends in real estate right now is text message and reasoning for the popularity is simple: it achieves results. According to SmallBizTrends.com, text messages not only have a 100 percent open rate, and a 98 percent read rate, but they're typically read within 15 minutes of being received. Along with being extremely efficient, text message marketing is also very cost-effective. In addition, it's simply to setup and manage, which makes is especially beneficial when on the go.
Outsourcing Tools: Sites like Fiverr and Upwork (previously oDesk) continue to serve as an irreplaceable tool for real estate investors, especially for those with little-to-no experience in web marketing. These outsourcing resources have become go-to digital real estate marketing tools for investors thanks, in part, to their capability of boosting productivity.
Professional Website: Whether a real estate agent, broker, or investor, the importance of having a professional real estate website is unsurpassed. This all-important asset, which is essentially the virtual face of your business, will not only help to establish credibility as an investor online but enhance the overall presence of your business—whether online or off. Along with helping to strengthen online visibility, a real estate website acts as a central location for customers to visit, browse, shop, and gather information. Done right, a real estate website will have a polished appearance with easy navigation and functions, quality content, and an overall experience that impresses users.

Developing and designing a website is no easy task. For many, it will include the assistance of a website development service, although it will come at a cost that could range in size. And though a website may not sound like one of the most unique real estate marketing ideas conceived, it can still provide quite a benefit.
Lead Generation Tools
Lead generation is, and always will be, one of the single most important tasks levied in an investor's direction. Leads represent the essence of today's greatest investors and are one of the best indicators of success. At the very least, lead generation is a numbers game: the winners typically have the most. Therefore, investors need to do everything they can to maintain and find leads. These real estate marketing tools should help them do just that:
CallAction: CallAction was specifically designed to help marketers track, engage and capture inbound leads—all from their own phones, nonetheless.
ConvertKit: ConvertKit is an email marketing software that may help investors utilize their email list to its fullest potential.
Follow Up Boss: Follow Up Boss is a simple CRM software designed to help real estate investors respond faster, set more appointments and close more deals.
ScheduleOnce: As its name suggests, ScheduleOnce serves as an investor's primary scheduling software. ScheduleOnce has developed a reputation for supplying investors with all the tools they need to make online scheduling effective and efficient.
Summary
Whether a real estate investor or simply a business owner, it's important to take advantage of your resources. That said, today's greatest digital real estate marketing tools have the potential to take a business from good to great and should be used as much as possible. Using the best real estate marketing tools above, there's no reason investors shouldn't find themselves with a new advantage over the competition.
---
Ready to start taking advantage of the current opportunities in the real estate market?
Click the banner below to take a 90-minute online training class and get started learning how to invest in today's real estate market!