Key Takeaways
Kitchen backsplash trends are constantly changing, so be sure to see to it that your own kitchen is up to par with the latest trends.
Popular kitchen backsplashes will help make your home more appealing to perspective buyers.
The most popular backsplash isn't the one you like the most; it's the one prospective buyers like the most.
---
While often overlooked, backsplashes can have a large impact on the most make-or-break room in a home: the kitchen. Seeing as how the kitchen can either scare away buyers or sell them on a purchase, it is important to portray the kitchen in the best light possible. No detail is too small. That said, backsplashes can offer a great return on investment. A properly installed and aesthetically appealing backsplash can turn a relatively mundane kitchen into one that attracts the attention of buyers. It is that attention that can translate into a sale. Accordingly, it is very important to accent the kitchen in a way that makes it appealing. The following highlights some the most popular backsplash trends of 2015.
The Most Popular Kitchen Backsplashes
Here's a brief list of today's most popular kitchen backsplashes:
Natural Stone
Pebble Tile
Stainless Steel
Chalkboard
Reflective Glass
Natural Stone Kitchen Backsplash
---
[ What's the best investment strategy for YOU? Take "The 10-Minute Real Estate Investor Personality Test" and find out ]
---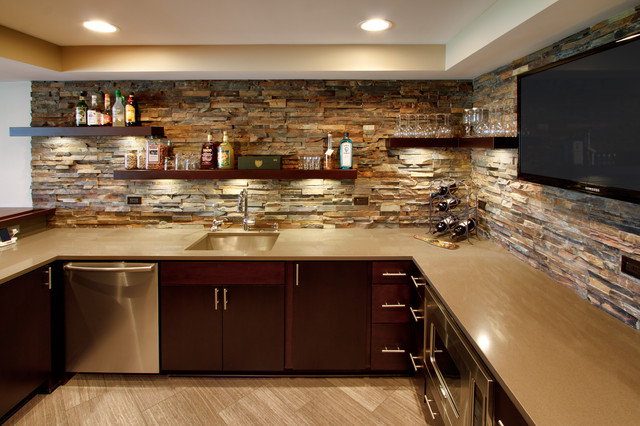 The addition of a natural stone backsplash is anything but new, and far from revolutionary. However, there is a certain aesthetic appeal that only natural stone can provide. It can blend modern kitchens with nostalgic elements in a way that no other medium can. That said, kitchens all across the country will continue to incorporate stone backsplashes in 2015.
In addition to assimilating a more natural feel, popular kitchen backsplashes with stone can conform to just about any theme or color pattern. In fact, it is the versatility of natural stone that many people find most appealing. Granite, marble and slate are just a few of the types of natural stone to choose from – each offering a different and unique feel. Natural stone backsplashes have become so popular, in fact, that companies are devising ways to manufacture composite stone backsplashes. It is also very easy for stone kitchen backsplashes to compliment the popular slab countertops that so many rehabbers are more inclined to use.
With stone, you have the option to go with a slab backsplash, which is durable and easy to clean, or a tile backsplash, which is the more affordable version. Again, many are drawn to the versatility stone provides, but others appreciate its natural touch that many modern houses are lacking. That said, stone isn't for everyone. Review the following to help make your decision easier:
The Pros of a Natural Stone Kitchen Backsplash
The natural nature of stone makes it a very versatile medium. It is more than capable of fitting in with the majority of kitchen color schemes and layouts.
Natural stone is one of the most durable kitchen backsplash materials on the market. It is tough and can hold up to the daily abuse of kitchen activities.
Natural stone comes in a wide variety of styles and, therefore, can be priced to fit just about any budget.
The Cons of a Natural Stone Kitchen Backsplash
Due to its porous nature, stone will require more routine maintenance than the average kitchen backsplash. It will need to be sealed regularly to protect against stains from water, food and grease.
Stone backsplashes have developed a reputation for trapping grime and dirt – at least more so than other styles.
Pebble Tile Kitchen Backsplash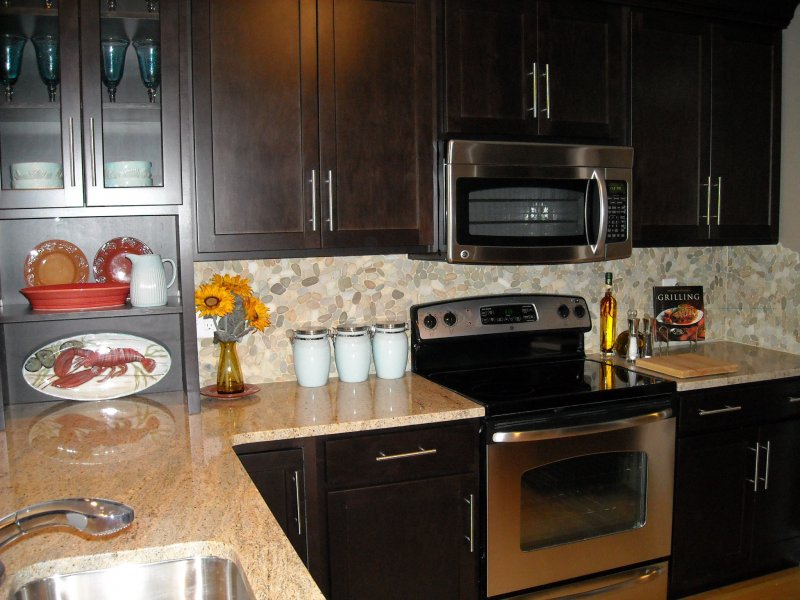 Pebble tile kitchen backsplashes offer a more modern feel than their natural stone counterpart. Nonetheless, industry professionals have already noticed a dramatic increase in the instillation of pebble tile backsplashes. Similar to that of the natural stone, pebble tiles give homeowners the opportunity to apply texture to an otherwise flat surface. It also has the luxury of being one of the industry's most affordable backsplashes. Renovators and rehabbers will appreciate the return on investment (ROI) these backsplashes provide. If you're looking to bring a rustic feel to your kitchen, a pebble tile backsplash is the way to go.
Pebble tiles backsplashes, like their stone predecessor, allow owners to deviate from traditional tile backsplashes. They have a way of adding more character and warmth to a room than a repeating geometric pattern. Ultimately, the choice is up to you, but here is something to help you in the decision making process:
The Pros of a Pebble Tile Kitchen Backsplash
While it may not look the part, pebble backsplashes are relatively easy to install. The average rehabber is more than capable of doing the necessary work.
This particular backsplash option is more affordable than most others on the market. It is another good option for those looking to improve their ROI.
The Cons of a Pebble Tile Kitchen Backsplash
Like natural stone, pebble backsplashes can be difficult to clean.
Due to their porous nature, the pebbles will require more routine maintenance than the average kitchen backsplash. It will need to be sealed regularly to protect against stains from water, food and grease.
Stainless Steel Kitchen Backsplash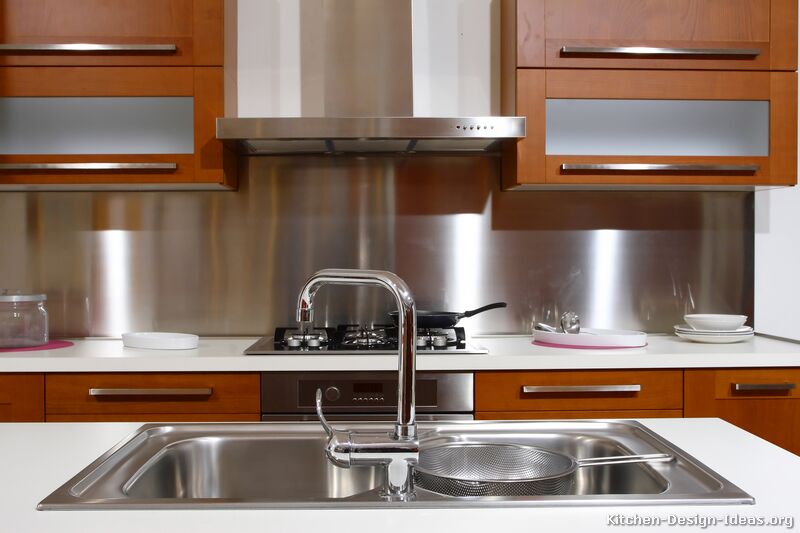 Stainless steel is quite a deviation from the previous two backsplashes discussed in this article. Nonetheless, it remains one of the hottest kitchen backsplash trends in 2015. Rehabbers will appreciate its versatility and homeowners will be drawn to its modern, sleek design. That said, stainless steel is one of the best choices if you are going for a dramatic, durable and easy to clean kitchen.
Stainless steel can be applied in a number of different ways, allowing it to seamlessly integrate with almost any kitchen. Some people prefer using entire sheets of stainless steel, as to cover the entire wall above the counter top and below the cabinets. If installed as one solid piece, a major advantage is the lack of grouting and cracks, which is where food, grease and dirt tend to accumulate on other backsplash materials. Others enjoy a more simple approach: accenting certain features. A lot of people will appreciate the way a stainless steel backsplash compliments updated stainless steel appliances. It is a very simple way to increase a sense of cohesion between different elements in the kitchen.
The Pros of a Stainless Steel Kitchen Backsplash
The reflective surface of stainless steal can actually use light to make the kitchen appear larger.
Stainless steel is more durable than just about any other kitchen backsplash options.
Stainless steel is both stain- and corrosion-resistant.
If used in sheets, there is less grouting and maintenance to deal with.
The Cons of a Stainless Steel Kitchen Backsplash
Stainless steel can be scratched relatively easy by certain elements.
If installed without the proper backing, it can dent easily.
A stainless steel kitchen backsplash requires constant attention to maintain its look. Fingerprints, food and grease can all show clearly.
Stainless steel is more expensive than most kitchen backsplash options.
Chalkboard Kitchen Backsplash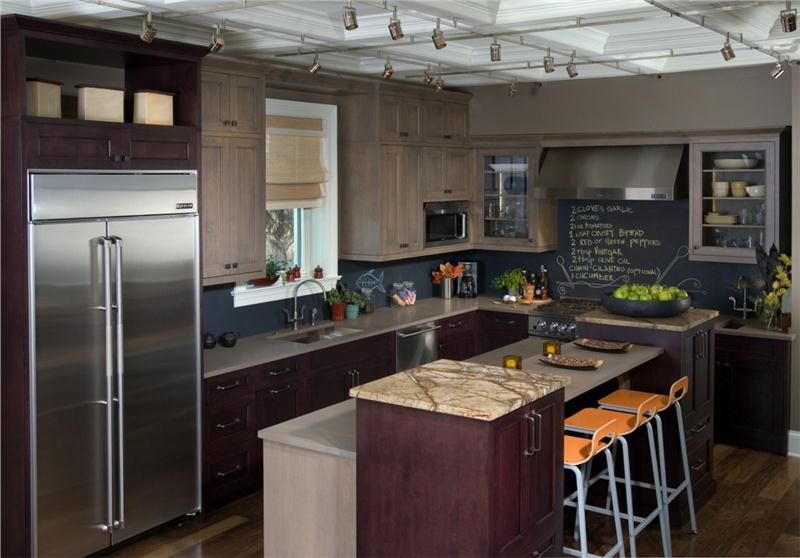 For those of you who may prefer a more unconventional approach to kitchen backsplashes, consider installing a chalkboard. The addition of a chalkboard can give your kitchen a fun and casual look. Moreover, they are one of the most practical, affordable and easy-to-install kitchen backsplash options out there. In fact, there is even chalkboard paint available.
The Pros of a Chalkboard Kitchen Backsplash
Chalkboard kitchen backsplashes are one of the most affordable options for your money.
From a practicality standpoint, chalkboard backsplashes are probably the most useful. They can be a place to write down recipes or a decorative medium.
Chalkboards are more child friendly.
The Cons of a Chalkboard Kitchen Backsplash
The biggest problem with a chalkboard backsplashes is the mess they make. Dust from the board can settle in other areas and cause problems for people with allergies.
Chalkboards do not integrate as seamlessly with kitchen concepts as other options.
Glass Kitchen Backsplash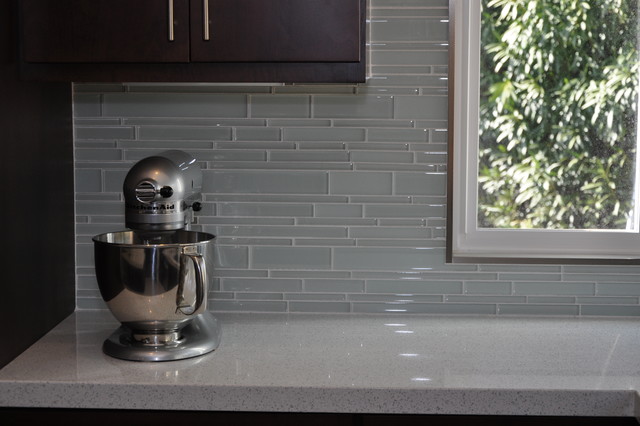 As perhaps the most versatile of all kitchen backsplash materials, glass is in it for the long haul. It was trending last year, and the year before. Truth be told, glass kitchen backsplashes will continue to remain popular for as long as there are kitchens. It is hard to get away from its versatility and functionality. It comes in a variety of options, making it a great choice if you're looking for something to suit your unique taste. In fact; mosaic patterns, classic subway tiles or solid glass panels are just the beginning. Those who choose to go with glass have seemingly unlimited options. However, glass backsplashes are most well known for their ability to bounce light throughout a room. Its reflective nature can make a room appear both brighter and larger. Glass is also one of the most hygienic options available. It is mildew-resistant, stain-resistant and easy to clean.
The Pros of a Glass Kitchen Backsplash
Light can reflect of its surface, making rooms appear larger and brighter.
Glass is both mildew- and stain-resistant
Glass backsplashes are considered green because they can be made out of recycled materials.
The Cons of a Glass Kitchen Backsplash
Glass is not the easiest of backsplashes to install.
Should the glass be scratched or cracked, it is hard to repair.
🔒 Your information is secure and never shared. By subscribing, you agree to receive blog updates and relevant offers by email. You can unsubscribe at any time.