Key Takeaways
Some of the benefits of working with a Realtor include gaining access to the MLS, increasing transaction speed, and increasing market knowledge, to name a few.
Identifying an investor-friendly Realtor can be as simple as knowing the right questions to ask.
When interviewing Realtors, make sure they can anticipate and answer to your investor-specific needs.
---
Working with a Realtor can bring about a myriad of benefits to a real estate investing business; they can provide referrals, provide working market knowledge, and desirable transaction and negotiation experience. Whether you would like to work with a Realtor on a deal-to-deal basis, or establish a long-term business relationship, it can be tricky to identify an investor-friendly Realtor to fit your investing needs. If you are feeling unsure, read on to explore the numerous benefits of working with a Realtor, as well as the right questions to ask when searching for the right Realtor to work with.
Benefits Of Working With A Realtor
As cliché as it sounds, no man is an island, and this concept could not be more true for investors. Those who build up a team of real estate professionals over time enjoy certain advantages: speed, reliability, increased resources and economies of scale. Working with a Realtor can certainly help boost your profitability in a number of ways. The following represent some of the benefits of working with a Realtor to invest in property:
Access to more listings: One of the main benefits of working with a Realtor is their access to the multiple listing service (MLS), which is a region-based database filled with property listings. Only licensed agents are able to access the MLS, as well as post listings and submit offers.
Quick Deals: Working together, investors and agents are more likely able to strike up deals much faster than if they were to work alone. By exercising the competitive advantages of each role, an investor-Relator duo is more likely to be able to identify, negotiate, purchase and sell properties at a faster rate.
Referrals: Realtors are typically well-connected within their community of buyers, sellers and investors, including previous clients. Agents can serve as a consistent source of business referrals, such as motivated sellers, buyers or even news of distressed properties in the neighborhood.
Seamless Transactions: Executing an investing strategy can be challenging. Working with a Realtor to manage the transaction side of each deal can help investors focus on the investment task at hand, such as property renovations.
Market Knowledge: An experienced agent should have a working knowledge of specific market trends, prices and property sales. Having access to this insider knowledge can aide investors in finding properties being sold for under market values, pull comps quickly, and list properties strategically.
Repeated Business: Once an investor and Realtor have established a synergistic relationship, they can begin to count on each other to create a consistent flow of business. A pseudo-partnership can lead to frequent deals, thus creating a consistent profit stream for both parties.
---
[ Thinking about investing in real estate?
Register to attend a FREE online real estate class
and learn how to get started investing in real estate. ]
---

How To Identify An Investor-Friendly Realtor
If you are convinced that working with a Realtor can be a great asset to the bottom line of your investing business, the next logical step is starting to look for an investor-friendly Realtor. Figuring out how to find an investor friendly Realtor can be a matter of knowing the right questions to ask: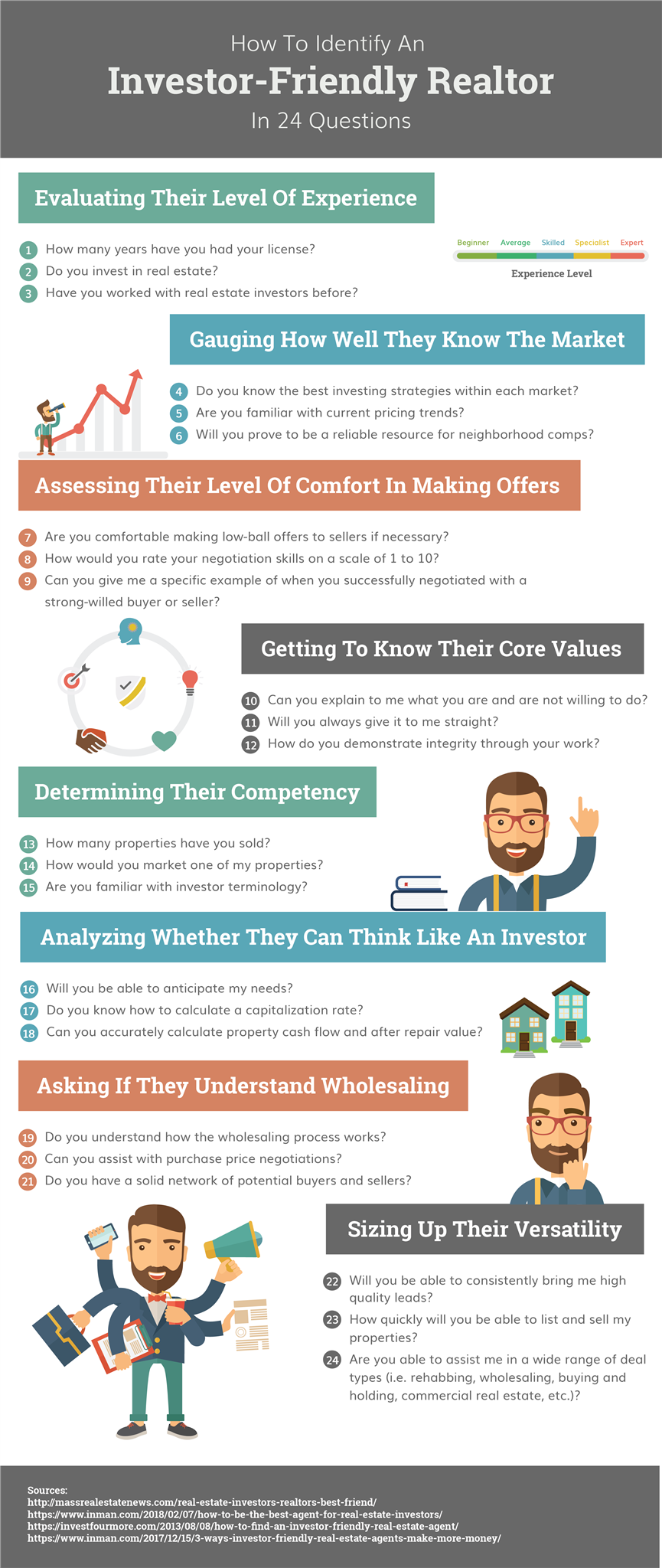 What Is Your Experience?
It is up to you to decide what type of experience level you would like for your Realtor to have. You can ask them some basic questions, such as how many years they have had their license or how many properties they have sold. You might also decide that you want to limit your search to Realtors that work with investors, or even those who make working with investors their specialty.
How Well Do You Know The Market?
One of the main benefits of working with a Realtor to sell a house is their working knowledge of markets and micro-markets. Investors spend many hours researching recent list and sale prices, competition, trends, and neighborhood comps. By working with a trustworthy agent, a lot of this time can be cut down as they can provide this information.
Are You Comfortable Making Offers?
Working with a Realtor to buy a house can take away a lot of the stressors associated with negotiations. One can argue that one of a Realtor's main roles is that of a negotiator, as well as having good people skills. When interacting with Realtors, make sure to ask them tough questions, such as their level of comfort making ridiculously low-ball offers if necessary, or if they have an example of when they have had success negotiating with a strong-willed seller.
What Are Your Core Values?
A key to developing a successful business partnership can be making sure your core values and business mindsets align. By making sure that you and your business partner have the same views on ethics, integrity and honesty, you will be more likely to work well together in the long-run. Ask tough questions, such as what the Realtor is willing or not willing to do, their ability to deliver bad news, and how they demonstrate integrity in their work.
Are You Competent?
Although it may seem rude to ask someone whether or not they are competent, they are other ways to assess their level of experience and professionalism. Quiz potential Realtors on investor terminology, ask them how many and what types of properties they have sold, and request that they walk you through an example of how they would market one of your properties.
Can You Think Like An Investor?
Representing a conventional buyer or seller is completely different from representing an investor, with each type of individual possessing a very different set of needs. Assess whether or not your Realtor can anticipate your investor-specific needs, such as knowing how to make key calculations, including capitalization rate, cash flow and after repair value. At the end of the day, you want to ensure that your Realtor can speak your language and know what you are looking for.
Do You Understand Wholesaling?
Although not applicable to all investors, wholesaling remains a very popular investing strategy in the realm of real estate. If wholesaling is part of your business plan, then of course you would want your agent to understand how it works. Seek out an individual who is willing to assist with purchase price negotiations, and can tap into their network to bring you interested buyers and sellers on a consistent basis.
Are You Versatile?
In an ideal world, you will want to find a Realtor who is just as dynamic and versatile as you are. Will this individual be able to bring you high quality leads on a frequent and consistent basis? Will they be able to manage the transaction side of your business, so that you can quickly buy and sell your properties without the stress? And finally, can this individual assist you in a wide range of deal types, whether it be rehabbing, buy and hold, wholesaling or commercial real estate? More likely than not, you will want to develop a relationship with a Realtor who can help you grow your business in the long-run, adapting to shifts and changes along the way.
Working with a Realtor can prove to be a win-win arrangement, but––of course––only if each party has identified ways to help one another consistently. Of course, you will expect your partner Realtor to help boost your bottom line, but how will you boost theirs? As long as you establish an open line of communication, and are willing to work alongside one another with honesty and integrity, you may soon be looking at a beneficial business relationship that can last a lifetime.
Have you ever worked with a Realtor to boost your investing business? If so, in what ways did they prove most helpful? Feel free to share in the section below: