Key Takeaways:
---
Wall Street has taken investors on a lucrative ride for the better part of a year. Since the market crashed as a result of the Coronavirus, stocks have consistently marched upwards. Pullbacks threatened to end what is turning out to be a great year for investors along the way but never amounted to anything more than a slight correction. When all is said and done, the S&P 500 has increased 26.8% in one year. However, it is worth noting that today's unique market conditions have created inherent value in several quality equities. Despite a frothy marketplace, there's still plenty of room for today's value investors to go shopping. Here's a quick look at some of the best value stocks and why investors may want to consider adding them to their own portfolios.
What Are Value Stocks?
The concept of undervalued stocks will change from investor to investor. If, for nothing else, the metrics used to value equities themselves are weighted differently by the entire investing community. While some investors emphasize price-to-earnings ratios, others choose to look at the market cap, total addressable market, and anything else that may be used to help value a company more precisely.
When all is said and done, there are too many variables and too many metrics by which a company may be objectively valued. Therefore, the definition of a value stock will largely depend on who you ask.
Regardless of who you ask, however, most investors will relate the best value stocks to cheap valuations. As their names suggest, value stocks are widely considered to be cheap, relative to their earnings and long-term growth potential. In addition to their relative affordability, value stocks typically share some or all of the following characteristics:
More often than not, value stocks are established, mature businesses

Most value stocks will boast steady growth rates, but not fast enough to be confused with growth stocks

Value stocks have become synonymous with stable revenues and earnings reports
In other words, value stocks are companies that have demonstrated they are capable of providing shareholders with long-term growth that exceeds the limits set by their current valuations.
---
[ Interested in diversifying your investment portfolio beyond the stock market? Register for our FREE online real estate class to learn why real estate investing is the perfect compliment to any portfolio. ]
---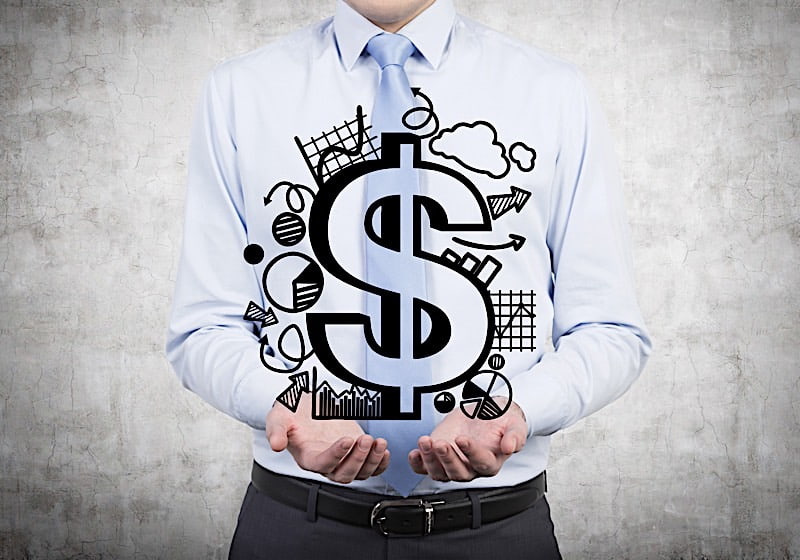 How To Find Value Stocks
To find value stocks, investors must first know what to look for. It isn't enough to look for stocks that are cheaper today than they were in the past; that's not how value stocks work. Instead, investors need to look at the underlying fundamentals relative to the company's prospects (along with other indicators). Not surprisingly, there are many things investors need to look into to find value stocks, which begs the question: Which metrics will help investors find value stocks?
Investors need to consider several important metrics when finding the best value stocks, but there are three which demand a little more attention than the rest of the pack:
P/E ratio: Otherwise known as a price multiple (or earnings multiple), the P/E ratio (price-to-earnings ratio) is a metric used to value a company based on its current share price relative to its earnings per share. Typically the most common and most popular valuation tool, the P/E ratio is best used to compare companies within a similar industry. To calculate the P/E ratio, divide a company's stock price by its earnings last year. To be clear, there's no objectively "good" P/E ratio, but 15 is usually the differentiator between value stocks and expensive stocks; those below 15 are usually considered "cheap," while those above 15 are either fair value or expensive.

PEG ratio: Short for "price-to-earnings-to-growth" ratio, the PEG ratio isn't all that different from the previously discussed P/E ratio. While the PEG ratio helps prospective investors identify a value, it also adjusts to account for different growth rates. To calculate the PEG ratio, divide the P/E ratio by the company's annualized earnings growth rate. Anything lower than 1.0 typically suggests the stock is cheap.

Price-to-book (P/B) ratio: Many investors have grown accustomed to valuing companies based on their book value, or the company's total net assets. However, investors may use a stocks' respective share price as a multiple of its book value to identify cheap buying opportunities. Stocks trading for less than their book value may represent buying opportunities.
It should be noted that these metrics aren't the only things investors should use to find value stocks but are instead to be used in addition to other tools. If, for nothing else, these metrics aren't guaranteed to identify undervalued stocks, nor do they work for every company or even the growth stage the company is in. For example, some companies may not even have earnings, which would render these metrics moot. Therefore, it is better to look at these metrics as compliments to a larger valuation strategy.
Best Value Stocks To Buy In 2021
Ford Motor Company
Ford Motor Company is currently one of the many victims of the global semiconductor shortage. Due to overwhelming demand and the lingering impact of the Coronavirus, just about every automaker has experienced a setback in the first part of 2021, and Ford is no exception. In addition to a broader market sell-off, the shortage of computer chips Ford relies on to make some of its best-selling models are pushing share prices lower.
The latest setback has made Ford look extremely valuable relative to its peers. With a Price to Sales ratio of 0.33x, Ford appears to be relatively inexpensive. For some context, the auto industry has a median price-to-sales ratio of around 0.80x. When you use Ford's price-to-sales ratio as a multiple of its price-to-book value, it looks even cheaper than its competitors.
In addition to looking like one of the best value stocks to buy in 2021, Ford also has many tailwinds working in its favor. In particular, the latest trend favoring electric vehicles will prop up Ford over the long term. As the auto company transitions more of its fleet to electric power, plenty of growth should be supported by long-term trends.
General Motors Company
General Motors' addition to this list may lead many to believe the entire auto industry is undervalued. However, the opposite is true: The auto industry has been firing on all cylinders for the better part of a year. Many people have turned away from public transportation over the course of the pandemic and straight towards purchasing their own cars. As a result, many automakers have increased their valuations substantially, but General Motors is one of the exceptions.
Since General Motors belongs in the auto industry and has positive earnings, investors should consider using the PEG ratio to value it properly. In doing so, you'll find General Motors has a PEG of 1.03x, which doesn't necessarily make it a "cheap" stock. In fact, a 1.03x PEG suggests GM is fairly valued. It isn't until you compare General Motors to the rest of the industry that you realize how good a value today's shares are.
Like Ford, General Motors is simultaneously undervalued and expected to be the beneficiary of long-term growth trends. If GM can transition the majority of its fleet from combustion engines to electricity without losing any market share, the company could represent a great long-term buying opportunity,
Kinder Morgan, Inc.
At the risk of sounding counterintuitive to the previous value stocks, Kinder Morgan appears undervalued because the complete transition to electric vehicles is so far away but a real threat. If for nothing else, Kinder Morgan is caught in an awkward place, where the world is turning away from natural gas in favor of more carbon-friendly alternatives.
As an energy infrastructure company, Kinder Morgan uses its vast array of pipelines to transport and store natural gas. However, the stock is currently a value play because investors are already looking towards "green" alternatives. In the meantime, the complete transition away from natural gas won't take place anytime soon; it's the mere threat that has made this particular stock affordable. In reality, cities worldwide will depend on natural gas for years, if not decades, and Kinder Morgan will be one of the primary suppliers.
As a component of the Oil, Gas & Consumable Fuels industry, Kinder Morgan has positive earnings, which means prospective investors may use several metrics to value the company: PEG, P/E, and P/B ratios are all in play. Kinder Morgan's 325.19x P/E makes it one of the most expensive in the industry, but since many investors are looking away from oil and gas, the industry offers many discounts. Therefore, Kinder Morgan is expensive in an affordable industry, making it one of today's best value stocks right now.
Lincoln National Corporation
Lincoln National Corporation is a holding company, which operates multiple insurance and retirement businesses. The company operates through four primary segments: Annuities, Retirement Plan Services, Life Insurance, and Group Protection.
Since the insurance industry grants Lincoln National Corporation the benefit of positive earnings, investors should look at its PEG for a better valuation. At 0.99x, LNC has one of the lowest price-to-earnings-to-growth ratios in the entire insurance industry.
As of this writing, shares of Lincoln National Corporation appear to be incredibly affordable. Over the course of last year, Lincoln National Corporation was down about 14% when most of the market was marching higher each week. The decline persisted in 2020, despite revenue and net income increasing year-over-year. More importantly, however, is the company's long-term prospects. Most baby boomers have retired already, or are getting close to it, which will increase the need, for instance, companies like LNC. Consequently, the next generation expecting to retire is not only substantially bigger, but it's also hoping to retire earlier than its predecessor. Millennials could represent a huge tailwind for companies like LNC sooner than many realize.
CareTrust REIT, Inc.
CareTrust REIT, Inc. is a real estate investment trust (REIT) that owns, operates, and acquires properties to be used by the healthcare industry. The REIT currently boasts a nationwide portfolio of long-term net-leased properties, all of which are ideal for serving a growing, aging population. The long-term prospects aren't hard to see, and the stock is still down from its pre-Coronavirus high.
All in all, CareTrust looks like a good value on the surface, and the metrics behind the scenes seem to support the thesis. Because CTRE is in the Equity Real Estate Investment Trusts (REITs) industry and has positive earnings, the P/E and P/B ratios are the most appropriate valuation measures. That said, CareTrust has a very affordable P/E ratio relative to the rest of its industry, 26.56x and 45.29x, respectively.
Not only does CTRE appear to represent a good value, but the company has incredibly long tailwinds, which should support growth for years to come. As a result, investors who get in early may be able to benefit from years of both growth and dividend income.
3 Best Value Stocks For Beginners
Berkshire Hathaway Inc. (NYSE: BRK-B)

Bristol-Myers Squibb Company (NYSE: BMY)

Morgan Stanley (NYSE: MS)
Berkshire Hathaway Inc.
It is typically better for new investors to build their portfolios on solid foundations, and no foundation is stronger than that of starting a position in Berkshire Hathaway. The product of Warren Buffett himself, Berkshire Hathaway has become synonymous with Wall Street's greatest stocks. The company represents the unique convergence of more than 60 wholly-owned businesses and more than four dozen different positions in some of today's greatest equities. Buffett himself is known as a value investor and rarely strays from his ideology, which means an investment in Berkshire Hathaway represents an investment in value.
Bristol-Myers Squibb Company
Bristol-Myers Squibb is a biopharmaceutical company specializing in three particular healthcare sectors: oncology, immunology, and cardiovascular therapeutics. BMY has become one of the most credible names in an industry which could use more of them. Despite being one of the biggest players in the healthcare industry, however, the stock actually ended 2020 down from where it started. At a time when the entire market shot up, BMY remains relatively stagnant. That said, BMY has many tailwinds expected to work in the company's favor moving forward. The 2019 acquisition of Celgene and other promising drugs should help BMY grow from today's cheap valuation. On top of that, BMY has a relatively low P/B and price-to-sales ratio, making the stock look more attractive than alternatives in the same industry.
Morgan Stanley
The entire financial sector lagged in every major market index, and Morgan Stanley was no exception to the rule. Over the course of 2020 and 2021, Morgan stately underperformed the broader market because of low interest rates. Nonetheless, the company's recent performance wasn't due to its own shortcomings but rather the lasting impact of the Coronavirus. Morgan Stanley is still one of the best names in the financial sector, and its recent performance makes it a good value, especially with the economy about to open back up again. Additionally, both Morgan Stanley's P/E and P/S ratios suggest the company is undervalued compared to its peers.
Summary
The market has experienced every end of the spectrum in one year. Last year, the market experienced one of the most dramatic downturns in history when COVID-19 was officially declared a pandemic. However, the market always drops faster than it rises and rises more than it drops (at least that's what history tells us). Since the crash, the market has done nothing but improve, less a few corrections here and there. In that time, investors were introduced to some of the best value stocks the market has ever seen. In a matter of weeks, the market gave out some of the best discounts anyone could ask for. Those fortunate enough to be able to find the best value stocks are reaping the rewards. Those listed above have already paid off well, but identifying the best value stocks moving forward well hey new investors establish lucrative positions in the future.
Ready to start taking advantage of the current opportunities in the real estate market?
Maybe you have plenty of capital, an extensive real estate network, or great construction skills— but you still aren't sure how to find opportunistic deals. Our new online real estate class, hosted by expert investor Than Merrill, can help you learn how to acquire the best properties and find success in real estate.
Click here to register for our 1-Day Real Estate Webinar and get started learning how to invest in today's real estate market!
🔒 Your information is secure and never shared. By subscribing, you agree to receive blog updates and relevant offers by email. You can unsubscribe at any time.