Key Takeaways
---
Many real estate professionals choose to work alone. After all, working with others on a property acquisition or sale often suggests having to share profits. However, what if I told you the benefits of working in a real estate team could actually boost your bottom line? There are numerous reasons why a real estate team could benefit your career.
By combining your talents with other qualified real estate professionals, you may find you can expand your business in ways you never thought were possible. When organized correctly, working in a real estate team can be a highly rewarding opportunity. Not only can you spread out your workload, but you also increase your reach in the market. Keep reading to learn everything you need to know about real estate teams.
What Is A Real Estate Team?
A real estate team is a group of real estate professionals, typically licensed agents, who work together by sharing responsibilities. Real estate teams often divide the duties associated with buying and selling houses and split their commissions accordingly. All real estate teams delegate responsibilities differently, and there is a lot of freedom when building a team to set up the work dynamic.
Pros & Cons Of A Real Estate Team
There are a few reasons why someone might want to join or start a real estate team. Most notably, there is an opportunity to combine your network with other professionals in your market. This can allow you to draw in more clients than you might be able to separately. In addition, from a client's perspective, there is the benefit of multiple qualified agents working on the transaction — but for the cost of a regular agent commission. This mutually beneficial setup can help real estate teams attract a consistent flow of clients in their market.
The main downside of a real estate team is that each member must be committed to working together during the transaction. If not, it can create a fragmented experience for clients and ultimately damage the team's reputation. All team members must maintain open lines of communication and work together to provide a positive experience for clients.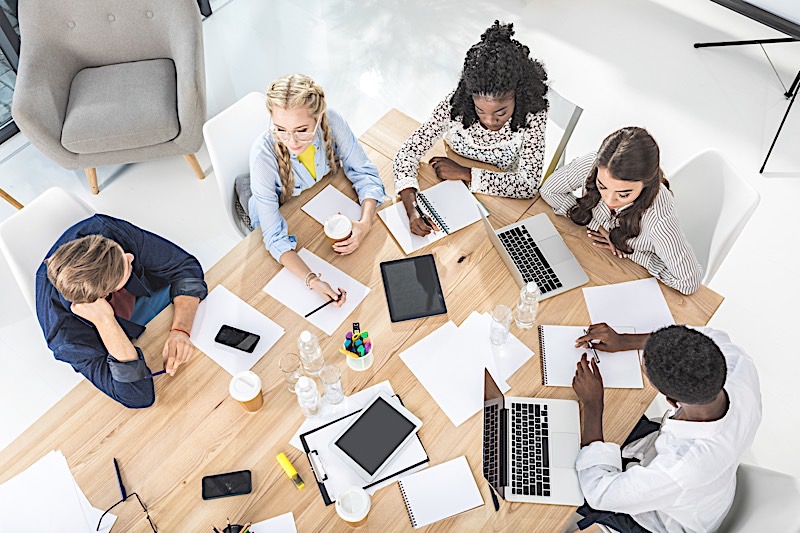 Types Of Real Estate Teams
There are various ways real estate teams can be structured. The right setup will depend on the number of agents, the experience levels of each person, and everyone's preferred working style. Here are a few common types of real estate teams to consider:
Mentor/Mentee Real Estate Team

Team Leader Model

Lead Team Model
Mentor/Mentee Real Estate Team
A typical team structure for both experienced and new real estate agents is through a mentor/mentee relationship. Experienced real estate agents can take on mentees and train them according to their business style. This is great for agents with a knack for teaching and leadership. It can also pay off down the road as mentees take on more deals. The experienced agents will have an opportunity to earn a shared commission, even as they hand off certain responsibilities. For beginner agents, this setup is a great way to build up a clientele and learn the ropes from a trusted mentor.
Team Leader Model
Real estate agents with a strong market presence or personal brand may be attracted to a team leader model of working. Agents who are well-versed in their market can take on a team of less experienced agents to divide up their workload and reach more clients. Typically, new agents will follow the brand guidelines set by the team leader and work within the existing business structure. This can be an excellent way for established agents to increase their profits, while new agents may find it rewarding to learn from an experienced professional.
Lead Team Model
Agents interested in combining their collective talents and market segments may find the lead team model to be the most cooperative real estate team structure. This real estate team allows agents to work together to increase their overall profitability. It is heavily focused on marketing and lead generation and allows each agent to take charge of the areas they are most comfortable with. This model works well for agents who bring something unique to the table and want to work without a clear team leader. It is best managed when each member has a designated role they are in charge of. For example, one agent focuses on listing management while another focuses on client communications.
---
[ Want to create a roadmap to a financially secure retirement? Register for our FREE online real estate class to learn the powerful wealth building strategies real estate investing has to offer. ]
---
When To Start A Real Estate Team
It's time to start a real estate team when your schedule requires you to turn away new clients. You want to have enough volume that bringing on another person increases your income rather than takes away from it. Typically, real estate agents can handle between 50 and 60 transactions a year maximum. Once you get into that 35 to 40 range, it may be time to consider working with a real estate team. Starting at this point will give you enough time to find a like-minded agent and ensure you are still earning enough commissions.
Another thing to consider is what type of team structure you are looking for. If you want to become a team leader and bring agents in under you, it may be worth waiting until you have a clear brand established. That being said, the right time to start a real estate team will be up to you. Some agents prefer to work alone for most of their careers. Take time to weigh the pros and cons before starting your own team.
How To Build A Real Estate Team In 7 Steps
It can be helpful to familiarize yourself with the process of forming a real estate team before getting started. Here are six simple steps on building a successful real estate team:
Establish Underlying Systems

Calculate Expenses

Get To Know Your Candidates

Hire The Right Roles

Align Your Motivations

Never Forget Your Clients

Don't Be Afraid To Let Go
1. Establish Underlying Systems
Systems are the basis of any successful team, and it is important to treat them as such. As you begin building a real estate team, plan out how each responsibility will be managed. Decide who will be in charge of each role and how team members will communicate. For example, let's say one team member is in charge of lead generation. Who are they sending prospective clients to, and how are they following up? Think through hypothetical scenarios to make sure no responsibility is left out.
This is also a great time to establish overarching business goals, ensuring all team members are working towards the same thing. Set aside time to plan out your brand and marketing strategies and determine who will manage these systems moving forward. Establish procedures before you open for business to ensure your team works well together and everyone delivers an excellent experience for clients.
2. Calculate Expenses
Consider how you want to divide profits with your real estate team and estimate any potential expenses. Many real estate teams adopt a fixed commission structure, which divides the commission percentage among team members. Agents who take on mentees may prefer a flat rate or salaried position for their new hires. Some real estate agents find it beneficial to have different pay structures within the team depending on the responsibilities.
It is important to keep expenses low when you first form a real estate team. This can protect agents from losing money as they divide commissions. For example, it may be tempting to rent an office space right away and begin working with each other in person. However, this could result in unnecessary overhead costs as you manage your first few clients.
3. Get To Know Your Candidates
It's important to get to know your agents before you commit to working together. Many agents treat this as a job interview process and conduct a phone screening to get first impressions. Then, hold a more formal interview before introducing them to any other members of the team. If you already know the agents you want to work with, set aside time to discuss specific business goals and team roles. These conversations will give you a better idea of how you will work together while also making sure you are on the same page.
4. Hire The Right Roles
Building a real estate team does not happen overnight. Most likely, you will have the opportunity to bring on one person at a time — making it crucial to know which roles you need the most help with. As you already know, there are numerous moving parts to a real estate transaction. Consider the areas you want the most support in and start there. Here are a few roles to consider as you begin building your team:
Showing Assistant: A showing assistant will be able to manage your property tours and open houses, as well as some client communications. Showing assistants are often salaried or paid flat fees and can use this opportunity to learn the ropes.

Transaction Manager: Consider hiring someone to coordinate the transaction from start to finish. This can go a long way in delivering an excellent client experience and can take some paperwork off your plate.

Buyer/Listing Agent: As you increase your number of monthly transactions, bring on a specialized buyer or listing agent to expand your clientele. Take time finding agents you enjoy working with and watch your business grow.

Administrative Assistant: If you find yourself overloaded with administrative tasks, consider hiring an assistant to ease your workload. They can take ownership of scheduling, bookkeeping, and even some marketing responsibilities.
5. Align Your Motivations
Make sure your motivation — or your "why" — aligns with each new team member you hire. It is essential that each member is focused on the same mission. You also want to make sure everyone is driven by the same values. This will go a long way when you work together. Not only will it help make working together more manageable, but it will also improve the client experience when you begin managing transactions. Take time to talk through your motivations for going into the real estate business each time you consider hiring someone new for your real estate team.
6. Never Forget Your Clients
Whether you work in a real estate team or alone, clients are the most important component to your success as an agent. Unfortunately, in a group setting, it is easier to let the personal touches fall through the cracks. Instead, make sure you and your team are focused on delivering the best possible experience for your clients. Maybe one team member wants to step up and manage thank you or congratulations notes for clients, while another person is in charge of keeping in touch with past clients over social media. The important thing is to find a system that works for your team and stick to it. These touches will increase your word-of-mouth referrals over time and boost your reputation in the community.
7. Don't Be Afraid To Let Go
Teams are always vulnerable to bad apples, even in the world of real estate. If a team member brings down the group morale, it could be detrimental to your business in the long run. Do not be afraid to let go of a team member if things are no longer working out. While it may be difficult at the time, it is crucial to protect the positive work environment for other team members.
A good way to avoid potential issues is to take your time during the hiring process to ensure each new person is a good culture fit. However, life happens, and things can change over time. Therefore, consider setting up a feedback system within your business so you can address any problems or challenges as they arise. This can stop things from building up over time and make your life easier as a team leader.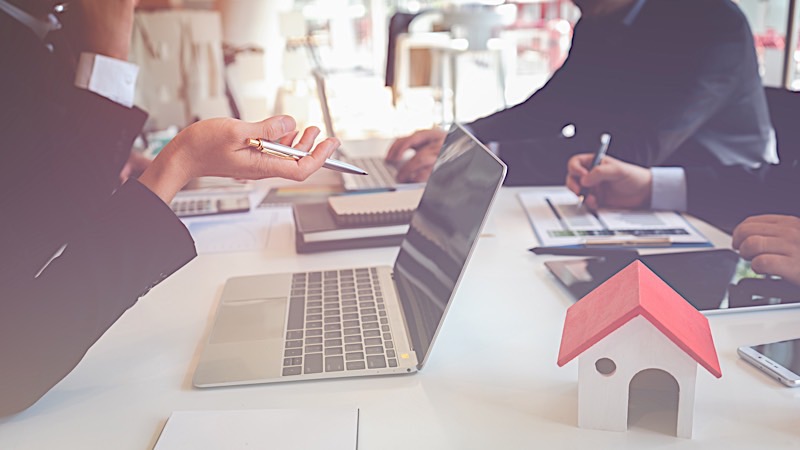 Should You Join A Real Estate Team?
The decision to join a real estate team can be just as challenging as deciding whether or not to build your own. Consider how your strengths and weaknesses impact your real estate business. Are there responsibilities you avoid that are making it harder for you to be a good agent? How do you feel about your current income level? Do you have a good network in your market? The answers to the questions will help you weigh the pros and cons of joining a real estate team.
Mapping out your career goals can also help as you make this decision. Many new real estate agents are eager to join teams because they think it will help them break into the industry faster. However, while real estate teams can be a reliable way to earn experience, is it something you want to be a part of long term? Deciding if you should join a real estate team is a personal decision. Remember that you are allowed to change your mind as you grow and develop in your career, and the best fit may be something you haven't tried yet.
Summary
Real estate teams are a great way to combine your talents and expertise with other agents in your market. In doing so, you can expand your overall reach and deliver a memorable experience to buyers and sellers alike. There are numerous team structures to consider, each with unique benefits. The decision to start or join a real estate team will be entirely up to you. When done right, it could be the boost your career has been waiting for.
What are your favorite real estate team names? Share your thoughts in the comments below.
---
Want to learn more about how to start a real estate business?
With so much information out there, starting a real estate business or LLC can be a complicated process. Our new online real estate class, hosted by expert investor Than Merrill, covers the basics you need to know to get started with real estate investing. These time-tested strategies can help teach you how to profit from the current opportunities in the real estate market.
Register for our FREE 1-Day Real Estate Webinar and get started learning how to start a successful investment business today!