Key Takeaways
To start investing in real estate, set specific goals by asking some key questions.
There's nothing wrong with learning from your predecessors' past mistakes.
Do you possess the 10 key traits of a successful real estate investor?
---
If you have been searching for a guide on real estate investing for beginners, you have come to the right place. Read on to get an overview of how to get started, some top tips and advice, mistakes to avoid, and an introduction to some real estate terminology. Be sure to also check out the included infographic on the top traits of a successful real estate investor.
How To Start Investing In Real Estate (For Beginners)
Saying that 'getting started as a first time investor is overwhelming' is an understatement, as there are many factors to consider. Just like with any new pursuit or challenge, breaking a process down into smaller, attainable steps can make it much easier to tackle.
Real estate investing for beginners should start off with asking oneself some key questions, such as "can I commit to running a business full time," "what are my long-term goals," and "do I want to be an active or passive investor?" For example, let us say that you wish to pursue investing part-time as a means to have financial stability while you first get started. Or perhaps you decide that you would rather take a more passive approach rather than active approach. Based on these answers, you can then begin your research on part-time and passive investing strategies. Taking time for self-reflection can narrow your focus and help you devise a plan on what to tackle next.
If you have not started doing so already, spend time soaking up as much information on real estate investing as you can. You can get started by reading "Real Estate Investor 101" type books and other first time investor guides. As your research becomes more advanced, you will most likely ruminate naturally on what type of investing strategy would be the right fit for you. Here are some likely strategies you will come across:
Wholesaling
Prehabbing
REIT investing
Rental properties
Fix and flip investing
Commercial investing
Some will argue that the best real estate investing strategies for beginners are wholesaling, prehabbing and real estate investment trust (REIT) investing. Something as complex as investing in commercial real estate for business may be better suited for those with a few years' experience under their belts. However, picking the right investing strategy is a matter of personal volition, research, preparation and execution. An important part of this preparation includes writing out a business plan, which is in essence an exercise in creating a roadmap to be executed. Here are some elements to consider including:
Resources and finances
Local market research
Investing strategy and niche
Marketing plan
Due diligence framework
Short-term and long-term goals
Once you have put together a business plan, really, the only step left to take is action. First, try joining your local real estate investing club or association to start building your network and fostering business relationships. As you become more comfortable, ask someone with experience if you can shadow a deal or two so that you can better learn the ropes. Here are some other first-time investor tips to help you launch your business:
Find a mentor who will give you advice and help you review deals.
You will quickly realize that to be successful in real estate, you have to be a people person. Practice your interpersonal and communication skills by attending networking events.
Prioritize putting into place effective systems so you can optimize your use of time.
Spend a significant amount of time studying your local market.
Find ways to continue your education throughout your career.
Try not to get discouraged. Real estate investing has its ups and downs, and requires patience and perseverance.
First Time Investor Mistakes To Avoid
There exists a plethora of famous quotes that indicate that real success if built upon learning from past mistakes or failures. For example, the author J.K. Rowling once said, "Rock bottom became the solid foundation on which I rebuilt my life." However, this does not mean that you should not learn from others' past mistakes. The following provides insight to common first time investor mistakes to avoid at all costs:
Following the herd: When first starting out, it may be tempting to follow the herd. However, relying on speculation and crossing your fingers that a property will appreciate in value is one of the worst real estate investing strategies for beginners to follow.
Buying at market value: Purchasing a property at market value leaves very little room for profit potential. Real estate investors specialize in finding great deals or purchasing distressed properties that are well below market value.
Getting emotional: It is easy to become emotionally attached to one of the first potential deals that you come across. However, it is of utmost importance to keep a level head and maintain a business-like approach. No matter how good a deal might seem at first, one should always mind their due diligence.
Forgetting to mind due diligence: Elaborating on the point above, minding due diligence is a determining factor for selecting a great investment deal. Investors must remain vigilant about crunching the numbers in detail, no matter how great a deal might seem at first. This might include forecasting cash flow, estimating the cost of repairs, as well as buyer demand in the market.
Investing too much of your personal funds: Using too much of your own money for your investing endeavors can put you and your business at risk. Investors are wise to separate their personal finances from their business finances, and maintain a reserve fund as much as possible.
Not having multiple exit strategies: Investors should always stay prepared for when projects do not go as planned, which is bound to happen from time to time. Because of this, experienced investors have multiple contingency plans in place. For example, if a house flip goes awry, have a back-up plan, such as a wholesaling or buy-and-hold strategy.
Going solo: Although some may consider real estate investing an autonomous operation, nothing could be farther from the truth. Some may even argue that real estate investing boils down to being a "people person" business. In order to be successful, investors need a strong network of professionals that they can rely on, whether it be for finding their next deal, creating a partnership or asking for expert advice.
---
[ Do you control your finances or are your finances controlling you? Find out how real estate investing can put you on the path toward financial independence. Register to attend a FREE real estate class, upcoming in your area. ]
---

Top 10 Traits Of A Successful Real Estate Investor
Passion
Self-discipline
Perseverance
Imagination
Boldness
Integrity
Flexibility
Economical
Team-oriented
Personable
As a first time real estate investor, it can be easy to begin to doubt yourself and wonder if you really have what it takes to be successful. However, no success story begins with perfection. As the real estate mogul Warren Buffett says, "the most important quality for an investor is temperament, not intellect." it is entirely possible to learn from experience and reinvent yourself time and again. The following describes some common traits of successful real estate investors that you can start to channel today: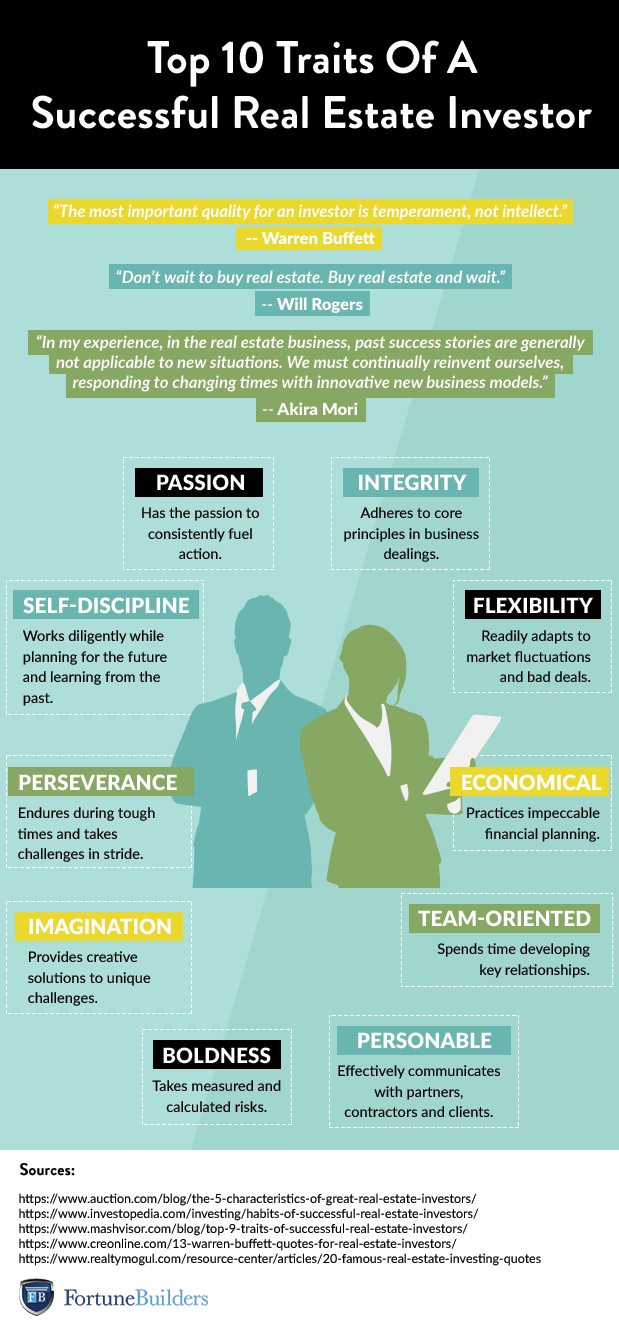 Real Estate Terminology Beginners Should Commit To Memory
If you have started to conduct any research at all, one of the first things you will have noticed is the abundance, perhaps even excessiveness, of confusing lingo and acronyms. Although there are many, it is imperative to know at least the basics of real estate terminology so that you can be taken seriously by other professionals. Here are some terms to help you get started:
Capitalization Rate
Capitalization rate, or as you will hear many investors say "cap rate" for short, is a formula used to calculate the value of an investment deal. Expressed as a percentage, the cap rate is always calculated using the current market value of a property.
Cash Flow
Cash flow is a concept that is used in both business and personal finance, and describes the inflows and outflows of cash. For example, a rental property investor will often calculate the monthly cash flow, which is all the rental revenue generated by the property, minus all expenses. Investors will search for properties that will provide a positive cash flow every month.
Net Operating Income (NOI)
Net operating income, or NOI, goes hand-in-hand with the cash flow calculation. Once you have subtracted all of the monthly expenses from the monthly rental revenue, the leftover dollar amount is the net operating income. In layman's terms, this is the 'profit' portion of the operation.
Real Estate Investment Trust (REIT)
Real estate investment trusts (REITs) are firms that typically own operate portfolios of income-producing real estate properties. Some REITs will specialize in certain niches, such as residential or commercial. Investors who prefer to take a more passive role in real estate investing might find REITs to be great options.
Real Estate Owned (REO)
Real estate owned, or REO, properties are those that have been reclaimed and owned by lenders, typically banks. After a property has been foreclosed upon, a lender will usually remove liens and expenses from a property so that it can be sold faster. REO properties provide a great option for investors looking to purchase property for below market value.
Return On Investment (ROI)
The most common way to measure the relative success of an investment deal is return on investment (ROI). ROI is determined by taking the ratio between the net profit, and how much capital was used for the investment. The higher the ratio, the better the gains.
It is difficult to find one concise guide or resource on how to get into real estate investing for beginners, but that is because of the sheer amount of information and experience that is to be gleaned. If you have gained one thing from this guide, it should be that becoming a real estate investor requires a lot of homework and research, patience and perseverance. At the end of the day, however, the superior method to learning the tricks of the trade are simply by doing.
Do you possess the top 10 traits of a successful real estate investor? Which one do you think is the most important? Feel free to discuss in the section below:
🔒 Your information is secure and never shared. By subscribing, you agree to receive blog updates and relevant offers by email. You can unsubscribe at any time.